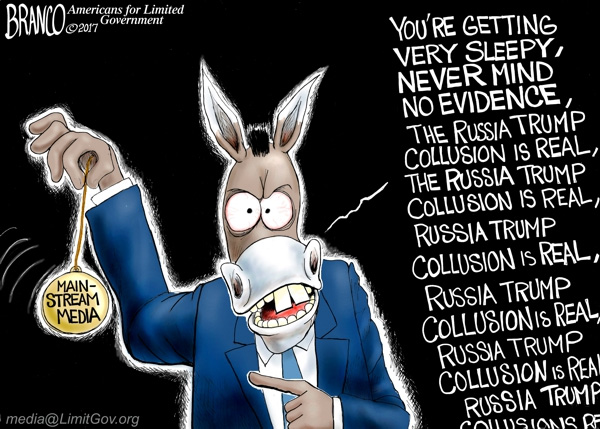 Late night loud yowls, most precious Big Cat Beauties... sheesh, geez, what a long busy-overwhelming week for this Big Cat... okay, really who cares about ENEMY-MSM Mika? However, petty idiocy still rules our society...sadly! But come on, Mika looks like a programmed android, and she is STUPID ... all you have to do is look at her, listen to her for a few minutes, and it's obvious--her IQ is not impressive, let's say... and let's get a dose of reality, how obvious is it that President Trump is just fish-hooking these brainless-wonder presstitutes into reacting crazily... MEANWHILE he's doing the real business of being president of these united states. BEHIND THE SCENES.
Yeah, the Kougar couldn't resist this political cartoon. ~smiles~
Okay, according to Sorcha Faal of ~whatdoesitmean.com~ there is a plot to possibly assassinate President Trump during the G20, when The Donald and Putin are supposed to meet... thus, to blame it on the Russians and cause a world war.
MESSAGE TO THE SINISTER-FORCE GLOBALISTS: NO, YOU WILL NOT ASSASSINATE PRESIDENT DONALD J. TRUMP. NOT EVER. WHATEVER YOU ATTEMPT WILL MERELY BACKFIRE ON YOU WITH DEADLY CONSEQUENCES. AND SO IT IS!!!
~~~~~~
PAUL JOSEPH WATSON DOES A BRILLIANT JOB EXPOSING THE IDIOCRACY HYPOCRISY OVER POOR LITTLE ATTACKED MIKA.


Paul Joseph Watson | The media has spent the last 2 years viciously attacking Trump over his appearance.
IF YOU WANT ANY KIND OF FREEDOM AND PRIVACY AROUND YOUR MONEY, THIS BILL MUST BE STOPPED. IT IS MORE THAN HORRENDOUS AND VIOLATES THE CONSTITUTION SIX WAYS TO SUNDAY.
FANNIE AND FREDDIE WERE LOOTED BLIND BY OBOZO AND CREW, AND THE CONGRESS SIMPLY IGNORES THIS MASSIVE CRIME.
Senate Banking Committee features Sen. Corker plan to hand mortgage market to Wall Street and big banks
THE PEDO EMPIRE IS CRUMBLING DAY BY DAY... THANK THE DIVINE ... THIS BIG CAT IS ENTIRELY GRATEFUL FOR THE INCREDIBLE EXPOSURE THAT IS HAPPENING NOW, AND FOR THE ROUND UP OF THESE PSYCHO-PERVERTS WHO RULE AND RUN AND RUIN OUR LIVES.
Catholic church involved in child sex once again
JAMES O'KEEFE, WHAT A HERO REAL JOURNALIST!!!
Fake news ringleader hides from press


YEAH, THANKS STUPID-BRAIN NIKKI HALEY ... WE SO NEED A BIG OLE NASTY, KILL OFF HUMANITY, *KILL OFF THE PLANET WAR* WITH RUSSIA [SNARK] BECAUSE OF A MCMASTER-ORCHESTRATED FALSE FLAG ... YOU TWIT-ZOID.
https://www.infowars.com/russian-senator-warns-u-s-preparing-provocation-to-attack-syria
RUSSIAN SENATOR WARNS U.S. PREPARING "PROVOCATION" TO ATTACK SYRIA
Trump admin could launch false flag blamed on Assad
Russian Senator Alexei Pushkov warns that the United States is preparing a false flag "provocation" as a pretext to launch a military assault on Syria.
Responding to a CNN report that the U.S. "has ships and aircraft in place to strike Syria," if ordered to do so by the President, Pushkov
cautioned
that this could be the precursor to a staged incident.
"The United States put its Navy and Air Force on alert, and is just waiting for an excuse to strike Syria. Assad will not give them one." This, Pushkov wrote, makes it "the perfect time for a provocation."
Earlier this week, the administration warned Bashar Al-Assad that the U.S. was aware of new preparations for a chemical attack and that he would pay a "heavy price" for any such action.
This was followed up by a tweet from Ambassador Nikki Haley in which she asserted, "Any further attacks done to the people of Syria will be blamed on Assad, but also on Russia & Iran who support him killing his own people."
On Wednesday, White House spokeswoman Sarah Huckabee Sanders indicated that the Trump administration's warning to Assad had been "successful," but Russian Foreign Ministry spokeswoman Maria Zakharova took the move as "a warning sign of an intervention."
"The campaign, which was started by the US and is being backed by London and Paris, on the alleged chemical attack that is claimed to be prepared by Damascus, is not original, it's a textbook script, which has already been used in several countries in the region,"
Zakharova said
.
"The situation seems to be a massive provocation, both military and information-wise, a provocation which targets not only the Syrian leadership, but also Russia," she added.
Back in April, the Trump administration launched 59 cruise missiles against a Syrian airfield claimed to be the base for government aircraft that carried out a chemical weapons attack in Khan Shaykhun.
The decision caused a split amongst Trump's base because he specifically ran on the promise of not getting the United States entangled in more Middle Eastern conflicts that lead to the overthrow of secular leaders.
SUBSCRIBE on YouTube:
Follow on Twitter:
*********************
THE EARTHQUAKES ARE STILL SHAKING UP THE PLANET ... THE KOUGAR CANNOT EVEN POST THEM ALL HERE
OKAY, SUPPOSEDLY, TO UPDATE THIS ARTICLE, RAND PAUL HAD A VERY GOOD MEETING WITH PRESIDENT TRUMP WHICH HE FEELS WILL YIELD POSITIVE RESULTS ... LET'S HOPE SO!
RAND PAUL: HEALTH BILL IS NOW 'OBAMACARE-PLUS'; IT SUBSIDIZES THE DEATH SPIRAL"
Legislation is "propping up" insurance companies
Senator Rand Paul continued to voice stern opposition to the Obamacare replacement legislation Friday, saying it isn't even 'Obamacare lite' anymore, and instead is more like 'Obamacare plus'.
Appearing on "Your World with Neil Cavuto," last night, Paul noted that the Republican legislation may actually provide more subsidies than Obamacare.
"[W]hen we look at the bill, we actually find that with the Obamacare subsidies, not only are we keeping them, we may actually be providing more subsidies than Obamacare has." Paul exclaimed.
"Our early estimates on the bill are that the bill may spend more in the next year or two than Obamacare does." Paul added.
"And so, it's hard for us to get our mind around that this is a repeal bill if we're spending more, keeping all the subsidies, and then we're going to start a brand new federal entitlement program where we give insurance companies money." the Senator explained.
"I keep reading it and…it sounds like Obamacare to me. It doesn't even sound like Obamacare-lite. In some areas, it may be Obamacare-plus, on the subsidy side." he urged.
Paul also warned that the bill "subsidizes the death spiral of Obamacare."
"It dumps a bunch of federal money, taxpayer money, or borrowed money into the insurance industry and says, 'Hey, please lower the prices if we give you money.'" Paul told viewers.
In a further appearance on Morning Joe Friday, the Senator said that the so called healthcare overhaul is actually centered around "propping up" insurance companies.

"The insurance companies make all the money; all of this is predicated upon still propping up the insurance companies." Paul said, adding that "you should be able to get insurance for $1 a day. I mean, you really should."
The Senator argued that the legislation will amount to more "bailing out" of insurance companies.
"I want the bill to look more like a repeal bill. I promised people I was going to repeal it; I didn't promise people that I was going to replace it with a federal program of bailing out insurance companies," Paul asserted.
"I mean, we could do this for cars," he added. "New cars are expensive. We could have a car stabilization fund." he further argued.
In an interview with
Breitbart
, Paul noted that "The bill keeps ten of twelve Obamacare regulations that causes the prices of premiums to spiral upward."
AT LEAST, THEY RECOGNIZE SOME LEVEL OF REALITY ... BLESS YOU WHEREVER YOU ARE, HERO SETH RICH
FUNDING OUR OWN JIHADI ENEMY ... THIS IS SO NEFARIOUS AND CRUEL IT'S UNBELIEVABLE ... AND NEEDS TO STOP NOW!!!
YEAH, YOU COULD FUND A MAJOR INFRASTRUCTURE PROJECT, MAYBE SEVERAL...
THINGS AREN'T GOING WELL FOR THE ENEMY-MSM ... WHATEVER FALSE FLAGS THEY ARE PLANNING WILL ONLY ENTRAP AND EXPOSE THESE PETTY PRESSTITUTES ... THEY WILL EAT THEIR OWN.
YEAH, WHO NEEDS A WORKING ECONOMY... HUH?
TEXAS WOULD BE DARN HAPPY TO RID THEMSELVES OF ANYMORE CALIFORNIANS
THIS IS JUST INCREDIBLY WONDERFULLY FASCINATING...