Saturday yowls and roars, bestest Kittens in the entire world ... okay, a disclaimer upfront: the Kougar believes EVERYONE has a right to protest and speak their mind... and yes, even burn the flag ... you know, FREEDOM OF SPEECH ... that stated, this whole NFL social engineering crap, is just that ***crap*** ... this Big Cat is NOT saying that some of NFL players don't believe in what they are 'kneeling' for ... however, really bottom line: this is a money thing for the NFL owners... once upon a time, the NFL was paid the big Pentagon bucks to put on displays of patriotism ... now, they're being paid or threatened by the *new world order* types to stupidly propagandize WE THE PEOPLE into social/racial divisiveness, and to hate the police [like it will work, NOT!] ... anyway, just like the NFL IS ***PAID*** to wear PINK for breast cancer awareness, and raise all that money for a cancer cure, which is also totally bogus ... the NFL owners are being paid to re-engineer America...
And this is the kicker! These idiot players are actually kneeling, taking a knee, LIKE EFFING SLAVES ... get it! this is only slave training for the masses... and if you're that stupid, that beat down by the system, then you deserve what you get... to be what these NFL players are: just high paid slaves on the globalist plantation.
As the Kougar has yowled about before, she loves sports. She loves playing sports, and defied the oppressive *girls can't do that* ways of her time to play tackle football with her neighbors. Anyhoo, she also used to enjoy watching football, many moons ago. That is, until about a decade ago when the hype became unbearable, and the special privileges of the players allowed them to get away with crimes no one else in regular society got to get away with... yeah, she's a big believer in justice.
Interestingly, the Kougar saw a snippet of an 80s opening promo for Monday Night Footballs on infowars.com... the big crashing hits between players were featured ... then this was contrasted with the current opening for Thursday Night Football... mygawd!!! it was revolting... the players looked like pansies dancing in a music vid... what the heck!!! This Big Cat must suppose this is for the snowflake generation. How far the once mighty football player has fallen...
GO, EAGLES, GO!!! DRONE KILLERS AT WORK.
Bold Eagles: Angry Birds Are Ripping $80,000 Drones Out of the Sky
Australia's wedge-tailed eagle uses sharp talons, crack aerial combat skills to attack and destroy pricey flying machines
https://www.wsj.com/articles/bold-eagles-angry-birds-are-ripping-80-000-drones-out-of-the-sky-1506701429
VOLCANOES EXPLODING ACROSS THE WORLD
SHAME ON THESE SOULLESS-USELESS CORRUPT IDJITS ... THE LAND WAS PUT ASIDE FOR THE WILD HORSES AS WAS DEMANDED BY THE AMERICAN PEOPLE ... NOW THE BLM BUM-CRIMINALS WANT TO SLAUGHTER THESE SPECIAL HORSES FOR MEAT ... AND *NOT* BECAUSE THE HORSE HERDS ARE/WERE ENDANGERING THE LAND!!!!!!!!!!!! NO, THE BLM WANTS TO PLUNDER-EXPLOIT THE LAND FOR THEIR PROFIT ... MAY THEY ALL ROT IN HELL!!!!!!!!!!
Horse meat, it's what's for dinner -- if House gets its way...
and the Bolshevik Occupation [AS THE KOUGAR HAS WARNED BEFORE] COULD BE COMING TO A CITY NEAR YOU... WATCH OUT! PROTECT YOURSELF NO MATTER WHAT!!!
https://www.infowars.com/antifa-plans-civil-war-to-overthrow-the-government
ANTIFA PLANS "CIVIL WAR" TO OVERTHROW THE GOVERNMENT
Violent far-left group demands Trump "regime be removed from power"
Antifa is planning a new round of nationwide riots on November 4 as part of a plot to start a "civil war" that will lead to the overthrow of the Trump administration.
Far-left militants plan to "gather in the streets and public squares of cities and towns across this country" in the hope of building momentum for civil unrest that leads to nothing less than domestic regime change.
"Our protest must grow day after day and night after night—thousands becoming hundreds of thousands, and then millions—determined to act to put a stop to the grave danger that the Trump/Pence Regime poses to the world by demanding that this whole regime be removed from power," states a call to action on the
RefuseFascism website
.
A longer screed posted on the
Revolutionary Communist website
makes it clear that Antifa is not prepared to wait for electoral change from Democrats, and will engage in a "ferocious struggle," based on plans outlined in a book written by Bob Avakian, the Chairman of the Revolutionary Communist Party, which is called
The Coming Civil War
.
Vowing to stop the "unrelenting terror" of the Trump administration, the group asserts that, "The stakes are nothing less than the future of humanity and the planet itself," typically hysterical rhetoric which when combined with Antifa's violent tactics should be a deep cause for concern for law enforcement bodies.
Earlier this week, far-left activists blocked the 101 freeway in downtown Los Angeles before holding up placards that read, "November 4 It Begins".
Whether the planned actions fizzle after some on the mainstream left who previously embraced Antifa were forced to back away remains to be seen.
However, the activity of the group should cause even more alarm given the revelations of an undercover video by Steven Crowder and his team in which Antifa members are seen planning violent attacks, handing out sharp objects with which to stab conservatives, and even discussing the procurement of AK-47s.
Antifa's open vow to overthrow the government combined with their violent tactics are sure to raise the alarm amongst federal authorities responsible for tracking domestic terrorism.
Earlier this month it was
revealed
that the Department of Homeland Security has formally begun to classify Antifa's activities as "domestic terrorist violence," while the New Jersey DHS lists the group on its own
website
under the designation of "domestic terrorism".
SUBSCRIBE on YouTube:
*********************
THIS ARTICLE LAYS IT OUT WELL...
September 28, 2017
NFL Chaos Is Part Of The Globalists Long-Held Plans To Divide Then Destroy America - Is It Time For The American People To Bring An End To The Globalist Institutions That Hate Our Country?

By Stefan Stanford - All News Pipeline - Live Free Or Die
"When you open your heart to patriotism, there is no room for prejudice! The Bible tells us, How good and pleasant it is when God's people live together in unity" - President Donald J. Trump



While Republican US Senator James Lankford of Oklahoma is now claiming that a Russian troll army is responsible for stoking the NFL debate in an attempt to push divisiveness in America despite the fact that Colin Kaepernick started this hatred of America now going on within the NFL well over a year ago, long before President Trump was voted into office, we see in this must-read story from Frank Brady over at his Gates To Liberty blog that what we're now witnessing in the NFL is a key part of the globalists long-held plans to divide then destroy America.
As has been long reported on ANP and within alternative media, there is a very real plan to destroy the sovereignty of America going back many, many decades (perfectly represented by most of the lunatics in Congress being opposed to President Trump's 'America First' agenda!) and with the NFL quite literally selling their souls to ESPN and the political left while spitting upon their core fan base and America, Brady warns "This Is Not About Football, This Is About WAR!"

Simply put, the NFL has decided to bite the very hand that feeds it, the American people and our great nation, and as Brady tells us within his story, this latest drama has nothing to do with either football or the national anthem. Is it time for the American people to put an end to (peacefully and legally via boycotts, of course, while we still can!) any globalist institutions, such as the NFL and ESPN, that have turned against America and sold out the American people? From Brady's must-read story.:



What is unfolding comes right out of Saul Alinsky's "Rules for Radicals" handbook. Both "Black Lives Matter" and "Antifa" are hard core Marxist Shock Troops being continuously supplied with boots on the ground by Barack Hussein Obama's "Organizing for Action", a national army of fanatical Leftists that is hundreds of thousands strong and is actively recruiting "volunteers" through mass mailings to radical e-mail lists. Obama maintains a well-staffed Washington office for a reason. He and his posse intend to destroy what remains of the old American republic and install a totally socialist tyranny upon its ashes.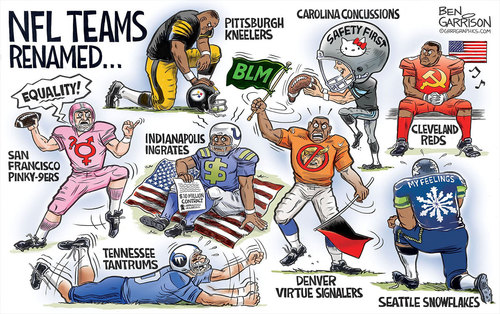 As Susan Duclos reported on ANP on Wednesday, according to one black man, US Veteran and law enforcement officer Brandum Tatum, what President Trump is doing right now is separating those who love America from those who hate America. The fact that Kaepernick had never even bothered to register to vote should have told the NFL that the donkey they were hitching their protest-cart to was lame. And the fact that Black Lives Matters continues to base most of their protests upon 'fake news', while Antifa proves to us they are fascists by attempting to stifle the free speech of others, proves the monster America is dealing with is tyrannical and totalitarian in nature, willing to push an agenda based upon outright lies which fits perfectly into Hillary Clinton and Barack Obama's 'Saul Alinsky agenda'.

And we shouldn't be the least bit surprised that TV networks refused to show the many former NFL fans in the stands, booing at their formerly favorite teams, for the mainstream media and the NFL are quite literally defecating upon America and the many lives of Americans lost protecting our rights as citizens under that flag.

We expect that the TV networks will continue to ignore the masses of fans that are protesting against the teams within stadiums, hoping that people won't notice. Yet how can America miss noticing being quite literally stabbed in the back by owners, coaches and jocks making millions and millions of dollars to play a stupid kids game?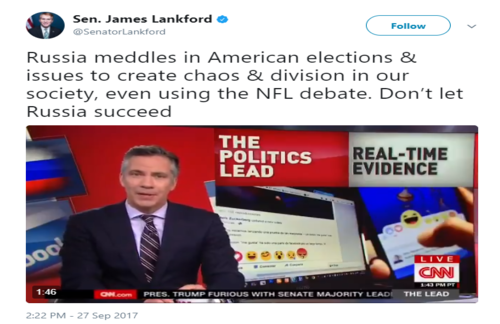 While we fully recognize the rights of athletes and anybody else in America to protest, the fact that they're protesting against the very same country that has allowed them to live the lives of kings is beyond bizarre - it's downright psychopathic.

Have NFL athletes no clue as to why they are bringing in millions and millions of dollars? NFL fans should make up a new rule - any NFL player who disrespects the very country that has allowed them to live like kings should have to go spend a year in Iraq or Syria or North Korea or Yemen or Nigeria or Venezuela. Instead of running for touchdowns, they'll be running to escapse ISIS or Boko Haram or Kim Jong Un or lions and leopards within the jungle.

Think they'd stand up for the American flag when they came back, IF they came back, with all of their body parts attached?


The total irony of multi-millionaires athletes screaming oppression while they're making 8 figure salaries also proves to us that most NFL jocks are completely brain dead, and therefore make perfect clueless dolts for the 'global elite' who've long been working to take down America. And as Brady warns us in his story, those who are attempting to overthrow America are quite literally inviting hell upon this nation as such an attempt to overthrow America will surely bring upon war.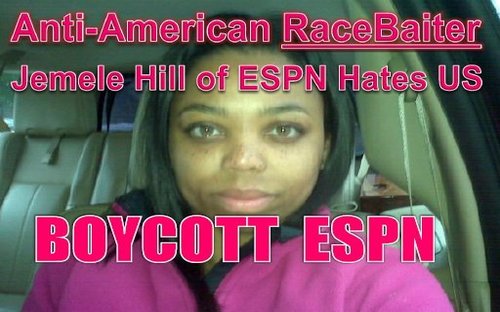 Yet as we return to Brady's story and the fact that what's now happening is so much more than just 'protest' or 'boycotts', Brady warns we're witnessing a war for the future of America. With the NFL teaming with America-hating and racist ESPN proving they've sold their souls to the 'globalist satan' as is perfectly seen in their illuminati-themed halftime shows, it may be time for the American people to raise our voices together and take down EVERY globalist institution in America that has sold out our nation or allows our country, our flag and our veterans and LEO's to be disrespected.

With Black Lives Matter PROVING to us that THEY are a violent, 'racist' group that hates whites while Antifa PROVES to us they are FASCISTS who hate the freedoms of Americans to speak freely, we understand why Brady warns we're now witnessing a war for the future of America: Should the America-hating globalists have their way, we may one day be watching 'white genocide' playing out before our very eyes with Christians already under attack worldwide.

Yet we see recent small signs of progress, such as former NFL Denver Broncos quarterback John Elway saying "Stand for the Anthem and get politics out of football", while reminding everybody that America is the greatest nation on this Earth as is also heard in the 2nd video below. Think the sales of John Elway jerseys won't now go through the roof?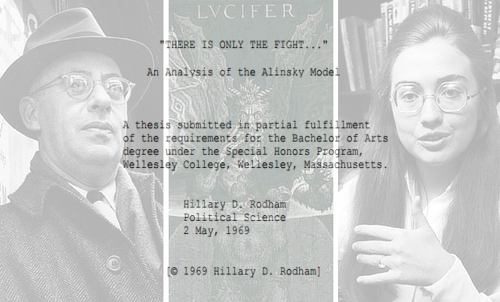 While ANP will be the first to admit that there are many things about our government that are well worth protesting against, protesting against the very country and flag that has written into law our right to protest isn't the way to go.

And as we see it, through our eyes, 'America' already won a very real political 'Revolution' in 2016 when Donald Trump defeated Hillary Clinton, the entire republican establishment and the very real, Saul Alinsky philosophy that Hillary and Obama have long been living and throwing upon America and the world.

For those who might think Hillary ties to 'radical' Saul Alinsky are 'fake news', we invite you to read her senior thesis written on May 2nd of 1969 at Wellesley College in Wellesley, Massachusetts.

As Conservative Review reported back in August of 2016, back in 1993, the president of Wellesley College approved a new rule upon being contacted by Bill Clinton's White House. The rule stated that all senior theses written by a president or first lady of the United States would be kept under lock and key. The rule was meant to keep the public ignorant about the radical ties of the first lady, Hillary Rodham Clinton, to the radical Marxist organizer, Saul Alinsky.



The 92-page thesis was titled, "There is only the fight…: An Analysis of the Alinsky Model." The thesis became unlocked after the Clintons left the White House and is now posted online.



After being ruled by Barack Obama, another Alinskyite, for 8 years, perhaps one might think the fact that the modern Democratic Party is completely taken over by Alinskyites is old news, but the connection between Alinsky and Hillary is special.

Hillary describes Alinsky as a "neo-Hobbesian who objects to the consensual mystique surrounding political processes; for him,

conflict is the route to power

." Alinsky's central focus, she notes, is that

the community organizer must understand that conflict will arise and to redirect it

and, as she quoted him in her thesis, be "...dedicated to changing the character of life of a particular community [and] has an initial function of serving as an abrasive agent to rub raw the resentments of the people of the community; to fan latent hostilities of many of the people to the point of overt expressions... to provide a channel into which they can pour their frustration of the past; to create a mechanism which can drain off underlying guilt for having accepted the previous situation for so long a time. When those who represent the status quo label you [i.e. the community organizer] as an 'agitator' they are completely correct, for that is, in one word, your function--to agitate to the point of conflict."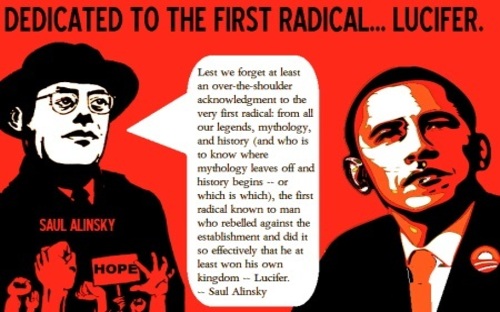 As former Republican presidential candidate Ben Carson reminded Americans during the 2016 Republican Convention, Barack Obama and Hillary Clinton's mentor Saul Alinsky had dedicated his book "Rules For Radicals" to satan.

In the first video below our videographer shares with us why America will never be 'united' until we ALL stand up for our flag and our nation, warning us that cultural Marxism & Saul Alinsky's playbook tactics are brainwashing the weak minded as we've seen all across the NFL. In the 2nd video below we give respect to John Elway for speaking truth, the NFL needs to get politics out of football. And in the final video below, Sean Hannity and Tucker Carlson expose all of the anti-Trump, anti-America Republicans now in the US Senate who are doing their very best to assist in the globalists plans to destroy America beginning at the 35 minute 50 second mark.






MORE NFL SHENANIGANS... LIKE THE TICKET SAYS THIS IS ENTERTAINMENT, WHICH MEANS THEY CAN THROW GAMES WHENEVER THEY DEEM IT NECESSARY, AND FOR GAMBLING PURPOSES, AS HAS BEEN EXPOSED BEFORE
http://www.thedailysheeple.com/shock-report-nfls-oakland-raiders-threw-game-after-white-qb-refused-to-kneel-for-national-anthem_092017
SHOCK REPORT: NFL'S OAKLAND RAIDERS THREW GAME AFTER WHITE QB REFUSED TO KNEEL FOR NATIONAL ANTHEM
A new report from
The Armstrong and Getty Radio Show
has sent shockwaves throughout the sports world after it was claimed that members of the NFL's Oakland Raiders may have purposefully allowed their star quarterback to get sacked multiple times after he refused to kneel during the National Anthem.
If true, this would essentially mean that an NFL football game was
illegally thrown over anger
that one of the teams star white players did not believe that kneeling during the nation's anthem was the correct way to protest supposed racial injustice in America.
In other words, an epic level scandal.
During the anthem, virtually the entire team was seen kneeling other than the teams coaches and star quarterback Derek Carr. Unfortunately, this may have not set well with the team's offensive line as they were apparently the players who spearheaded the entire idea to kneel as a team in the first.
"This is one hell of a scandal with the NFL, could ruin the whole league," claimed the show before detailing the fact that Carr was sacked two times in a row on the teams second drive and that the team's usually dependable center snapped the ball at the wrong time in three different instances. Extremely capable receivers also made multiple "weird" drops of passes thrown by Carr that T.V. announcers even noted at the time.
The radio show
then revealed bombshell "insider information" from an "extremely reliable" source who claimed that members of the Oakland Raiders did indeed throw the game as a sort of punishment for Carr choosing to not use the countries anthem to make a political statement.
"He wants to stand alone, he can stand alone on the field," one of the teams offensive lineman said, according to the shows source. Keep in mind, the offensive line are literally the guys whose job it is to protect the quarterback, in this case the star player who didn't kneel.
Amazingly, the circumstantial (and possible direct) proof didn't end there as the show then claimed that this same source also revealed that a local team reporter got wind of the story and asked a team official for comment. What he was apparently told in response has all the hallmarks of a team trying to cover up a major scandal.
"If you report on this, you will be blackballed, you will not get access to the Raiders period," the reporter was supposedly told. "Your career covering the team will be over".
While there are obviously major legal and ethical issues if this is true, it also paints a sad picture of a football league divided by a political and media establishment all too happy to cause as much racial divide in the country as possible. For as long as Americans focus on differences between each other, the global elites power remains completely unthreatened.
Authors Note:
Its also important to consider that there is almost no chance that any member of the Raiders organization, whether coaches, the front office, or players (especially Carr himself) will publicly admit that this happened if it is indeed true. The sheer amount of mayhem it would cause is enough to keep almost anyone quiet. Anonymous player quotes and sources may be all we will ever have to go on.
We encourage you to share and republish our reports, analyses, breaking news and videos (
Click for details
).
---
Alex Thomas is a staff writer and reporter for The Daily Sheeple. Wake the flock up – follow Alex's work at our Facebook or Twitter.
NOW THIS IS BLACK-OPS FASCINATING... APPARENTLY A COMPUTER-HACKER, BOMBMAKER GUY LIKELY CONNECTED TO THE OBOZO-COMMIE-JIHADI FACTION WAS MANUFACTURING THERMITE BOMBS FOR A SWARM DRONE ATTACK ... YEAH, THE HOUSE WAS IN BETHSEDA, MARYLAND ... OR VERY CLOSE TO WASHINGTON DC AND THE WHITE HOUSE ...
September 28, 2017
Loyal Trump Forces Destroy "Deep State" Bomb Factory, But FBI Warns Attack Still Imminent
By: Sorcha Faal, and as reported to her Western Subscribers
http://www.whatdoesitmean.com/index2395.htm
DO YOU REALLY WANT TO LIVE UNDER SHARIA LAW???!!! THE TIME TO ACT IS NOW, OR FACE A HORRIFIC ENSLAVEMENT, A HORRIFIC DEATH ... THIS IS NOT ABOUT TOLERANCE, IT'S ABOUT SAVING YOUR LIFE, AND THE LIVES OF YOUR LOVED ONES ... IT'S ABOUT SAVING AMERICAN FREEDOM
http://www.whatdoesitmean.com/index2396.htm
China
Bans Koran As Millions Of Poles Head To Border To Pray For Protection Against Muslims
By: Sorcha Faal, and as reported to her Western Subscribers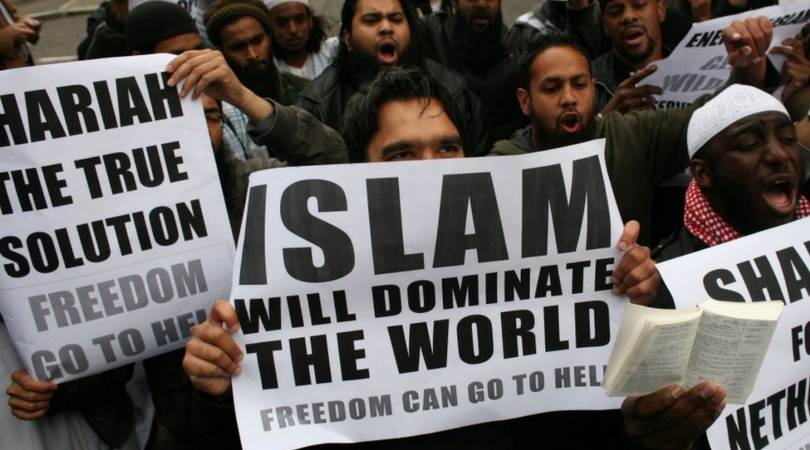 According to this report, the global backlash against Islam is in response to Western-Globalist elites surrendering to the most radical factions of this religion who have waged total war on the entire world over these past nearly five decades costing the lives of thousands—with the typical response of these elites being typified by London Mayor Sadiq Khan shockingly declaring recently that "Islamic terror has now become a part of everyday life".
Rather than protecting their citizens against radical Islam, this report explains, these Western-Globalists have, instead, flooded into their nation's millions of Muslim refugees to such catastrophic effects of Muslim's in Germany holding a "rape festival", Sweden becoming the rape capitol of Europe as Muslim rape gangs terrorize that whole nation, Finland experiencing the largest rape epidemic in its history due to Muslim refugees, France, England and Spain becoming near monthly targets of Muslim terror attacks—and even, too, in Switzerland—where it is now being said that "The Hills are Alive with the Sound of Jihad".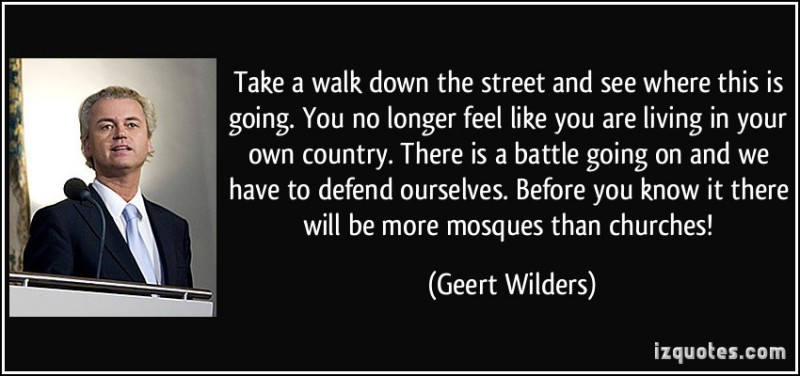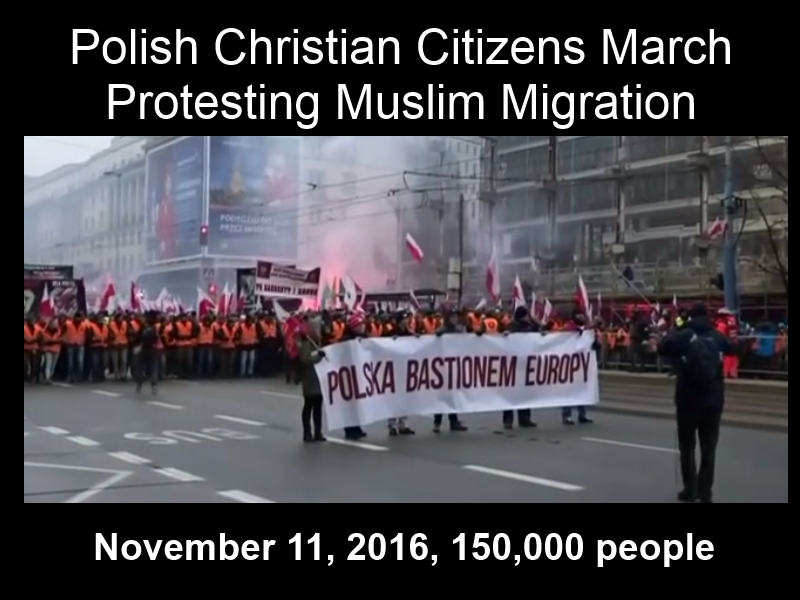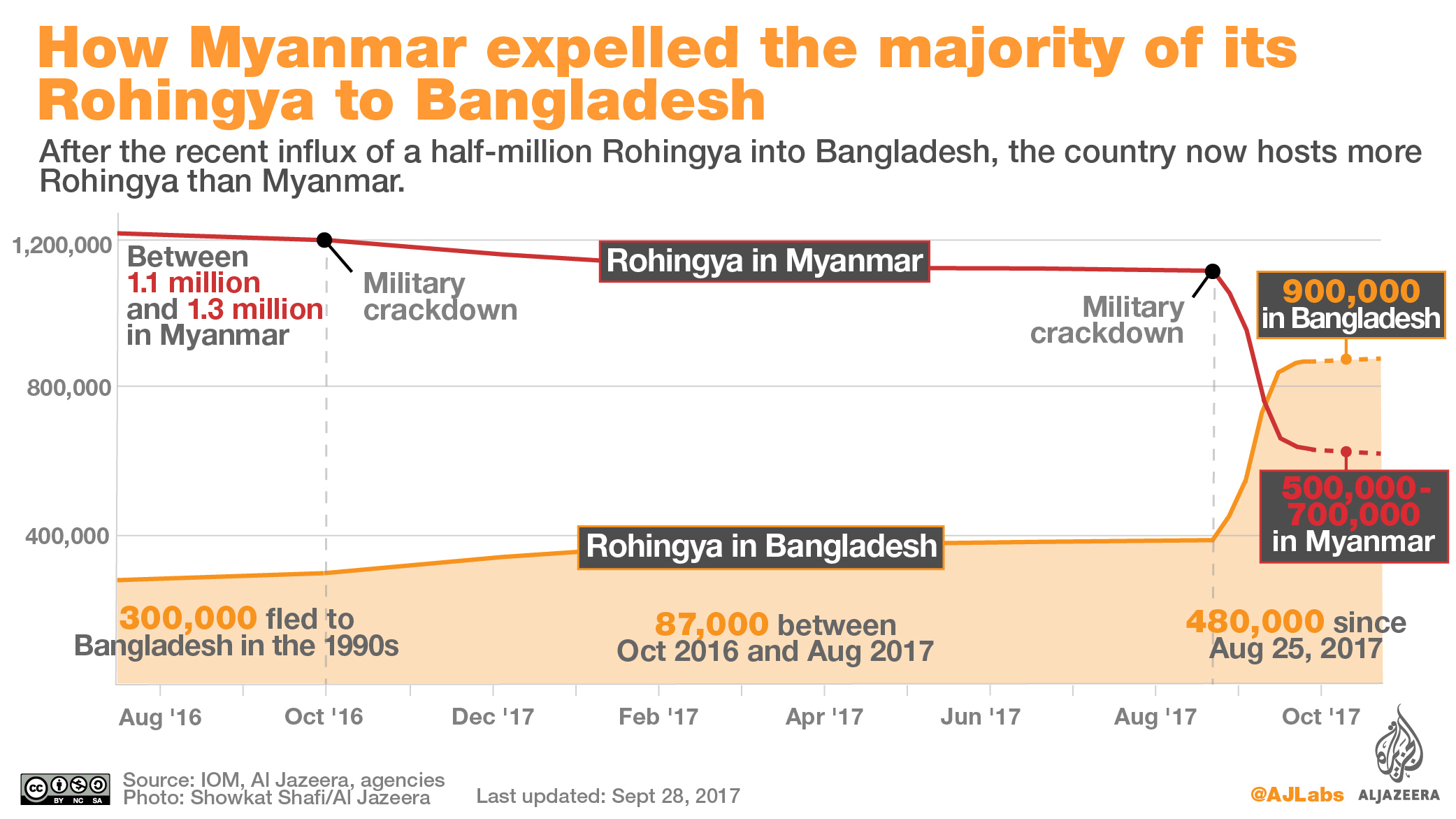 Breaking with these Western-Globalists, however, this report continues, is China—who openly stated, this past week, their support of Myanmar in battling against the radical Muslims terrorizing their nation—and who have further have, also, just ordered the Islamic peoples in China to immediately hand in all copies of the Koran and prayer mats, or face "harsh punishment"—and who had, also, previously banned the Islamic language from being spoken in schools..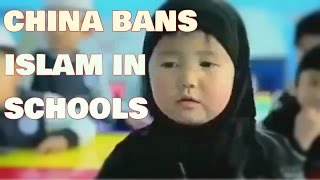 "Modernity is radically incompatible with Islam. According to the Islamic worldview, man's life remains under the supervision of Allah; it is Allah who guarantees man's freedom, and guides him in his life journey.
But according to modernity's view, man possesses an absolute value in the universe. He depends on his own reason, and by using his critical faculty, he determines his own responsibilities.
Thus, as a Muslim finds himself wandering and lost in the lands of modernity, he tends to isolate himself from his social environment.
Within his inner life a raging civil war goes on; in fact the clash of civilizations takes place between his faith and the modernity that governs his surroundings, invading his very home!
Immigrant Muslims don't care about what the laws of their countries say.
Rather, they give heed to what the Shariah demands. In democratic lands where the rule of law reigns, Muslims prefer to seek guidance from Islamic fatwas.
You would be overwhelmed and shocked to learn about the multitude of fatwas that are issued daily in the Islamic world.
According to the London-based television channel "

Hiwar

," Dar al-Fatwa, in Egypt, alone, issues daily, more than 1,000 fatwas in four different languages over the telephone; not counting another 500 fatwas handed to believers who seek guidance by going to the Center."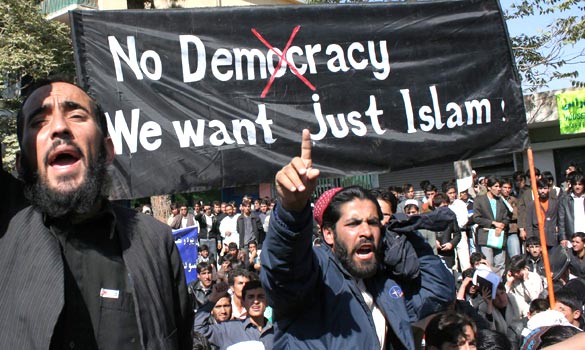 Unlike the Western-Globalists, too, this report continues, in Russia, all Islamic leaders, such as Ramil Hazrat Bilyaev, receive extensive (most times lifelong) religious instruction and guidance under the protection of the Ministery of Religious Affairs—
and whom, in essence, creates
plans and strategies aimed at dissolving Muslim communities at the social, cultural and educational levels, and then re-integrate them, willingly or unwillingly, into the existing systems together with their secular trends and positivist philosophy in order to eliminate the grave threat they pose.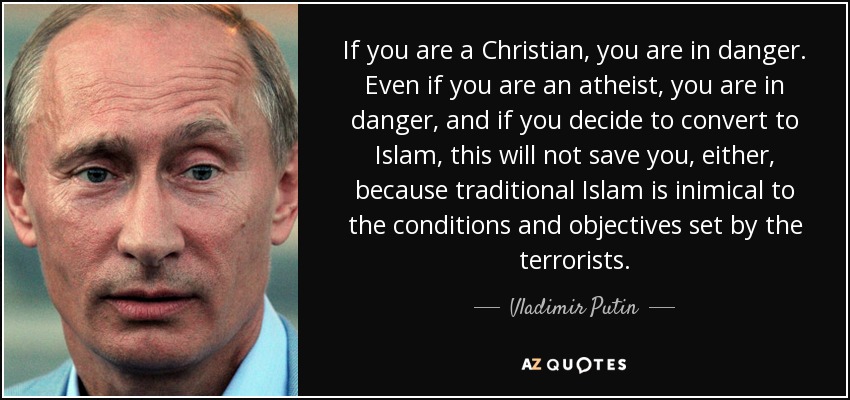 By these Western-Globalist elites ignoring the fact that Islam will never be compatible with their modern way of life or laws; and with that being so, their Muslim peoples needing to be placed under the strict control of the state, this report concludes, the West is setting itself up for its own internal destruction by religious forces it neither fully comprehends the danger of, or can control—and whose latest insane proposal to end all religious strife is being made by a former Google engineer, named Anthony Levandowski, who has just declared his intention to create an artificial intelligence "robot god" the whole world could then bow down to and worship.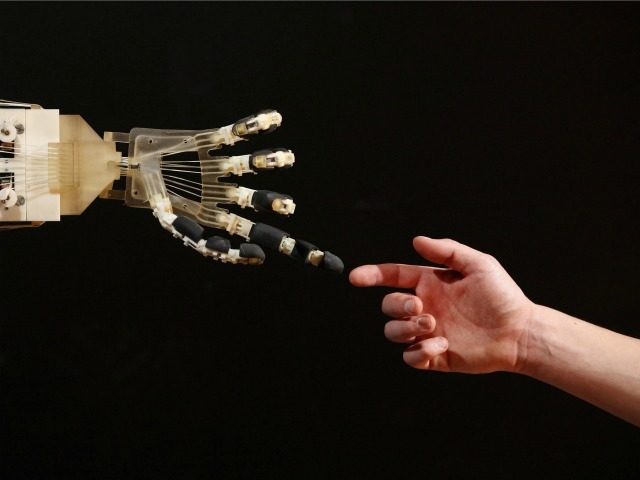 "How long will you people turn my glory into shame? How long will you love delusions and seek false gods?"
Psalm 4:2