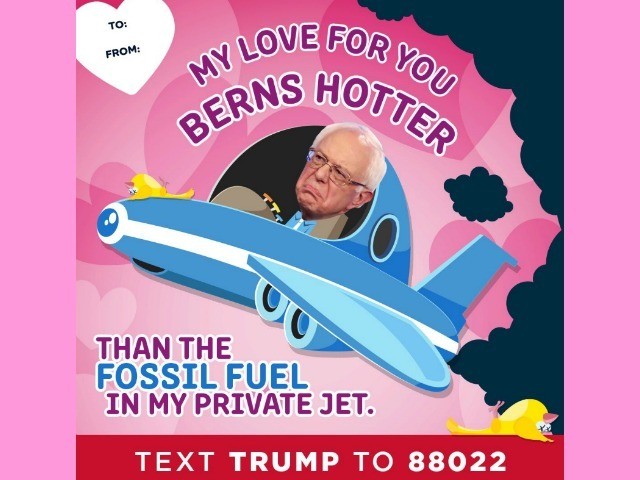 Donald Trump's Campaign Creates Valentine's Day Cards Mocking 2020 Democrats
https://www.breitbart.com/politics/2020/02/14/donald-trumps-campaign-creates-valentines-day-cards-mocking-2020-democrats/?utm_source=newsletter&utm_medium=email&utm_term=best_of_the_week&utm_campaign=20200215
THIS IS A MUST-SEE VID IF YOU WANT TO KNOW THE VIRUS-SITUATION...
MIKE ADAMS OF NATURALNEWS.COM...
Japan activates global suicide mission, releasing thousands who might be infected

Japan has just activated a global suicide mission, releasing thousands of potentially infected cruise ship passengers onto the streets of Tokyo, allowing them to take international flights to dozens of cities all across the world.

It's total suicide/incompetence. And Japan isn't alone in this stupidity. We're also seeing suicidal stupidity in Hawaii, Washington and Florida.
NO THE CHICOM GOVERNMENT DOES NOT, DOES NOT, DOES NOT!!! CARE ABOUT THE CHINESE PEOPLE... DIVINE INTERVENTION AND DIVINE LOVE TO THE CHINESE PEOPLE, TO PEOPLE WORLDWIDE...
VICTOROLOGY, OH THAT BAD ALEX JONES, WHAT WILL HE COME UP WITH NEXT? BUT YES, THE KOUGARESS SO RESONATES WITH MR. JONES...
VICTORYOLOGY: THE STUDY & SCIENCE OF TOTAL HUMAN EMPOWERMENT & EXPANSION
Alex Jones coins new term that defines how mankind fulfills its greatness
Alex Jones coins a new term that explains the realm of human triumph and potentiality for greatness.
https://www.infowars.com/victoryology-the-study-science-of-total-human-empowerment-expansion/
THE PSYCHO-EVIL GLOBAL ELITE... BEWARE! BLOOMBERG IS ONE OF THEM
"There is a certain class of race problem-solvers who don't want the patient to get well, because as long as the disease holds out they have not only an easy means of making a living, but also an easy medium through which to make themselves prominent before the public." - Booker T. Washington
WOW! President Trump TORCHES Corrupt, Evil Judge Amy Berman Jackson!
On Tuesday President Trump TORCHED Demon Judge Amy Berman Jackson!
The Gateway Pundit has reported extensively on this corrupt and demonic judge.
Judge Amy Berman Jackson, an Obama appointed corrupt liberal judge with an angry disposition towards Americans who think differently than Obama, continues to put her own distorted interpretation of US law ahead of the US Constitution.
Sadly, Judge Jackson has a horrible far left record on the bench.
… George Papadopoulos pled guilty to a single charge of making a false statement to the FBI. He was not charged with so-called "collusion" because no such crime exists in American statutory law, except in anti-trust matters. It has no application to elections and political campaigns.

It is not a crime to talk to a Russian. Not that the media would ever understand that. They have never managed to point to a single statute that makes "colluding" with a foreign government in a political campaign a crime, likely because it does not exist in the criminal codes.
Jarrett then turned his attention to Corrupt Hillary:
It is against the law for the Clinton campaign and the Democratic National Committee to funnel millions of dollars to a British spy and to Russian sources in order to obtain the infamous and discredited Trump "dossier." The Federal Election Campaign Act (52 USC 30101) prohibits foreign nationals and governments from giving or receiving money in U.S. campaigns. It also prohibits the filing of false or misleading campaign reports to hide the true purpose of the money (52 USC 30121). This is what Clinton and the DNC appear to have done.

Most often the penalty for violating this law is a fine, but in egregious cases, like this one, criminal prosecutions have been sought and convictions obtained. In this sense, it could be said that Hillary Clinton is the one who was conspiring with the Russians by breaking campaign finance laws with impunity.

But that's not all. Damning new evidence appears to show that Clinton used her office as Secretary of State to confer benefits to Russia in exchange for millions of dollars in donations to her foundation and cash to her husband. Secret recordings, intercepted emails, financial records, and eyewitness accounts allegedly show that Russian nuclear officials enriched the Clintons at the very time Hillary presided over a governing body which unanimously approved the sale of one-fifth of America's uranium supply to Russia.

If this proves to be a corrupt "pay-to-play" scheme, it would constitute a myriad of crimes, including bribery (18 USC 201-b), mail fraud (18 USC 1341), and wire fraud (18 USC 1343). It might also qualify for racketeering charges (18 USC 1961-1968), if her foundation is determined to have been used as a criminal enterprise.
The US statutory law is clear and Jarrett pointed it out. He concluded with the following –
…Mueller's appointment by Acting Attorney General Rod Rosenstein violated the special counsel law.

As I pointed out in a column last May, the law (28 CFR 600) grants legal authority to appoint a special counsel to investigate crimes. Only crimes. He has limited jurisdiction. Yet, in his order appointing Mueller as special counsel (Order No. 3915-2017), Rosenstein directed him to investigate "any links and/or coordination between the Russian government and individuals associated with the campaign of President Donald Trump." It fails to identify any specific crimes, likely because none are applicable.
Manafort's case argued in paragraph 33 of its filing that the special counsel put in place by crooked Rosenstein gave crooked and criminal Mueller powers that are not permitted by law. Mueller was given the latitude to investigate whatever he wanted to and that is not permitted by the law. Manafort's filing paragraph 33 stated –
But paragraph (b)(ii) of the Appointment Order purports to grant Mr. Mueller further authority to investigate and prosecute "any matters that arose or may arise directly from the investigation." That grant of authority is not authorized by DOJ's special counsel regulations. It is not a "specific factual statement of the matter to be investigated." Nor is it an ancillary power to address efforts to impede or obstruct investigation under 28 C.F.R. § 600.4(a).
In a very small regional jail in Warsaw, Virginia, sits Bob Mueller's big fish, Paul Manafort.

Mueller, the U.S. Department of Justice Special Counsel appointed to investigate any possible collusion between Russia and President Donald Trump's campaign, has charged Manafort with multiple counts of conspiracy, money laundering, tax crimes, false statements, and anything else they can wad into a big ball and throw up against the wall to see what sticks.

After his arrest, Manafort was placed on house arrest on a $10 million-dollar bail, until the government recently accused him of witness tampering and convinced U.S. District Judge Amy Berman Jackson to revoke his bail, and remand him to jail pending trail.

To a casual observer, this would seem justified, however, to anyone that has been through it, or has witnessed the government's selective and political prosecutions over the past few decades, they would tell you that it is all a part of a prosecutorial strategy.

Solitary confinement in prison lingo is also referred to as a special housing unit (SHU), or punitive segregation unit (PSU), and their individual cells are called a box, hole, or cage.

It's basically a deathtrap. A 12′ x 8′ solid steel or concrete box with a metal bed, stainless steel sink and toilet, and if you're lucky, a small concrete or metal writing table and stool. On the solid steel metal door, there may be a 4 x 24-inch window that gives the inmate a slight view of the outside corridor, that can be blackened out by the correction staff at a moment's notice.

Kerik continued –

Where prison itself demeans, degrades, and demoralizes a defendant, solitary confinement goes far beyond the normal deprivation of freedom, where the strain of isolation can cause a prisoner to suffer from manic depression, hopelessness and despair, paranoia, anxiety and, quite often experience hallucinations. It can send suicidal prisoners over the edge, and incite juveniles to act out.

Pre-trial inmates can easily be manipulated into confessions and or guilty pleas, with promises or suggestions of being released from the box, and quite often they will do anything to be freed from the mentally and emotionally breaking cell, including lying, and pleading guilty to something they never did.
…denied a request by President Donald Trump's former campaign manager Paul Manafort to suppress evidence seized by the FBI from his home as part of Special Counsel Robert Mueller's ongoing probe into whether Trump's 2016 presidential campaign colluded with Russia.
Manafort's lawyers had sought to limit the scope of evidence that prosecutors can rely on for his upcoming September trial in Washington, D.C., claiming that the search warrant was overly broad and unconstitutional.

"Given the nature of the investigation, the warrant was not too broad in scope," wrote Judge Amy Berman Jackson for the U.S. District Court for the District of Columbia in her ruling.
Friends of Trump go to solitary – Friends of Obama are set free!
Next Judge Jackson was somehow assigned to Roger Stone's case where he was indicted by the Mueller gang after being arrested a 5 in the morning in Florida by 20+ FBI Agents live on CNN!
Judge Jackson quickly put a gag order on Stone similar to what she did with Manafort. Next when Stone argued that he committed no crime related to knowing that WikiLinks because ther
Stone's charge was lying to Congress but Congress lies to Americans every day with immunity.
Judge Amy Berman Jackson should be impeached and thrown in jail for their blatant abuse of the US judicial system in torturing and destroying the lives of those who worked with President Trump. She should be held to the same criminal treatment that she promotes. She's a banana republic judge at a time when Americans want justice!
PEDO EMPIRE, THE PODESTA MOLESTA BROTHERS...
Clinton Fixer John Podesta Lashes Out at President Trump For Attacking Crooked Tony Podesta
PELOSI FOR PRISON, THE KOUGAR LOVES IT!!!
AERIAL ATTACK: "Pelosi For Prison" Banner Spotted In The Skies of San Fran
Days after House Speaker Nancy Pelosi bitterly ripped up President Trump's SOTU speech, DeAnna Lorraine,
the leading GOP candidate running against the bitter impeachment queen
, contracted a plane to fly around San Francisco with a banner in tow that read
"Pelosi For Prison"
"I am running for Congress to clean out the corruption that is Nancy Pelosi. Instead of caring for the people of San Francisco and advancing their issues on a national scale, she spends her time conducting asinine impeachments, petulant theatrical tantrums and ripping apart the President's State of the Union Speech," said Lorraine.
"It's past time we start hitting her hard on her record of poor leadership and egregious crimes against America, and I look very much forward to retiring her in November."
https://www.thegatewaypundit.com/2020/02/aerial-attack-pelosi-for-prison-banner-spotted-in-the-skies-of-san-fran/
WHEN THIS BIG CAT WAS GROWING UP 'FREEDOM OF SPEECH' WAS CONSIDERED CONSTITUTIONALLY SACRED, AND CENSORSHIP WAS VERBOTEN, ALWAYS HEAVILY CRITICIZED ... NOW *BIG BROTHER 1984* RULES OVER US...
Instagram and Facebook Bans Censored.TV and Everyone Associated With it — Users Can No Longer Link to Their Website
Censored.tv, a network featuring the most censored — and some of the most interesting — people on the internet, has now been banned from Instagram and Facebook.
CHINA LAUNCHES BIOLOGICAL WARFARE AGENDA: COVERTLY INFILTRATES PLANE WITH "TROJAN HORSE" CORONAVIRUS CARRIER
Local investigators confirm plane's destination is Taiwan
This is a damning escalation of tensions between communist China and Taiwan as the coronavirus pandemic explodes, nearly doubling the number of confirmed infections every 3.5 days (i.e. exponential, self-sustained pandemic outbreak).
As part of an evacuation operation carried out by the government of Taiwan, the communist Chinese government refused to allow Taiwan to charter its own plane to rescue its citizens from the Wuhan region. China demanded that its own airplane be used, refusing to follow the Taiwan government's request that "old women, women with children and children" should be the priority of evacuees allowed to take the flight.
CHINA NOW TRYING TO SPREAD THE CORONAVIRUS ACROSS TAIWAN
The covert operation appears to be a biological warfare attack on Taiwan by the communist Chinese regime, which deliberately intended to infect the entire flight with coronavirus so that infected passengers would further spread the pandemic in Taiwan. Such actions, of course, violate international laws, the Geneva Convention and various international treaties that outlaw the deployment of biological weapons.
Here's the original Chinese article, for those who are able to read it:
CHINA KNOWS ITS POLITICAL POWER WILL BE CRIPPLED BY THE CORONAVIRUS PANDEMIC
TAIWAN'S INFECTIOUS DISEASE OFFICIALS BROUGHT TO TEARS OVER CHINA'S BIOWARFARE ATTACK
Taiwan is working feverishly to protect its citizens from the malicious, criminal actions of the mainland Chinese regime, but given that China is willing to deploy "pandemic sleeper cells" on Taiwan evacuation flights, the Taiwan government is now facing an enormous burden to screen, quarantine and treat patients who may be in various stages of the coronavirus incubation.
For this effort, the communist Chinese regime should be labeled a criminal regime that is committing crimes against humanity, yet the compromised W.H.O. remains committed to China, even absurdly praising China for its "transparency."
Every institution in America — from Hollywood to the tech giants and even the U.S. Senate — seems to be running cover for China, one of the most inhumane, cruel authoritarian regimes in the history of our world. China routinely kidnaps innocent civilians, subjects them to rape and torture, murders political enemies, runs "education" camps that imprison Muslims, and even runs organ harvesting factories to generate profits from the international black market of human organs.
China also routinely bullies Taiwan and even threatens global corporations with retribution if they do not bow to the demands of the communist regime. By any reasonable standard, China is truly one of the most dangerous, evil and destructive regimes on our planet, and it proves that designation yet again by illegally deploying a human weapon biological warfare attack against Taiwan.
Why is there no outcry from the United Nations or the WHO? Where is the outcry from the scientific community? Where is the coverage in the mainstream media? It's nowhere to be found, because all the corrupt, criminal institutions of our world have already sold out to the communist Chinese regime. (Much of the controlled U.S. media is now run by communists. CNN is now called the "Communist News Network.")
Surely China's biological warfare attack on Taiwan should trigger a considered response from the United States, but so far, no one is even acknowledging this incident has taken place, since it's not reported anywhere in the (controlled) U.S. media. President Trump is likely not even aware this has happened.
The entire mainstream media is lying to you about the coronavirus pandemic and China in particular. But you already knew that, of course.
Fascinatingly, media lies about the coronavirus seem to be spreading almost as fast as the virus itself.
---
GENERAL FLYNN... THE TRUTH...
Yes... "The mind truly boggles." WHY IS THIS STUPIDO MAN ATTACKING A WOMAN FOR WEARING A PROTECTIVE FACE MASK??? WHAT AN EXCEPTIONAL IDJIT!
CHINESE WOMAN ATTACKED FOR WEARING FACE MASK IN NEW YORK, MEDIA IGNORES STORY
Gee, I wonder why.
A Facebook user identifying herself as Gin who filmed the confrontation said the man then hit the woman repeatedly on the head before fleeing (probably not a wise move if she actually had coronavirus).
When the woman tried to retaliate, the man hit her with an umbrella.
"No one stepped in as she was getting beaten with an umbrella until I pulled him off. He ran out of the station shortly after," said Gin. "I truly believe that wearing a mask in NYC right now marks you as a target. So please be careful, and stand up for your friends."
After receiving threatening messages via Facebook, the woman subsequently removed the video and asserted that it was "NOT an excuse to be racially discriminatory towards African Americans."
"The problem is ignorance, not an entire race! We stand in solidarity against ignorance, not against a race," said Gin.
What seems unfathomable is that despite relentlessly lecturing people not to use the coronavirus as an excuse for "racism," including by labeling discussion of 'bat soup' memes as racist, the media hasn't touched this story.
I wonder why?
The mind truly boggles.