All Hallow's Eve yowls and roars, and big grrrrs... Halloween-snappy Big Cat Beauties
... so, as many, including this Big Cat, have predicted, the death-elimination of the Las Vegas massacre *witnesses* is ongoing. And not to mention all the mysterious helicopter activity overhead at the time of the *multi-shooting events* that were occurring in many hotels/locations... interestingly, it seems as though those copters went dark, as in no transponder communication... gee, no suspicion there, huh? One may wonder what *exactly* went down in Las Vegas... obviously it was a multi-pronged operation with so many deep dark rabbit holes...well, who can keep track??? You'd need walls of spreadsheets at this point just to document ALL the players and the multi-purpose ops... and apparently, according to one report, the various teams involved got their timing screwed up with each other -- which hopefully spared many more lives... plus the whole satanic-ritual blood sacrifice aspect.... yeah, THAT WAS ALL TOO OBVIOUS, given the symbolism and the use of the pyramid as a murder-staging area... then, there was the live drill also taking place, like a Hollywood-style production [this happened on 911 and at the Oklahoma bombing] ... plus, there is the AREA 51 VIMANA op... AND! there's a Saudi Islamic connection with their mercenary groups being observed on the ground -- these mercenaries are backed by Ovomit/Killary monied forces -- and are terror-blackmailing the Trump administration -- Oh! and don't forget the CEO of the Mandalay [who is connected to Soros] and others sold their stock off, then when it plummeted, bought it back on the cheap ... ALSO! it looks as though there were OCEAN ELEVEN type of activities happening ... AND NOW, cell phone, gun stores are being robbed like never before in Vegas, in Texas, and across the country -- is this the BOLSHEVIK/ANTIFA preparing for war against WE AMERICANS? ... oh yeah, the whole complexity and ramifications of the Las Vegas massacre is brain-numbing in the extreme ... but that is our world today ... in fact, you could say the Las Vegas massacre-op is a microcosm to the macrocosm that is the current state of our globalist-controller world ... this includes, of course, the GOOD PEOPLE who saved themselves and helped save others ... this includes the brave witnesses WHO ARE TELLING THEIR TRUTHS, what they saw, what they experienced... and, sadly, terribly, some are paying the ultimate price: DEATH. Likely, the body count will continue. Please pray for DIVINE INTERVENTION to stop these evil assassinations. And for the whole TRUTH TO EMERGE.
Question: How much of this horror can WE THE PEOPLE endure? Far more important: How do WE THE PEOPLE stop!!! it? How do WE take our world back from the new world order criminals boot-stomping on our human faces?
WATCH YOUR TAILS, BE CAREFUL OUT THERE, most beloved kittens ... 'cause this Big Cat loves ya!
ANCIENT EGYPT ... this is definitely fascinating... given the Kougar has occasional glimpses of a life in Ancient Egypt, she wishes she had time to investigate and see if this presentation rings true... she did watch, of course...
PORTAL???
THIS IS TRULY HAILSTORM-UNBELIEVABLE ... !!!
Biblical hailstorm covers Cordoba, Argentina in 1.5 m (4.9 feet) of hail within 15 minutes
Heavy hail and rain this afternoon affected the cities of Almafuerte, Embalse, La Cruz and Rio Tercero in southwest of Córdoba, Argentina.
More than 1.5 m (4.9 feet) of hail accumulated within 15 minutes, burying cars, damaging roofs and triggering widespread power outages.
http://strangesounds.org/2017/10/biblical-hailstorm-cordoba-video-pictures-argentina.html
YEP, THE STORMS KEEP ON COMING AND WILL KEEP ON COMING... GET PREPARED MENTALLY AND PHYSICALLY
THE EARTHQUAKES ARE EXPANDING, GETTING STRONGER ... LIKELY HUGE DEVASTATING QUAKES NEXT YEAR... BEWARE!
KILLING OFF THE PACIFIC OCEAN... HOW TERRIBLY SAD IS THIS?
THIS IS A QUESTION THAT MUST BE FACED, AND THE TRUTH DISCOVERED
MEANWHILE, THIS SAD NUKE EVENT IN NORTH KOREA ... THEIR MISTAKES? OR WAS THIS SOME TYPE OF SABOTAGE-OP?
NORTH KOREA NUCLEAR DISASTER: HUNDREDS DEAD AT MISSILE TESTING FACILITY
Experts warn radioactive fallout could affect entire continent
https://www.infowars.com/north-korea-nuclear-disaster-hundreds-dead-at-kims-missile-testing-facility
GEE, ACTUAL CONSTITUTIONAL PROTECTION BEING ACTIVATED... WE'LL SEE...
GOOD JOB, MR. PRESIDENT ... THE DARKSIDE CIA EXPOSED!!!
"Long ahead of schedule."
THE STANDARD OF VERY FAKE NEWS...
DISNEY IS THE DOD... FACE IT, AMERICA...
YEAH, THE KOUGAR'S HEART HURTS TOO FOR THIS COUPLE ... HEY, THEIR CAR SIMPLY COMBUSTED, WENT UP IN FLAMES ... REMEMBER MICHAEL HASTINGS? HE WORKED FOR ROLLING STONE AND WAS ABOUT TO EXPOSE THE *CIA* ... REMEMBER, HIS CAR SIMPLY RACED AT A HIGH SPEED, THEN EXPLODED...
THIS BIG CAT IS FEELING SO VERY SAD ... SHE IS SO UNBELIEVABLY TIRED OF GOOD PEOPLE DYING, BEING MURDERED TO COVER UP THE HEINOUS DIABOLICAL CRIMES OF THE DEEPSTATE... SEVERAL INNOCENT PEOPLE HAVE ALREADY BEEN KILLED OFF OVER THE LAS VEGAS MASSACRE -- LIKE THIS COUPLE -- YEAH, 300 DEAD TO COVER UP THE JFK ASSASSINATION ... WHEN WILL IT END?
THE KOUGAR'S HEART HURTS...
October 29, 2017
ANOTHER Murdered Las Vegas Eyewitness Reminds Us: Dead Men Tell No Tales! JFK Files Prove US Government False Flag Terror Is NO 'Conspiracy Theory'
- Is This Proof We're Witnessing It In Vegas As They Try To Clean Up Their Mess?


By Stefan Stanford - All News Pipeline - Live Free Or Die
While for many decades, anybody who has attempted to talk about the United States government sponsoring 'false flag terrorism' has been either labeled a 'tinfoil hat wearing conspiracy theorist' or a 'nut', we get absolute proof from the recently released JFK Files that going back at least 55 years, our government had no problem terrorizing innocent people here in America and blaming it on others.
With the JFK Files finally being released at the same time as what appears to be a massive, coordinated 'event' in Las Vegas, withanother dead witness who claimed to have been chased by two shooters as shared in much more detail below, we're now being told by those in positions of authority that they'll be refusing to release any new Vegas information to the public because 'it doesn't matter' anyways. So, we have to ask, why should the American people believe ANYTHING we are being told when the JFK Files PROVE we've been lied to by parts of our government for over 55 years??!!!

As we've previously reported on ANP, those who've been paying attention know that the 'deep state' of the US government had no problem what-so-ever terrorizing the innocent and blaming that terror upon others as was documented in Operation Northwoods, which sounded very similar to what we're now reading of 'Operation Mongoose' as seen in the screenshot below.

And as we hear in the first video below, the newly released JFK files proves that the CIA engages in false flag terrorism on United States soil designed to terrorize American citizens and convince them that new laws inhibiting freedom and liberty are necessary to promote safety within the country and combat foreign boogeymen.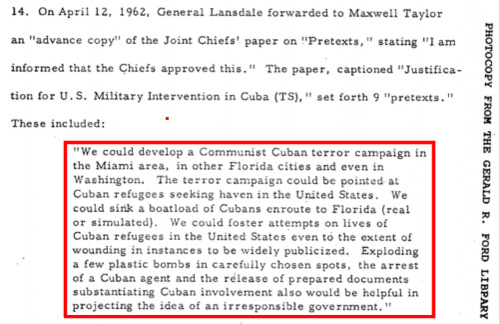 For those who have been sleepwalking through TRUE American history, Operation Northwoods was a proposed false flag operation against the Cuban government that originated within the U.S. Department of Defense (DoD) and the Joint Chiefs of Staff (JCS) of the United States government in 1962.

The proposals

called for the Central Intelligence Agency (CIA) or other U.S. government operatives to commit acts of terrorism against American civilians and military targets, blaming it on the Cuban government, and using it to justify a war against Cuba

. The plans detailed in the document included the possible assassination of Cuban émigrés, sinking boats of Cuban refugees on the high seas, hijacking planes, blowing up a U.S. ship, and

orchestrating violent terrorism in U.S. cities

.

The proposals were rejected by the Kennedy administration.

Since we now have absolute proof that the United States government was planning on terrorizing innocent people to meet their sick, political agenda of getting us into a war with Cuba 55 years ago, why should Americans think that the 'deep state' wouldn't do the same thing in 2017? The fact that JFK was killed soon after rejecting their satanic proposals of terrorizing the American people while blaming it upon others should speak loudly and clearly to ALL Americans.

The fact that President Trump has allowed the release of these JFK records, despite the intelligence agencies lobbying to prevent him from doing so, leads us to ask if President Trump now has a 'dead man's switch' in place? With the 'deep state' at war with President Trump, we pray he wears the Armor of God in the days and weeks ahead. And remember, the 'deep state' was largely created by Bill Clinton, George Bush and Barack Obama, all 3 of whom have recently publicly attacked President Trump's 'America-first' agenda.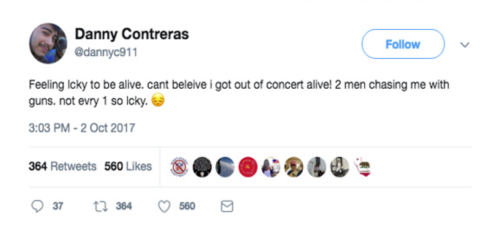 Back on October 2nd, one Danny Contreras put out the tweet seen screenshot above on twitter claiming how lucky he felt to be alive after the Las Vegas shooting, especially considering two men were chasing after him with guns. Tweeting then that not everyone was so lucky, Contreras luck has run out as we read in this story from the Las Vegas Review Journal, 35-year-old Danny Contreras was found shot to death Monday in an abandoned home as also heard in the 2nd video below.

At least the 2nd Vegas survivor to recently die, both who challenged the 'official narrative' claiming there were definitely more than one shooter, are the 'false flag' perpetrators now attempting to clean up their mess? Just think about this, if this was a 'staged event', the 'real' terrorists in Vegas are still running free. Are they planning their next operation? And now we learn from US Defense Watch that a couple that survived the Las Vegas shooting recently died in a car crash. What are the odds? From the Tea Party Command Center blog:

Danny Contreras has become the latest Las Vegas survivor to die in suspicious circumstances or disappear in the weeks following the shooting. Disturbing, the dead witnesses all have one thing in common – they all provided information that calls the official narrative into question, and they were all ignored by law enforcement and mainstream media.

In the face of all evidence, and countless survivor testimonies,

mainstream media is perpetuating a major cover up by claiming there was only one shooter

.

Las Vegas Review Journal reported on the death of Danny Contrera and claim that Metropolitan Police Department homicide Lt. Dan McGrath told them Mr. Contrera may have had gang ties or have been involved in narcotics. While this may or may not be true, what is becoming increasingly difficult to ignore is the number of bodies stacking up after the Las Vegas shooting. Are they being silenced to stop the truth coming out?

John Beilman, who was wanted by federal agents following the discovery of a communications device in the hotel room of the officially identified shooter Stephen Paddock, killed both himself and his disabled daughter in an apparent murder-suicide.

Chad Nishimura, the Mandalay Bay valet who parked Stephen Paddock's car, went missing in the days following the shooting, after giving an interview to a Hawaiian mainstream outlet KITV4 in which he contradicted the official narrative, and pointed out that Paddock "didn't have many bags." Certainly not enough to cart 27 semi-automatic weapons, thousands of rounds and modifications up to the room. Mr. Nishimura has yet to surface. (ANP: KITV scrubbed that story but it is alive and well, thanks to the internet!)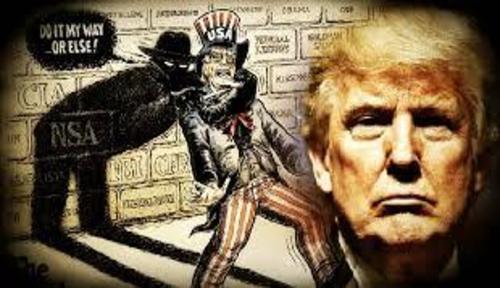 So, with 'the left' still quite dismayed that they have been unable to take away Americans guns and absolute proof that the 'deep state' of the US government loves 'false flag terrorism' as a way to get their satanic and war-driven political agenda accomplished, is there any reason that we shouldn't believe that what happened in Las Vegas was some kind of elaborately planned out scheme?

Remember, not all 'false flags' are devoid of dead bodies and it appears that many people did die or were injured in Las Vegas though some have argued otherwise. But if the 'deep state' was going to terrorize people back in 1962 to accomplish their agenda, and because of 'continuity of government', it is largely the same 'deep state' now, why should we think they wouldn't do it again?

And the fact that ANOTHER Las Vegas eyewitness, a witness who definitely claimed he was being chased by more than just one person with guns, has just like John F. Kennedy, ended up dead, provides evidence to us we're witnessing a familiar pattern of lies and deceptionwith what appears to be choreographed scenes and now several permanently silenced witnesses.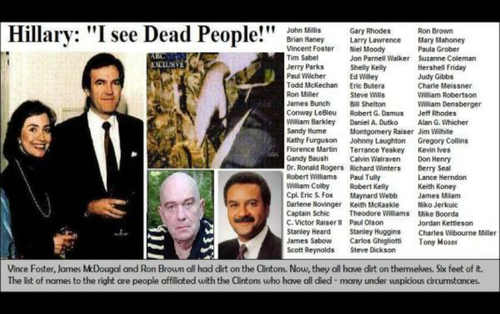 As we're reported time and again on ANP, 'dead tell no tales' and with President Trump now claiming most Republicans are hugely united on one thing, that being Hillary Clinton facing justice, we remember all of those who have met their untimely and mysterious ends and who were tied to either Bill or Hillary Clinton. Is it just a coincidence that SO MANY people died that the Clinton's had ties to or is something dark and truly evil at play?

With the US Congress's approval ratings now sitting at an absolutely DISMAL 13% according to this most recent poll over at Gallup, with 80% of Americans DISAPPROVING of the job Congress is doing helping to prove more than ever that its time President Trump and Americans drain the swamp for good, it'd be wise to note that President Trump's low approval rating of only 38% is STILL more than three times as high as that of Congress.

While we'd love to see the 'false flag perpetrators' getting the justice that they deserve, when we consider that the Kennedy-era proposals were coming directly from the 'deep state', we see just how unlikely that will ever be, along with Americans ever getting 'the truth, the whole truth and nothing but the truth' about Las Vegas.

With the Las Vegas 'official narrative' now completely destroyed as more and more Americans learn that we cannot believe the clearly politically motivated lies coming to us from the totally complicit mainstream media, the fact that George Soros name comes up in Vegas, having shorted MGM shares and sold 80% of his holdings in the weeks before the 'massacre', offers us another piece of the puzzle. A puzzle that the independent media and citizen investigators will have to keep trying to accurately put together as we all know that those who have lied to us for at least 55 years will likely continue to do so.





ACTIVE SHOOTERS ON THE RUNWAY ... THE VEGAS MASSACRE
THE HELICOPTER ATTACK DURING THE VEGAS MASSACRE
MORE INVESTIGATIVE INFO ABOUT VEGAS MASSACRE
DISTRICT OF CRIMINALS ... WE ARE THEIR FEEDING GROUND
DON'T BE CENSORSHIP-EVIL, GO-OGLE
GOOGLE Silent on Lawsuit Accusing YOUTUBE of Censoring Conservatives...
YEP, A COUPLE OF YEARS AGO THIS WAS PREDICTED IN VOLCANO'S WEEKLY ANGELIC FORECAST...
SO, WHY ISN'T THE HILDEBEAST CAGED, ALREADY?
THE COMMIE NEWS NETWORK IN THE CENTER OF THE FAKE-NEWS DOSSIER
LOOKS LIKE THAT DESTABLIZING TERROR ATTACK THAT JUST OCCURRED IN NEW YORK IS THE BEGINNING ... WHAT DO YOU THINK? CHECK OUT DAVE'S COMPREHENSIVE, DOT-CONNECTING ARTICLE
Antifa's Coup to Replace Our Constitutional Republic Through Destablizing Terror Attacks

THE MILITARY INDUSTRIAL COMPLEX MARCHES FORWARD ... BIGTIME DIVINE INTERVENTION NEEDED!!!
DO ALL YOU CAN TO GAIN AND PROTECT YOUR PRECIOUS HEALTH ... LEARN NATURAL MEDICINES ... HOSPITALS MAY ***NOT*** BE AVAILABLE ... AND ***DO NOT*** TAKE ANY VACCINES PURPORTING TO BE THE CURE ... IT WON'T BE!
HOW INCOMPETENT AND COMPLETELY RIDICULOUS IS THIS??? YEAH, THAT WORKS. GET RID OF EVERYTHING SUPPOSEDLY *WHITE* ... FIRST, HOW IS THAT ***NOT*** DISCRIMINATION ... AND SECOND, WHY NOT MAKE ALL LITERATURE OF EVERY CULTURE AVAILABLE FOR STUDY??? THIS IS JUST ABOUT MAKING YOU IGNORANT AND DOWNRIGHT STUPID ... YOU KNOW, DUMBING YOU DOWN SO THEY CAN CONTROL THE MASSES
YEAH, KEEP SATURATING MOTHER EARTH WITH PESTICIDES... THAT WORKS... NOT!!!
WHAT A GOOD IDEA!!!
https://www.naturalnews.com/2017-10-26-the-shared-economy-is-going-solar-with-neighbors-buying-and-selling-renewable-energy-to-each-other-in-brooklyn.html
The shared economy is going solar with neighbors buying and selling renewable energy to each other in Brooklyn
(
Natural News
)
Blockchain technology, the same database system that drives Bitcoin, is now being used to transform the energy sector. A consortium of concerned citizens have proposed a community microgrid iteration that allows people to bid for and sell solar energy to their neighbors. Brooklyn-based LO3 Energy seeks to create a series of local energy networks which would empower New York residents to separate themselves from larger electrical grids during emergency situations, such as extreme weather events which could cut power supply.
The project, which began as an energy think tank in 2012, saw that blockchain technology was the ideal system to create these energy markets. In a nutshell, blockchain is a unique database program which breaks information into "blocks" making it harder for individuals to access or manipulate the data located inside it. The innovation essentially eliminates the middleman and improves the facilitation of digital relationships. Blockchain technology is already considered the system of choice for money transfers and digital currency exchanges. The medical industry and political markets are also considering transitioning a part of their processes to blockchain technology.
LO3 felt that the secure manner of processing massive amounts of continually-changing data could be used to create an energy marketplace of sorts. It would work like this: New York residents who own or have established a smaller power grid from solar panels could sell a portion of the electricity they generate to interested buyers on a mobile app. The app, powered by blockchain, would act as the bidder. Scott Kessler, Director of Business Development of LO3 said that this would enable consumers to figure out what their "willingness to pay for energy" was. Potential buyers would then determine the best price or opt out for traditional energy sources, such as those supplied by ConEd. Another alternative would be to "play with the percentage and see how cheap[ly they could source] local green energy." (Related: The Positive Economic Effect of Solar Energy.)
Kessler added: "The idea is that it isn't just rich people with solar panels selling energy to each other, but really, it's the entire community…So if you're low-income and you need the cheapest power you can get, we'll still provide that to you. We don't want to be dictating."
The pilot program was launched in Brooklyn for several reasons. The first is practical. The state of New York allows electricity consumers to use solar panels on their homes to supply their own electricity. Any power that the consumer doesn't use gets fed back into the larger electrical grid which the customer pays for by kilowatt hour. The microgrid system developed by LO3 would make it easier for these energy-saving New Yorkers to strike a deal with their neighbors for the best possible price. Another reason why Brooklyn was chosen was because the borough has a vested interest in energy sustainability. In the aftermath of Hurricane Sandy, many residents were left without power for days. The use of this microgrid system could, potentially, power various parts of the community for a few days, Kessler noted. Additionally, Brooklyn's architectural diversity made it a good test sample. The feedback from the different types of buildings would prove to be invaluable in the future as the technology expands.
So far, the initial response has been positive. LO3 has announced that they will continue the project, with the microgrid officially going live later this year. The next phase will supposedly include 300 households and businesses and 50 generation sites. It is estimated that the combined power of the involved participants would equate to around 1.5 megawatts of electricity. This is still a small percentage of what the entire Brooklyn population needs, but the purpose of the project was not to replace conventional electricity but to prove that small power grids can serve local communities.
Roger Ditman has signed up for the Brooklyn Microgrid and praised the initiative, commenting, "To me, it's the next step. It's taking advantage of something that is totally free. It helps the atmosphere, it helps the country, and it helps the community. What we're not using gets made available to our neighbors and to the larger community, as opposed to using energy that comes from Arizona."
Sources include:
THE REAL CRIMINAL DRUG CARTELS....
Big Pharma billionaire arrested, charged with conspiracy, racketeering, bribery

The tide is turning.

The feds have arrested the billionaire founder of Insys, a global drug company, and they'd charged him with conspiracy, racketeering and bribery.

The US Dept. of Justice, in other words, just confirmed everything Natural News has been reporting about the criminal drug cartels over the last fifteen years.

Also today, on the political spectum, brace yourself for a fake news barrage all next week as special counsel Robert Mueller -- a "dirty cop" with a long history of collusion -- tries to distract America from the Uranium One scandal.