The Hildebeast Could Be Caged, BUT DON'T HOLD YOUR BREATH YET
... that yowled, most darling Kittens, it appears as though a whole slew of people in the DeepState are also more than bigtime-fed up with the Clintonista Crime family.
So, looking at this through an intuitive lens, here's what the Kougar is sensing... right now, anyway ... given the instability of the current timelines [for one thing] .. and the ultra QUICKENING that is HAPPENING on our beloved planet Earth as we fully transition into the Aquarian Age renaissance paradise ... she could get this wrong.
Anyhoo, the long, too long ***LOCK HER UP*** process, of capturing, then convicting this wicked *for real* satanic witch is well in process, has been ongoing -- likely snce the Donald disovered he'd been conned into contributing to the infamous demonic *slush fund* Clinton Foundation -- okay, Hitlary's reputation will continue to be trashed by good-guy design, even as she vainly attempts to ressurect it. Most probably, the Hildebeast is well aware of this plan to bring her down -- which is why she's gone on the offensive, and claims to be running again for the president in 2020, all while promising her cult-idjit followers that President Trump is about to be impeached. And so on, and so on...
However, this Fall 2017, after the major eclipse happens near the end of August -- although, official charges *could* be brought before this -- thus, the real legal war against the Clintons will publicly begin ... if the Hildebeast can somehow escape to Dubai, or one of those Arab states where she's stashed a bunch o'cash, etc. ... well, she might escape imprisonment, but ultimately not conviction.
Will she soon pass from this mortal coil... it's not looking that way to this Big Cat [double darn it!]... yes, even though, Hitlary's health situation is obviously NOT GOOD. NOT GOOD AT ALL. And who knows she might just outlast this Big Cat, especially since she has access to long-life technologies.
Even so, the quake-shaking revelations about the real Hildebeast, which will be methodically and carefully loosed upon the public -- this will cause tremors of REAL TRUTH to tsunami-sweep our country and our world. Meanwhile, those who cannot or will not face this truth will scream maniacally from the very rafters, and *could* cause several riots, not to mention MORE CALLS for immediate impeachment of President Trump ... THE BIG *ALTHOUGH* to this insane-shrieking for the Donald's impeachment ... well, our President has several, if not a hundred or more potent TRUMP CARDS. Like all the covert info on the bad-guy congress people who are corrupt to the gills, who are pedophiles, and worse. It is guesstimated that at least a third of congress is compromised by pedophilia and connections to sex rings.
Stock up on the popcorn, this more-than-amazing show is about to GO LIVE.
http://www.thecommonsenseshow.com/2017/06/06/breaking-a-hillary-conviction-is-being-offered-up-in-deal-between-deep-state-and-trump
Breaking: A Hillary Conviction Is Being Offered Up In Deal Between Deep State and Trump

They say that little things come in small packages. This will be one of the most concise and condensed articles that I have ever written. However, it may prove to be one of the most important I have written, since I broke the Benghazi mutiny story almost 5 years ago.
Please note the caption in the picture above. Obviously, Hillary did not become President. However, she is going to jail for her actions in pursuit of the office.
Hillary Clinton Is Being Offered Up As a Sacrifice by the Deep State
I was told by very reliable inside sources that Jeff Sessions was closing in on the alleged pedophilia allegations against John Podesta and Hillary Clinton and this was going to prove doable because Anthony Weiner and possibly Huma Abedin were going to turn State's evidence. Weiner is taking his chances in jail (27 months). However, Attorney General, Jeff Sessions, is closing in, with the foreign support of President Duterte and Vladimir Putin on child-sex-trafficking emanating out of the United States' elite Deep State.
Yesterday, even
Putin said the Deep State assassinated John Kennedy
. And with each passing day, and with each child-sex-trafficking arrest, the Deep State risks more exposure to both their existence as a shadow government and their true nature. The light of day is something that Deep State will not permit, so a deal is being made which will be revealed in the final paragraphs of this article.
The Sources
Since the election of Donald Trump, I have been receiving information from an FBI employee (nonspecific) and two State Department employees. One of the State Department employees and the FBI employee must remain anonymous. One State Department employee, Monika Wesolowski and she can provide confirmation to the some of the ancillary revelations in this article.
Clinton Will Be Offered Up On a Platter
Yesterday, I read no less than six articles in which DNC officials want Hillary to just go away. The fact that these stories were released on the same day is not a coincidence. this is part of the deal that has been made between Donald Trump and members of the Deep State. This is the primary reason why former FBI director, James Comey, was fired when he was. His loyalty to Clinton was a threat to this arrangement. Here are the links to a few of these stories emanating from the DNC and the media who are distancing themselves from Hillary.
Rmember? Hillary was not supposed to be ill. Where did this come from?
Hillary Clinton, Chelsea Clinton, Bill Clinton, and James Comey's brother (runs finances for the Clinton Foundation) are under FBI investigation as I write these words. The tips to Jeff Sessions were provided by sources close to Clinton, presumably, Deep State operatives. Hillary will very likely go to jail, or at minimum receive a suspended sentence and pay a big fine. I have been told that the Clinton Foundation will cease to exist in its present form. Some may remember that I broke the story, from my same sources, that Podesta had been caught converting Clinton Foundation assets to gold, art, etc., and then hiding these assets. I stated at the time, that Hillary knows that RICO will soon come knocking and that total asset forfeiture will occur. Podesta is trying to stay one step ahead.
Clinton Will Not Go Down for Child Trafficking, Drug Dealing, Money Laundering or Gun Running
The Deep State is feeling the heat because the most prominent members of the Independent Media have been relentless in their pursuit of these activities, especially child-sex-trafficking. I was told by my sources that the Deep State, even with the support of the media, cannot contain these revelations. They do not want a sleeping public to be aroused by a story that would dwarf Watergate.
To the best of my knowledge, this has not hit the mainstream media, yet, but it will very soon. Hillary is being investigated by the FBI for "pay for play" and misusing her authority as the Secretary of State to get Lois Lerner, IRS director at the time, to prosecute an African national government official who is living inside the United States if this African official does not help stop the investigation into a government official from Bangladesh who participated in pay for play with regard to the Clinton Foundation. There is a second African nation that is subject to this investigation, as well, for the same reasons. I have agreed to not release the identity of the second nation because it is too close to one of my sources.
Please note that Hillary will be going down for "pay for play" and not drug dealing, gun running nor child-sex-trafficking. She will also be charged with malfeasance of office with regard to the IRS issue. In exchange, Trump gets to purge much of the Deep State that is embedded in the FBI and the State Department.
All three sources, including Weslowski have told me that their supervisors have cleaned out their desks. Many are taking retirement. In Monika Wesolowski's case, her supervisor and her supervisors two levels up are all leaving. Monika said that her office is almost empty. The purge is already beginning.
Conclusion
This story is a work in progress and there will be updates. I chose to publish what I know at this point because I wanted to get out in front the mainstream media spin that will undoubtedly be coming in order deceive the public. I asked the question, "Does this mean that Trump is backing off of child-sex-trafficking?" Nobody is certain.
Please note that the allegations that will be coming Hillary's way will have nothing to do with the big three criminal activities of the Deep State.
One final note, Wasserman-Schultz, according to my FBI source, better have lots of body guards because in trying to distance herself from the related Seth Rich murder, she is bringing the same kind of attention that the Deep State is trying so hard to avoid.
I will be offering counterpoints to the MSM as this story about pay for play begins to break in the MSM. I am also producing a video which validates the claim that Hillary has been "ditched" by DNC leadership.
Finally, we now know why Hillary was not prosecuted by Trump for the emails when he took office.
http://www.whatdoesitmean.com/index2299.htm
US
Federal Prison Ordered By Trump

To

Prepare For 23 "High Security Political Defendants"
By: Sorcha Faal, and as reported to her Western Subscribers
An intriguing Foreign Intelligence Service (SVR) report circulating in the Kremlin today states that the unprecedented "grouping/converging" of US Marshals Service-Eastern District of Pennsylvania (USMS-EDP) agents in Philadelphia and Washington D.C. this past week was due to President Donald Trump's Department of Justice (DOJ) "informing/notifying" the Federal Bureau of Prisons (BOP) to prepare for at least 23 "high security political defendants" being placed in the Federal Detention Center (FDC) located in Philadelphia—one of whom the SVR believes will be Hillary Clinton.
[Note: Some words and/or phrases appearing in quotes in this report are English language approximations of Russian words/phrases having no exact counterpart.]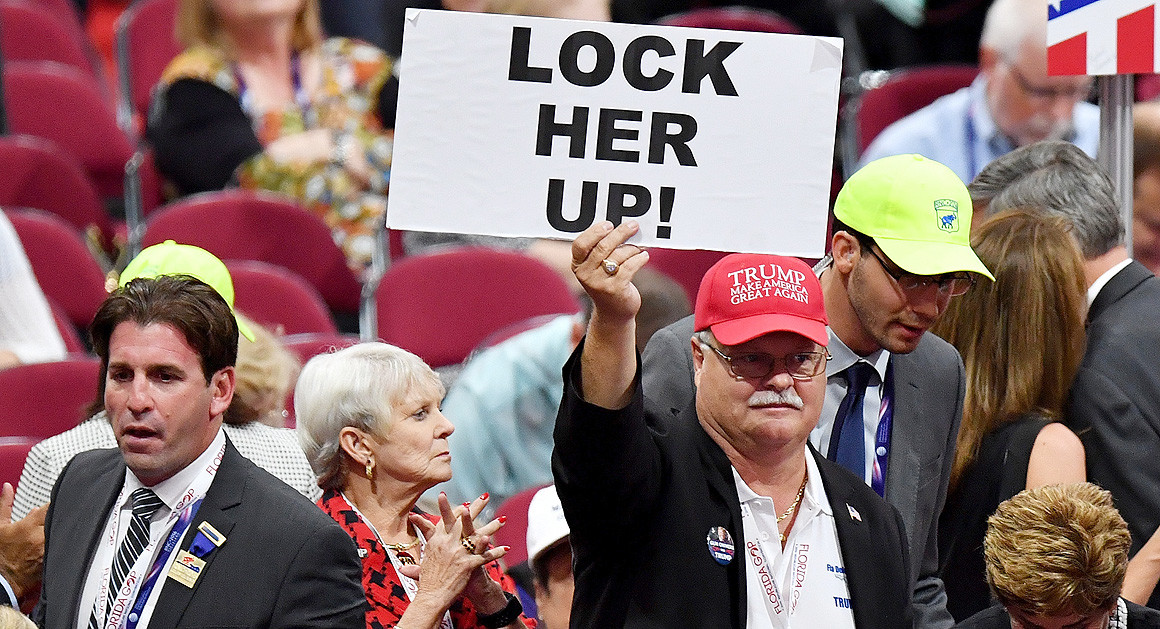 According to this report, while the US mainstream propaganda media this past week was being consumed by their "
Russia hysteria
" meme against President Trump that has led
to a $150 million "kill contract" being put on his life
, and whom had just fired his leftist-leaning
Federal Bureau of Investigation
(
FBI
) Director James Comey, SVR intelligence analysts were reporting that a team of
FBI
agents and
US Department of Justice
prosecutors had just returned from Bangladesh where they had secured under oath testimony from
Prime Minister Sheikh Hasina
confirming Hillary Clinton's criminality.
As part of the Bangladesh government, this report continues,
Prime Minister Hasina
further told the
FBI
and
US Justice Department
that under her nations banking laws, no one could be the director of
Grameen Bank
past the age of 60—and that by his management of this bank, until she dismissed him upon taking power,
Yunus
, at age 70, in effect,
had stolen 10-years of salary and benefits too
.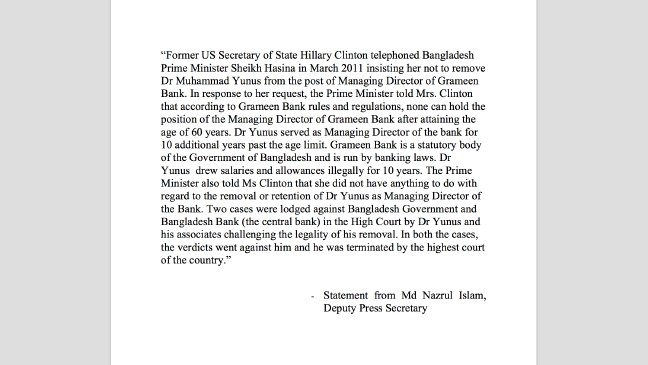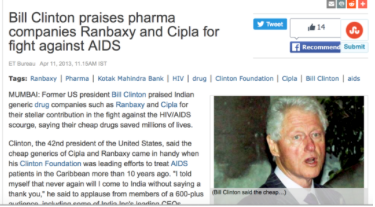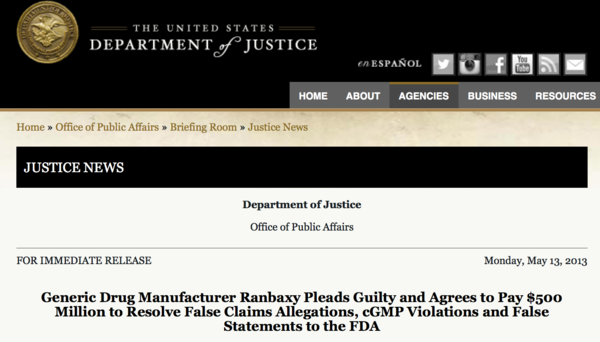 With President Trump's current
US Attorney General Jeff Sessions
during his Senate confirmation hearing testifying that he would recue himself from any case involving Hillary Clinton, this report continues, Trump then determined that
US Attorney Rosenstein
(who had more knowledge of the Clintons and their Clinton Foundations crimes than anyone else) would be his pick for Deputy Attorney General—and who barely two weeks from being installed in office by a nearly overwhelming US Senate vote of 94-6, provided Trump with
a scathing memo justifying the firing of Director Comey that he concluded by stating
:
"The way the Director handled the conclusion of the email investigation was wrong. As a result, the FBI is unlikely to regain public and congressional trust until it has a Director who understands the gravity of the mistakes and pledges never to repeat them. Having refused to admit his errors, the Director cannot be expected to implement the necessary corrective actions."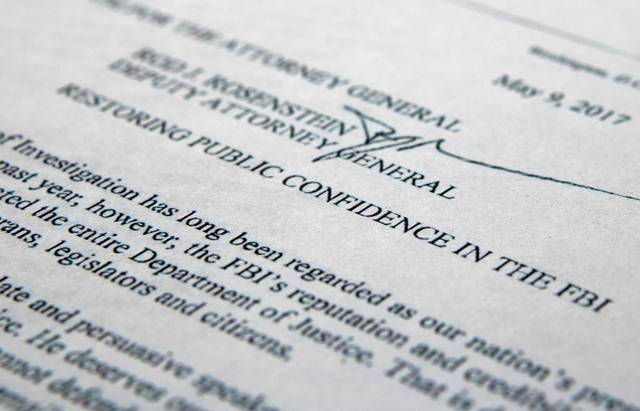 Interesting to note about now
US Deputy Attorney Rosenstein
too, this report says, is that last week President Trump related to Foreign Minister Sergey Lavrov during their White House Oval Office meeting that he was the person whose legal advice he had taken when installing his tape recording system in order to "
entrap/ensnare
" his "
Deep State
" enemies—and that yesterday Trump first alerted his enemies to by warning Director Comey in a Tweet: "
James Comey better hope that there are no "tapes" of our conversations before he starts leaking to the press!
".
[Note: Under longstanding protocols between Russia and the United States, all recording devices in rooms where officials meet must have their recording systems declared, either if or not working.]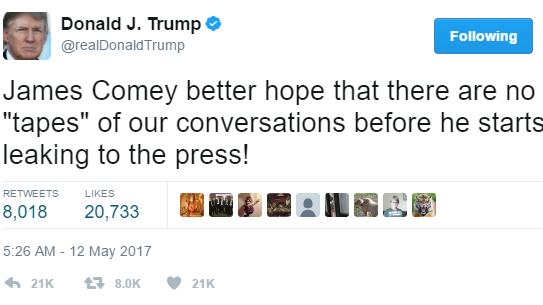 By the massive increase of US Marshal Service activity in both Philadelphia and Washington D.C. this past week, this report concludes, SVR intelligence analysts speculate that the reason Philadelphia was chosen to hold these "high security political defendants" is due that city having just hosted the 2016 Democratic National Convention—and whose police forces are integrated with their Federal law enforcement counterparts and able to control the massive protests that will erupt once Hillary Clinton and her criminal associates are jailed pending trial.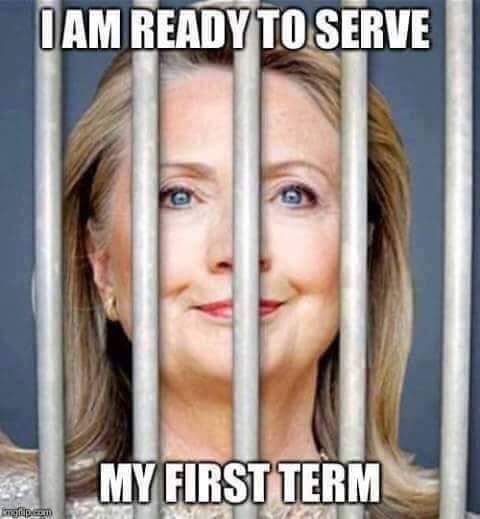 May 13, 2017 © EU and US all rights reserved. Permission to use this report in its entirety is granted under the condition it is linked back to its original source at WhatDoesItMean.Com. Freebase content licensed under
CC-BY
and
GFDL
.