We need Clint Eastwood, Not the Clintonista Crime Family
Monday afternoon yowls, sweet and sassy Kittens All ... well, the world isn't getting any better, is it ... at least, not from the Kougar's catbird seat ... okay, the disgusting, pathetic Antifa idjits who now advocate violence to stop what they claim is fascism [while practicing fascism themselves] is nothing more than the reincarnation of the Bolsheviks, the evil communist party that took over Russia in 1917-1923 [SEE THE FILM *DR. ZHIVAGO*] ... okay, wow, BREAKING NEWS... two special investigators sent by Trey Gowdy to the Clinton Library were first reported missing ... well, they've been found DEAD DEAD DEAD ... and not only dead, but brutally tortured [yeah, see below]... why isn't the Hildebeast and her minions caged, being tried in a court of law??? WHY!!!???
EARTHQUAKES AND MORE EARTHQUAKES...
THE HORRID-KILLING GIFT THAT KEEPS ON GIVING...
AN EXCELLENT PRIMER FOR UNDERSTANDING THE DEEP STATE-A-ZOIDS
http://www.coasttocoastam.com/show/2017/04/23
The Deep State
About 6 years ago, quite by accident, Mark Gorton, CEO of
Tower Research
and founder of finance and technology companies, took a passing interest in the assassination of JFK. His research took him on a path into the dark underbelly of the CIA, and from there, he traced a web of criminality that ran through sections of federal government and business interests. In the first half, he talked about the "Deep State," and how he's concluded that a cabal within government is the true controller of all that happens. Beyond the JFK assassination, he connected the assassination of Robert Kennedy, the careers of various presidents, the 9/11 attack, and various murders as part of the cabal's coup d'état begun in 1963. Their need to cover-up past crimes motivated them to commit even more crimes, he suggested, in a never ending cycle that continues to the present day.
There were several active plots to kill JFK even before Dallas, he reported, citing a plan uncovered in Chicago, with a parallel patsy similar to Oswald. In the last 50-60 years, George H.W. Bush has been a pivotal figure within the cabal, a "crown prince of the CIA," who was behind everything from "CIA drug trafficking, Iran Contra, attempting to kill Reagan," to being what could be considered "the godfather of the 9-11 false flag attack," Gorton declared. To fight against "Deep State" tactics, he advocated legalizing drugs, creating more accountability in elections (such as through using paper ballots), and increasing transparency in such organizations as the FBI (they do not currently allow their agents to videotape interviews).
DID THE CLINTONISTA'S JUST ADD TO THEIR INFAMOUS BODY COUNT?
http://yournewswire.com/trey-gowdy-investigators-missing
Breaking: Two Of Trey Gowdy's Investigators Reported Missing
Two investigators working for the Congressional committee headed by Trey Gowdy (R-SC) have gone missing in the Little Rock, Arkansas area.
According to phone records, the two men were in Little Rock with congressional subpoenas and instructions to search the private residence attached to the William Jefferson Clinton Presidential Library.
The two investigators, whose identities will remain classified until it can be confirmed that foul play was involved, were employees of the federal government under private contract to investigate the Clintons. The specifics of what they were looking for is also classified.
Their vehicle, a blue Ford Escape, was found in a rest area just outside of town with the keys in the ignition, according to sources.
Jeff Session's Department of Justice assigned special investigators to the case in order to keep it out of the hands of the FBI, which he believes may have become compromised.
In March, Trey Gowdy fought back tears in Congress as he put the elite pedophile ring on notice, warning that anyone who dares interfere with his child exploitation investigation will be forced to publicly explain why they are obstructing it.
Gowdy delivered an
emotionally charged speech
on the first day back at Congress, discussing child sex abuse cases and the mental images that have been scarred on his brain after seeing material related to the investigation into the pedophile rings that have infiltrated Washington D.C.
Addressing a detective charged with heading the investigation, Gowdy said: "I want you to give me a list of the providers that are giving you a hard time. We are going to have another [hearing] here. We are going to have them come and publicly explain why they are having a hard time complying with law enforcement in child exploitation and child abuse cases."
"My guess is that will be a very tough public explanation for them. So, give me the names and the providers that you are having a hard time dealing with. And I may not be able to make them stop doing it, but I can make them come and explain why they are doing it."
"And my guess is they won't want to do that."
MEANWHILE ...
BREAKING: Trey Gowdy And Family Forced Into Protective Custody
GOSH, I GUESS SO...WILL ANYONE STOP THESE MASS MURDERERS WHO HAVE PLAGUED AMERICA AND THE WORLD FOR DECADE UPON DECADE???
BREAKING: Trey Gowdy's Missing Investigators Found (Picture)
The two investigators who went missing after traveling to Arkansas have been found in a shallow grave in a wooded area more than 100 miles from where their truck was found. The two men, deputized agents of the federal government, were interrogated, tortured, covered with garbage bags and buried while still breathing, according to the local medical examiner.
The site was discovered after a local hiker saw a skull that an animal had most likely dug up and left on top of the grave. The surface was also scratched away, revealing some of the green Hefty bags.
Their bodies are being moved to Quantico for follow-up autopsies. The nature of their mission to Arkansas is still considered classified, but a spokeswoman for Congressman Gowdy said that they were headed to the Clinton Presidential library with a warrant to search the residence attached to it.
Since the men seem to have been abducted and killed before reaching their destination, there is no physical evidence tying them to the Clintons. While the US Attorney has fallen short on probable cause to even question the power couple about their involvement, a new warrant to search the Clinton Library was issued and served.
Of course, with so much warning since the men went missing, any evidence would have most likely been moved or destroyed. The Clintons have once again dodged a bullet by adding two more bodies to their count.
THAT'S RIGHT, LET THE ISLAMIC MIGRANT-REFUGEE HORDES INVADE...THIS IS ONE HEINOUS RESULT .. BUT YEAH, GOTTA SUBMIT AND FOLLOW SHARIA LAW
Genital mutilation victims break their silence: 'This is demonic'---'CDC says at least 500,000 females in U.S. have undergone genital mutilation, or are at risk of having it done
GEORGE SOROS, EPIC EVIL TRAITOR TO HUMANKIND...
BREAKING: America Is Under Attack By These 187 Groups Funded By George Soros
ONE THEORY ABOUT THE BLACKOUTS
VOLCANIC ACTIVITY, HERE IT IS...AGAIN...
THE UNCONSTITUTIONAL TAX MAN COMETH ... AGAIN!!! OH, AND YOU THINK YOU HAVE PENSION...
TERRIBLE: Congress Considers Taxing 401(K) Contributions
THE MEDICAL INDUSTRIAL COMPLEX ... DEATH CULT OF THE NAZIS
WATCH OUT, NEW YORKERS ... HOPE *NOTHING* REAL HAPPENS
***I SPY*** REMEMBER THAT OLDIE-GOLDIE TV SHOW? NOW WE HAVE iSPY PHONES...
OH, NOW THE POOREST PEOPLE ARE GOING TO PESTICIDE-SPRAYED UNMERCIFULLY ... FAR, FAR WORSE FOR THEIR HEALTH THAN ZIKA-CARRYING MOSQUITOES [WHAT A VERY BAD JOKE]
WHAT PRESIDENT TRUMP IS DOING VERY, VERY RIGHT...
Clifford Cunningham
Infowars.com
April 22, 2017
President Donald Trump is "a hostile revisionist power" at the heart of the free world dedicated to overturn the "U.S.-led liberal order," according to Foreign Affairs – the mouthpiece of the globalist Council on Foreign Relations.
"The United States and Europe were supposed to stand shoulder to shoulder to protect the gains reaped from 70 years of cooperation. Instead, the world's most powerful state has begun to sabotage the order of created,"
wrote
Gilford John Ikenberry, Professor of Politics and International Affairs at Princeton University
and
a member of the Council on Foreign Relations. "A hostile revisionist power has indeed arrived on the scene, but it sits in the Oval Office, the beating heart of the free world."
President Trump broke "70 years of tradition by signaling the end of U.S. support for the European Union" when he endorsed Brexit and expressed "common cause with right-wing European parties that seek to unravel the postwar European project," Ikenberry added.
In order for the "liberal international order" to survive, Ikenberry called on its supporters to rally behind globalist leaders like Japanese Prime Minister Shinzo Abe and German Chancellor Angela Merkel to counter rising populist movements.
"The centrist and progressive governing coalitions that built the postwar order have weakened," Ikenberry claimed. "Liberal democracy itself appears fragile, vulnerable in particular to far-right populism."
"Much will rest on the shoulders of Prime Minister Shinzo Abe of Japan and Chancellor Angela Merkel of Germany, the only two leaders of consequence left standing who support it."
A D V E R T I S E M E N T
When Ikenberry accuses Trump of "abdicating responsibility for the world the United States built," he is actually referring to the world order created by globalist interests using American economic and military power.
By rejecting "internationalism" (a political principle rejecting nationalism), "free trade" (globalist bodies like the World Trade Organization and deals like the Trans-Pacific Partnership), "multilateral rules and institutions" (the UN, Bretton Woods monetary system, and environmental regulations), and "the multicultural and open character of American society" (open borders), Trump is launching a "frontal assault" on the global order.
Though Ikenberry admits the globalist world order was under siege prior to President Trump's victory, he suggests those who support it will regain the upper hand if they "make it tough for Trump to pursue an 'America First' agenda."
This article was posted: Saturday, April 22, 2017 at 9:14 am
THE BOLSHEVIK REVOLUTION ON AMERICAN SOIL IS HERE!
Patriots Versus Antifa: When Will Americans Realize We Are Already In A Civil War?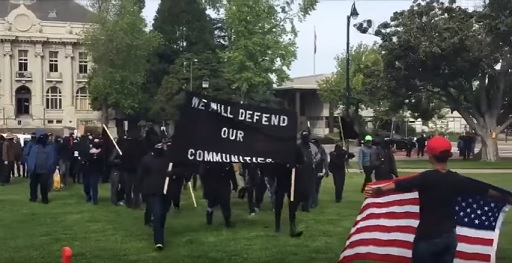 With tensions high internationally and news about China, Russia, Syria, Iran and ISIS, along with more terrorist attacks in Paris, dominating headlines, what most Americans do not realize is that we are already at war, not with a country or countries, not a world war, and I am not even referring to the war against terror, but rather we are war right here in America and the "enemy" is actively preparing to arm up, organize and for there to be "blood" in the streets.
On April 14th, ANP warned everyone to keep all eyes on Berkeley, California the next day, which was Saturday, April 15, 2017, when The Liberty Revival Alliance had organized a "
Patriots Day Free Speech Rally
." The choice of Berkeley as the location was significant since the most violent of protests, with masked thugs from the group Antifa, had previously threw fire bombs, vandalized buildings and rioted, to prevent a slated speaker at UC Berkeley, with other conservative speakers having events cancelled due to security concerns subsequently, just as the university recent attempted to cancel Ann Coulter's slated lecture on April 27, for the same reasons.
While free speech is being attacked all across America, Berkeley is going to be the straw that broke the camel's back, as the expression goes. Berkeley will be where all-out civil war begins as their violence escalates, as it has been, and it starts bleeding over to the other states.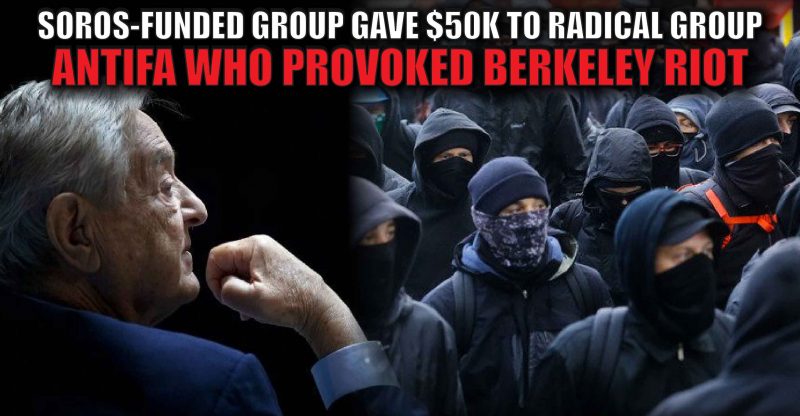 CIVIL WAR - ALL BY DESIGN
When Barack Obama was president, it was Black Lives Matter activists threatening "whites" and "white babies," while targeting police officers across the country. Remember
Ferguson
,
Charlotte
,
Dallas
,
Milwaukee
, and
Baton Rouge
, just to name a few of the high profiled riots that were geared towards starting a race war in America.
Then president Trump was elected, and since the election, we haven't heard much from BLM nor their race war, but instead we see the rise of groups like Antifa and BAMN (By Any Means Necessary), where the planned "race war," which groups funding BLM it couldn't seem to bring about a large scale, all out civil war, have recalculated and are now raising the stakes, rather than pitting blacks against whites, they are pitting fascists groups against patriots.... and it is already getting ugly as the recent violence on April 15th proves conclusively.
The patriots that participated in the Free Speech Rally, were prepared since Antifa publicly made it clear they were coming to "shut it down," and the patriots fought back... and won.
The media deliberately misrepresented the
Patriots Day Free Speech Rally
, claiming the violence was between "Trump supporters" and "Anti-Trump protesters, despite the fact that the group never billed "Trump" support and made it very clear they were standing up for free speech, but the group Antifa continued to tell their supporters that the rally was about the "alt-right, that those attending would be "Trump supporters," calling those rallying for free speech "Nazis."
The fact is there are millions of people that support our constitutional right to free speech, yet did not support Donald Trump during the campaign season, and while many Trump supporters are free speech advocates, one is not dependent on the other, but without that "Trump meme" the Antifa activists could not rile up their cowardly masked troops.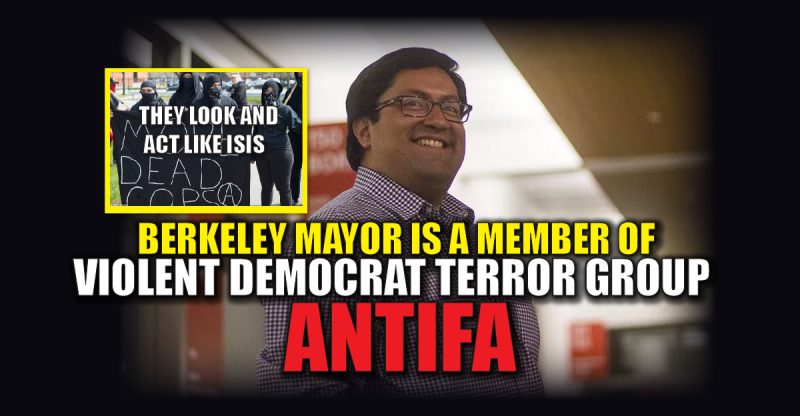 BERKELEY - THE ROT COMES FROM THE TOP AND ROLLS DOWN
The reason Berkeley, California will be the last stand is because it isn't just the University of California, Berkeley, that is anti-free speech, but the leadership, starting
with the Mayor himself, Jesse Arreguin
, has been linked to these violent leftist groups, such as BAMN, where
archived pages
show he part of their
Facebook group
, until that was made public, then he "unjoined."
BAMN is also part of the Antifa movement, and as we highlighted in February, BAMN leaders helped organize, then defended the violence at Berkeley which forced the cancellation of the Milio event that was scheduled, when members threw fire bombs, smashed windows and vandalized the college campus.
The rot in Berkeley is comes from the top and rolls down.
THE LEFT PREPARES FOR WAR AFTER AFTER BERKELEY BEATDOWN
All eyes still need to be on Berkeley because everything is about to come to a head as
Mac Slavo over at SHTFPlan
draws attention to a recent reddit discussion where anti-free speech activists plan to arm themselves, prepare, organize "combat training seminars," acquire better equipment, because the "alt-right held their ground."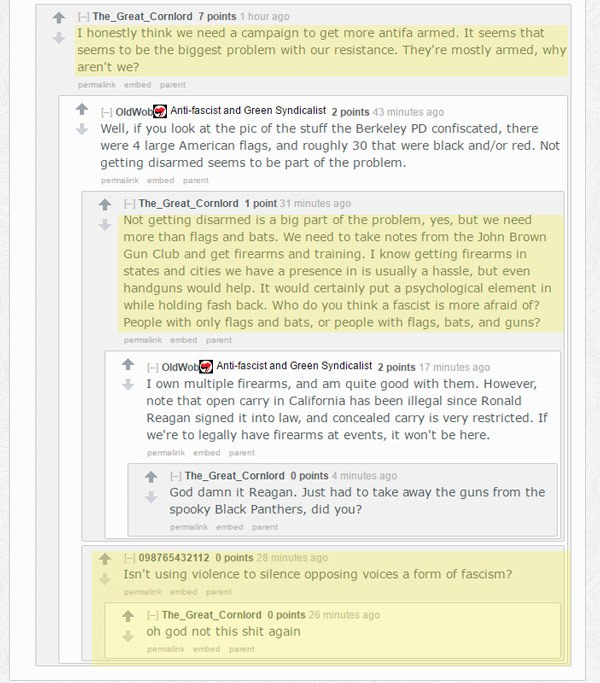 BERKELEY IS THE LAST STAND
I have heard many wonder why conservative speakers, the free speech rallies continue to fight this battle for free speech in Berkeley, knowing that violence will follow because of groups like Antifa and BAMN.
The answer is very simple.
While many would not be sorry to see Berkeley thrown out of America, it isn't going to happen, therefore it is an American city, in an American state and they are subject to the Constitution of the United States of America and the year, the month, the week, the day, the SECOND we stop fighting for our constitutional rights.....is when we lose them, one state at a time.
Does anyone think Antifa and BAMN and other fascist groups will stop in Berkeley, California? No. If they win in Berkeley, they will move on to the next city, the next state.
While President Trump is dealing with Sanctuary cities, illegal immigration, deporting criminal aliens, and global issues with Russia, China, etc..... the fight for our constitutional rights here in America, especially in places like Berkeley where the rot is coming from the top and law enforcement there cannot be depended on to protect free speech activists, comes down to patriots versus Antifa/BAMN masked thugs that are preparing for war.
We have seen the
calls by Mark Levin and others to "federalize" the CA National Guard
to make a point, but many patriots agree that is a slippery slope, which could lead to martial law in Berkeley, or CA as a whole, which is something patriots feared and spoke out against throughout the Obama administration, and just because Trump is President now, does not make the idea any more palatable to those that believe in the U.S. Constitution and understand that no matter who is the President, martial law is unacceptable.
The courage of people like Ann Coulter who is spotlighting Berkeley by refusing to stand down over her invitation, and Milo Yiannopoulos, who is planning a reurn visit for
Milo's free speech week
, should be applauded, because the more that Americans see the violent attacks by Antifa and BAMN activists, the more we will see stand up and say enough.
Face it, when you have liberals like Bill Maher saying "Berkeley, you know, used to be the cradle of free speech, And now it's just the cradle for f**king babies," you know these Antifa/BAMN violent thugs have overplayed their hand and are turning even progressive liberals against them.