Late night weary yowls, most dynamic and darling Big Cats Beauties ... yes, April 19th is Patriots Day, and it is way past time for a rebirth of our American freedom... Daniel Brigman of ~thepowerhour.com~ radio show is absolutely wonderful at American revolutionary history ... the things you learn that should have been taught in school, but weren't ... and in these times American history is practically verboten ... gee, the Kougar wonders why... oh yeah, the darkside psycho-establishment can't control a free people. Now the lion-hearted among us will rise as never before, and roaring-demand our DIVINE RIGHTS.
WEDNESDAY - APRIL 19
, 2017:
WILLIAM FEDERER
, best selling author and nationally known speaker joins to discuss America's heritage and the history of Patriots Day.
Website: http://www.americanminute.com
Today's Show is Audio Archived at:
April 19, 2017 (hour 1)
- News LIVE with Daniel Brigman
April 19, 2017 (hour 2)
- Daniel Brigman interviews William Federer
THE ENEMY-MSM FACES OFF WITH MEDIA TRUTHTELLERS
http://allnewspipeline.com/Truth_Wins_In_The_End.php
April 18, 2017
The Battle Rages On With The MSM On The Ropes - Truth Will Win In The End As The Tide Turns Against Them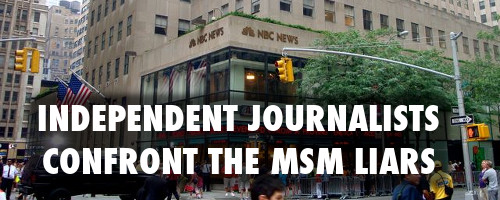 By Susan Duclos - All New PipeLine
Since the November 2016 presidential election those in the Independent Media have been under massive attack, with spineless advertisers like Kelloggs, allowing themselves to be intimidated by butt-hurt liberal snowflakes into
pulling their advertising from sites like Breitbart
, Google adsense literally cutting the revenue to Independent Media sites by more than half,
YouTube, owned by Google, demonetizing videos
if the political ideology doesn't match their political bent, and social media giants such as Facebook hiring liberal "fact checkers" to determine the trustworthiness of articles shared on their platform, and
Twitter shadow banning people like Scott Adams
.
In conjunction with those types of attacks, we have also the mainstream establishment media attack Independent Media, from labeling them fake news" to calling them Russian propaganda, as well as actively "sitting" on stories that reflected badly on the previous administration, such as the Susan Rice "unmasking" bombshell, which was
revealed by Independent Media personality, Mike Cernovich, who also reported that MSM outlets had the news, specifying Bloomberg and the NYT
, but were refusing to report the truth to their audience. That was proven true when Bloomberg published their article over 14 hours later, confirming that Cernovich's blockbuster, exclusive report was true.
THE TIDE TURNS AGAINST THE MSM
Many thought the election of President Trump was a sign of the dwindling influence of the mainstream media and in the five months since the election, more evidence has come to light that they were right. The MSM, believing their own
"embarrassingly bad" propaganda
and skewed polling data, geared specifically towards influencing the populace to vote for Hillary Clinton, were caught off-guard, completely flat-footed, not only being wrong, but actively lying to their audiences. Their attempts to label Independent Media as fake news, backfired on them as Internet users across the country started highlighting their own "fake news" coming directly from the MSM.
As shown with the Cernovich bombshell, the MSM wasn't only hit on their own credibility during the election cycle, and caught in false reporting since the election, but even lower level employees within their own organizations had started turning on them, as Cernovich revealed that
his "scoop" came directly from sources within the establishment media outlets
that were sitting on the story.
KARMA - WHAT COMES AROUND, GOES AROUND
It appears that karma is at play here as those that attempted to "punish" Independent Media sites that united against a Hillary Clinton presidency, are finding themselves in the crosshairs as
"free speech" advertisers
are stepping up to the plate, which is helping to negate the damage of the advertising groups attempting to bankrupt Independent Media by choking off their income.
It isn't just the
mainstream media that has been exposed
either as just this past week,
Cernovich also exposed the search engine giant Google as offering guidelines
which targeted Independent Media site InfoWars, with screen shots sent to him proving it, which resulted in
Google blaming a "rogue" vendor
when busted, claiming it wasn't official policy and that steps were being taken to correct the issue.
Facebook has recently bee
n busted promoting scam articles based on Fake News
in the midst of
battling a child pornography scandal
, while
Huffington Post was forced to pull an article
they first defended when it was revealed the supposed author "didn't exist," and the article was
only published because it matched their own political bias
.
Those that relentlessly attacked Independent Media following the election, are seeing karma at work as one by one they are finding themselves in the crosshairs.... what comes around, goes around.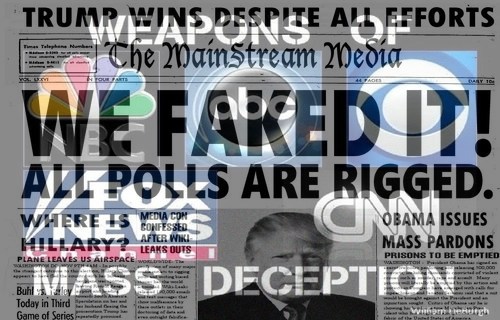 INDEPENDENT MEDIA UNITES AGAIN
Another trend being seen is that Independent Media is once again uniting,only this time to fight back against the attacks coming from multiple directions. As we united to stand against Clinton, some Independent Media sites are actively supporting each other, whether it comes from linking to other IM sites that have superbly sourced articles,
such as the Natural News link above which details, with links proving their assertions about the demonetizing video issue
in an attempt to bankrupt Alternative Media, or actively advertising on each other's sites. Rather than treating other IM sites as "competition," sites owners are helping to generate traffic to other IM sites, which helps them generate revenue.
This is not being done with any pre-planning, no secret emails colluding, it has just been a natural process that is starting to trend as this battle against free speech by the MSM, social media platforms, and search engine giants, is being brought right to their own doorsteps by Independent Media sites.
One side benefit of this increasing pattern is less links by IM sites to MSM sites, therefore stripping them of traffic and revenue generation.
BOTTOM LINE - THE BATTLE RAGES ON
While we still note the battle raging, as even college liberal snowflakes are claiming that school papers and people that provide statistical data, are using the
"truth," as a tool of suppression,"
and the MSM is still on a rampage against Independent Media because they lost control and influence during the election cycle, we are noting a change in the tide as we, the Independent Media, and users across the Internet, are bringing the battle right back at them.
There is absolutely no doubt the establishment, the MSM, and the tech giants will continue to escalate their attacks, but I will repeat what I said before the election, there are more of us than there are of them and while they may have a larger reach individually, we have already proven without a doubt that combined, we in the Independent Media, along with our readers, can bypass them, can provide truth to their lies and can make a difference and awaken the masses.
Help Keep

Independent Media Alive, Become A Patron for All News PipeLine At https://www.patreon.com/AllNewsPipeLine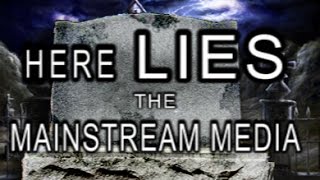 REALLY, IS THIS WHAT WE WANT IN OUR BELOVED COUNTRY???
Breitbart | The establishment media is hiding the dramatic news that President Donald Trump's Department of Justice has announced a national campaign to eradicate the imported practice of Female Genital Mutilation.
WHAT WAS THIS DISGUSTING-ZOID, A BORG IN HIS LAST LIFETIME?
Daily Mail | 'We're building further out beyond augmented reality.'
GEORGE SOROS, FASCIST FREEDOM KILLER, AT WORK.
YEAH, YOU CAN BE POISONED BY OIL LEAKS ... NO PROBLEM, HUH?
TAXPAYERS, YOU'RE FUNDING THE IVY LEAGUE UNIVERSITIES WHERE THE RICHIE-RICH SEND THEIR CHILDREN ... OH, AND HOW ABOUT ALL THAT CORPORATE WELLFARE YOU'RE PAYING FOR WITH YOUR HARD-EARNED DOLLARS?
THIS WOULD BE A DREAM COME TRUE, TO SEE THE FDA TOPPLED!!!
https://www.infowars.com/shut-down-the-fda-start-over
SHUT DOWN THE FDA, START OVER
Anyone who believes the FDA can be fixed with a few adjustments to rules and a few personnel changes is whistling in the dark
Vera Sharav, at ahrp.org, has posted a piece about an investigation headed by NYU Professor Charles Seife.
Seife and his students probed the work of the FDA, the federal agency tasked with approving medical drugs for public use.
Sharav: "FDA documents obtained under the Freedom of Information Act, revealed that the FDA has been concealing from the medical community and the public serious research misconduct; including fraud, deception, avoidable risks for human subjects — even deaths — that occurred in clinical trials [of medical drugs]."
Professor Seife (from his article at Slate magazine): "Reading the FDA's inspection files feels almost like watching a highlights reel from a Scientists Gone Wild video. It's a seemingly endless stream of lurid vignettes—Faked X-ray reports. Forged retinal scans. Phony lab tests. Secretly amputated limbs. All done in the name of science when researchers thought that nobody was watching."
"That misconduct happens isn't shocking. What is: When the FDA finds scientific fraud or misconduct, the agency doesn't notify the public, the medical establishment, or even the scientific community that the results of a medical experiment are not to be trusted. On the contrary. For more than a decade, the FDA has shown a pattern of burying the details of misconduct. As a result, nobody ever finds out which data is bogus, which experiments are tainted, and which drugs might be on the market under false pretenses."
"The FDA has repeatedly hidden evidence of scientific fraud not just from the public, but also from its most trusted scientific advisers, even as they were deciding whether or not a new drug should be allowed on the market. Even a congressional panel investigating a case of fraud regarding a dangerous drug couldn't get forthright answers. For an agency devoted to protecting the public from bogus medical science, the FDA seems to be spending an awful lot of effort protecting the perpetrators of bogus science from the public."
There is much more, but that taste should be enough to convince any sane person that the FDA is a rogue agency, dedicated to protecting and forwarding the profits of pharmaceutical companies.
In past articles, I've revealed that, every year in the US, FDA-approved medical drugs kill 106,000 Americans. This conservative assessment was made by Dr. Barbara Starfield, in her landmark July 26, 2000, review in the Journal of the American Medical Association: "Is US Health Really the Best in the World?"
In my 2009 interview with Dr. Starfield, she emphatically stated that she was aware of no systematic federal effort to fix this horrendous ongoing disaster.
In fact, the FDA had (until they removed it) a page on their own site which stated: "Over 2 MILLION serious ADRs (adverse drug reactions yearly." "100,000 DEATHS yearly." The FDA was highlighting the catastrophic effects of medical drugs they themselves were certifying as safe and effective.
Of course, they took no responsibility.
This is on the order of a defendant saying, "Did I kill people? Well, if you look in that field over there, if you start digging, you'll find a number of bodies. I know. I put them there. But I wasn't really responsible. Why would you place me on trial?"
In a stunning interview with Truthout's Martha Rosenberg (7/29/12), former FDA drug reviewer, Ronald Kavanagh, exposed the FDA as a relentless criminal mafia protecting its client, Big Pharma, with a host of mob strategies:
Kavanagh: "…widespread racketeering, including witness tampering and witness retaliation."
"I was threatened with prison."
"One [FDA] manager threatened my children…I was afraid that I could be killed for talking to Congress and criminal investigators."
Kavanagh reviewed new drug applications made to the FDA by pharmaceutical companies. He was one of the holdouts at the agency who insisted the drugs had to be safe and effective before being released to the public.
But honest appraisal wasn't part of the FDA culture, and Kavanagh swam against the tide, until he realized his life and the life of his children was on the line.
What was his secret task at the FDA? "Drug reviewers were clearly told not to question drug companies and that our job was to approve drugs." In other words, rubber stamp them. Say the drugs were safe and effective when they were not.
Veterans of the Armed Forces, take note: Kavanagh remarked that the drug pyridostigmine, given to US troops to prevent the later effects of nerve gas, "actually increased the lethality" of certain nerve agents.
Kavanagh recalled being given records of safety data on a drug—and then his bosses told him which sections not to read. Obviously, they knew the drug was dangerous and they knew exactly where, in the reports, that fact would be revealed.
Getting the picture?
Anyone who believes the FDA can be fixed with a few adjustments to rules and a few personnel changes is whistling in the dark.
Talk about a swamp.
Nothing short of shutting down the Agency, fumigating the buildings, and starting over with actual humans in charge, humans who believe in human health, would work.
Scores of criminal prosecutions, convictions, and very long prison terms for current FDA employees would also be necessary.
SO, WHY IS THE DRUG WAR STILL RAGING??? THERE'S NO NEED SINCE YOU COULD LEGALIZE USE, AND THUS MONITOR QUALITY ... NOT TO MENTION OPIOIDS COULD BE REPLACED BY CANNIBAS MEDICINES ... OH, BUT GOSH, THEN BIG PHARMA WOULDN'T BE RAKING IN THOSE BILLIONS UPON BILLIONS OF PROFIT.
Drug overdose deaths now killing more Americans every year than the Vietnam War

Drug overdose deaths from opioids and hard street drugs are now killing more Americans every year than the entire Vietnam War. (Over 50,000)

This is partially because drug cartels have been allowed to run rampant across our border, invading our cities with deadly addictive substances. It's also due to Big Pharma's addictive opioids that are wildly over-prescribed by doctors.

Even the CDC now says something must be "urgently" done to combat the problem, or it could take an even greater toll on our society.
STEVE QUAYLE IS SO RIGHT .... ~stevequayle.com~
WOW, NOW ISN'T THIS *NUKE DETONATION* FUN ... BIG FAT SNARK!
AS PREDICTED, VOLCANIC ACTIVITY KEEPS RAMPING UP ACROSS THE PLANET ... IT WILL ONLY GET WORSE!