Sunday yowls, most darling of KitKats ... while the world steams off to war, seemingly...yep, the psycho-warmongers are dancing on thick carpets and throwing down glasses of champagne like its water -- the DeepState Big Brother agencies are becoming ever more vicious and vile in their abuse and murder of innocent Americans ... In truth, President Trump has done some miracles of GOOD, which rarely get reported by the ENEMY-MSM ... GOOD that is desperately needed at this time.... HOWEVER, it could be argued that the Deep State-a-zoids, the elite pedo-pervs are winning the day again ... or, so it would appear by the disheartening rhetoric flying back and forth between Russia and the Trump administration... SO WHAT IS TRUE??? No, this Big Cat doesn't have that final answer... not at all.
Have Putin and Trump [behind the world-stage scenes] decided on a war-talk gambit to gain their ends??? And, *or* are the Neocon Traitors to America duping our president with rigged intel info??? Is Trump playing a DIVINE GAME to save the world from the hellish horrors of Muslim Brotherhood rule-enslavement??? By cutting off the invading hordes of so-called refugees at the middle-east SOURCE ... and by which, the new world order criminals are planning to establish TOTALITARIAN RULE.over the entire planet... yeah, it's a completely complex picture this Big Cat can't even hope to illustrate here, let alone know all the ramifications thereof.
Emotionally, the Kougar is feeling really demoralized, right now... SHE DOESN'T WANT WAR!!! ... she was so hoping WE THE PEOPLE could work toward a peaceful, renaissance-paradise future ... that WE could work toward ridding ourselves of the BIG BROTHER DeepState, and experience our heart connection with each other at a much higher level... yes, realistically, the jihadi terrorists must be eliminated ... the pedozoid scum must be eliminated ... the psychopaths who vampirically feed on humankind must be eliminated ... and TRUE FREEDOM must be achieved.
Meanwhile, the bankster gangster regime continues terrorizing WE THE PEOPLE ...
YEAH, THE GOOD OLE ***CONSTITUTIONALLY UNLAWFUL GESTAPO-IRS****
The Daily Sheeple | Police departments aren't the only ones seizing money from citizens without charging them with a crime: the IRS is in the civil asset forfeiture game too.
~~~~~~
Kittens all, there are several following info-articles which this Big Cat deems to be important ... the final snippet deals with MULTI CHEMICAL SENSITIVITY ... which the Kougar suffers from, and has been able to heal somewhat ... but it's still a big health bugaboo in her life.
THE SECRETS BEHIND TRUMP'S SYRIA STRIKE
Alex analyzes the multiple angles behind Trump strikes
SO HERE'S A MAJOR TRUTH!!!

U.S. govt. deploys "chemical weapons" against American children... here's how

You won't see this mentioned anywhere in the media, but there are far more vaccine-damaged children in America than chemical weapons-damaged children in Syria.

If you're looking for examples of state-sponsored chemical weapons being used against children, look no further than the vaccine industry and its MERCURY ingredient, a form of "chemical violence."
~~~~~~
GO-OGLE'S AVALANCHE OF ***CENSORSHIP*** BECAUSE YOU ARE THE ENEMY OF THE CYBER STATE
Google, YouTube waging "demonetization" WAR on alternative media to bankrupt independent journalism
Google labels independent media "extremist" by conflating critical thinking with Jihadi terror
In effect, Google has now decided that any website which supports President Trump is "extremist" and must be demonetized, censored or outright banned from its search results. To the Left-leaning tech giants, you see, any content that isn't "progressive" is automatically considered "extremist," even though advertisers who are horrified over Jihadi video content are often thrilled about supporting independent media.
Leaders of independent media now being targeted by Google for censorship and demonetization
One independent publisher which did not want to be named — they are afraid Google will further punish them for speaking out against censorship — told Natural News their revenues have plummeted 80% since YouTube began its recent demonetization sweep.
Voice recognition technology turns spoken words into text that's scanned for a list of "banned" keywords
To accomplish the demonetization effort, YouTube's servers use voice recognition technology to scan the audio of each video, translating audio into text transcripts. That text is then algorithmically compared to a manually chosen list of keywords and phrases that Google's Left-leaning "social justice engineers" have decided are "extreme."
Google goes full Orwellian… "word crimes" will now bankrupt your online business if you dare speak the truth
Through this scheme, Google doesn't even have to overtly block videos that espouse conservative or libertarian views… it can simply demonetize them and let the reality of revenue loss achieve censorship on its own. No one can produce content for free, after all. Sooner or later, you run out of money to fund yourself.
THE CACKLING SPY WITCH EXPOSED, ONCE AGAIN ... WHEN WILL THE HILDEBEAST BE CAGED???
Hillary Clinton Spy Ring Unravels As President Trump Orders Arrests To Begin
By: Sorcha Faal, and as reported to her Western Subscribers
A new Foreign Intelligence Service (SVR) report circulating in the Kremlin today states that American President Donald Trump has ordered his Department of Justice (DoJ) to begin arresting members of a massive spy ring infiltrated throughout the US government since the 1990's by both former President Bill Clinton and his wife, and former Secretary of State, Hillary Clinton—and that began, yesterday, with the Federal Bureau of Investigation (FBI) arresting one of Hillary Clinton's top Department of State (DoS) aides named Candace Claiborne for being a spy for Communist China.
[Note: Some words and/or phrases appearing in quotes in this report are English language approximations of Russian words/phrases having no exact counterpart.]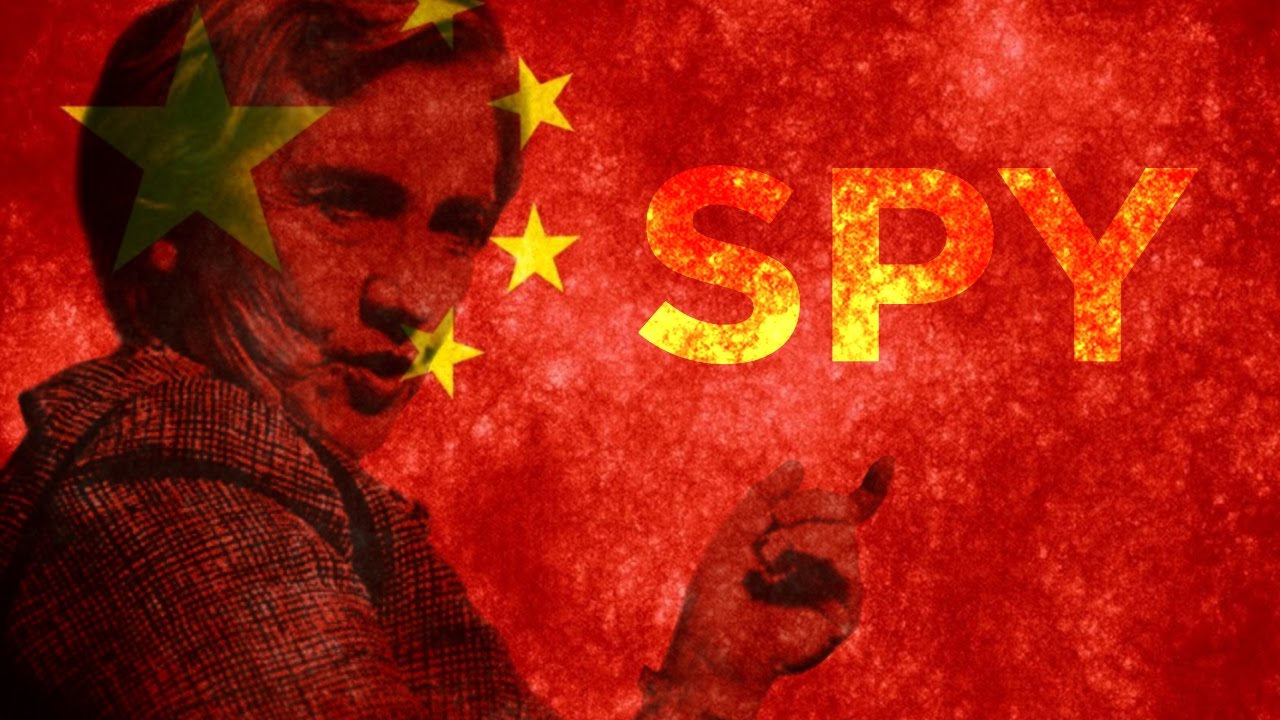 According to this report, at the same time that the Hillary Clinton supporting leftist mainstream "fake news" media machine is working overtime pushing their "Russian hysteria" agenda to destroy President Trump, America's new leader has been working to unravel from the US government the largest spying ring in that nations history—and that began in 1996 with "Chinagate" (akaCommercegate) that is called
the most serious scandal in US history
, and involved the transfer of America's most sensitive technology, including but not limited to nuclear missile and satellite technology, in exchange for millions of dollars in contributions to the 1996 Clinton-Gore re-election effort and the Democratic National Committee.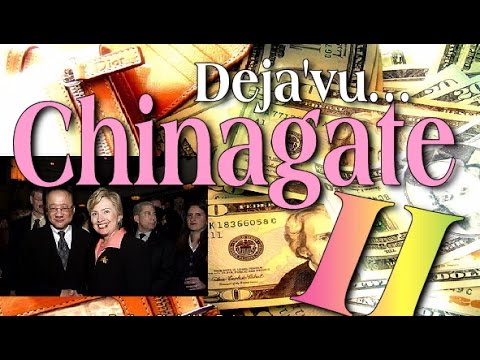 With the SVR estimating that fully 25% of the American "Deep State" currently at war with President Trump has been infiltrated by communist China-Clinton aligned spies, this report says, all indications show that the least US government agency being affected is the FBI, especially since their September 2015 arrest of the known China-Clinton paymaster Ng Lap Seng.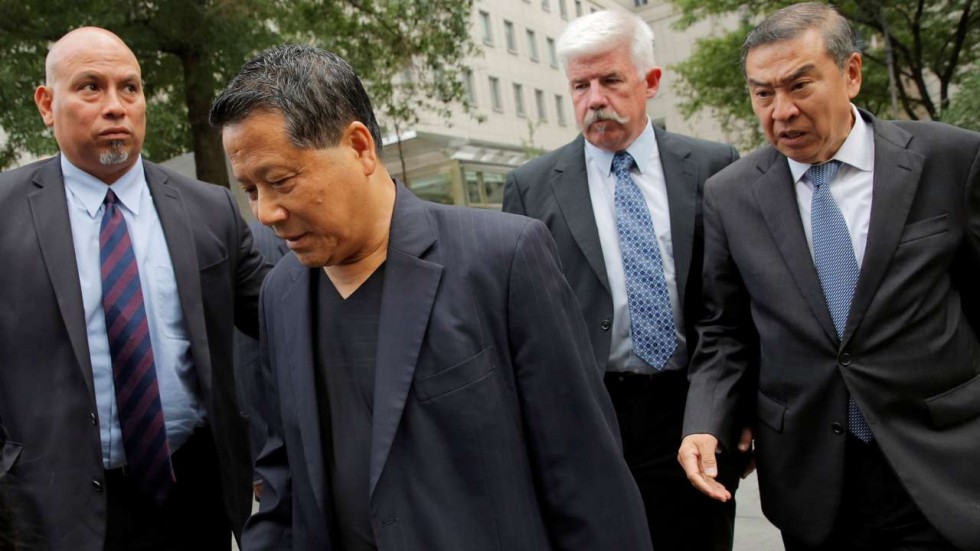 Chinese communist billionaire and Hillary Clinton spy paymaster Ng Lap Seng (center)
After being on the run for decades from the FBI for his role in corrupting the 1996 presidential election enabling President Bill Clinton to win, this report details, Ng Lap Seng was given private assurances in 2015, by both Hillary Clinton and the Obama regime, that he would not be arrested upon his return to the United States—but that FBI Director James Comey failed to abide to and, instead, ordered his immediate arrest.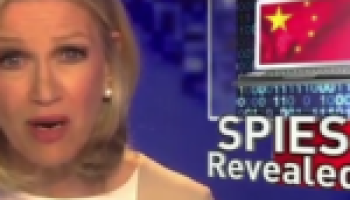 Though Ng Lap Seng has refused to be interrogated by US authorities since his 2015 arrest, this report continues, FBI counterintelligence agents loyal to both Director Comey and President Trump were able to begin uncovering the vast China-Clinton spy ring permeating the entire American government—and that led, on 5 July 2016, to Director Comey giving a first in US history press conference about a person not to be indicted, but that many believe greatly contributed to Hillary Clinton losing the presidency.
Causing Director Comey to fear Hillary Clinton should she ever gain the US presidency, this report explains, was one of these China-Clinton spies being discovered in his own intelligence agency—and that just weeks after he publically shamed Hillary Clinton, the FBI agent, Kun Shan Chun, who secretly guided massive Chinese payments to the Clinton's, was forced to plead guilty for his treasonous spying crimes against America.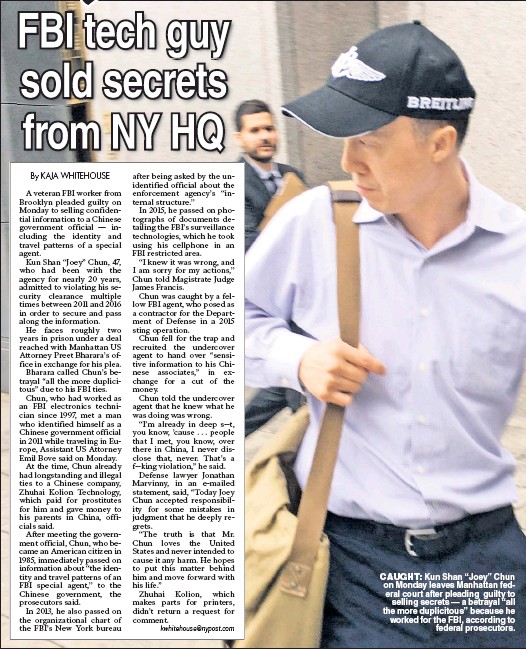 Following FBI agent Kun Shan Chun's secret arrest by the FBI, this report further notes, others spies in the China-Clinton spy network were able to be identified too—including Candace Claibornewho President Trump directly ordered to be arrested yesterday.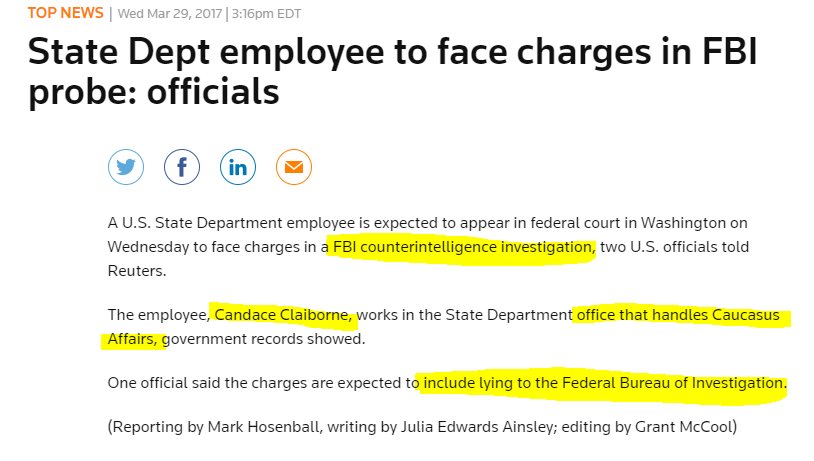 Known well to the SVR as Candace Claiborne's main areas of responsibility were the nations of Armenia, Azerbaijan, and Georgia, and that she visited often on behalf of her China-Clinton spy masters, this report explains, her actions to infiltrate Chinese power into this highly volatile region has long been of grave concern to the Federation—especially in light of many ceasefire violations now being reported, any of which could provide a spark to ignite total war between Russia and the West.
With Hillary Clinton's communist Chinese paymaster Ng Lap Seng now being firmly under the control of President Trump loyalist FBI Director Comey, and former FBI agent Kun Shan Chun and US Department of State official Candace Claiborne now being captured as part of this massive Chinese spy ring too, this report concludes, what remains unknown is how far, and wide, President Trump will go in order to destroy this Chinese-Hillary Clinton directed "Deep State" spy ring—and if he'll even be able to accomplish this feat before they, in turn, destroy him.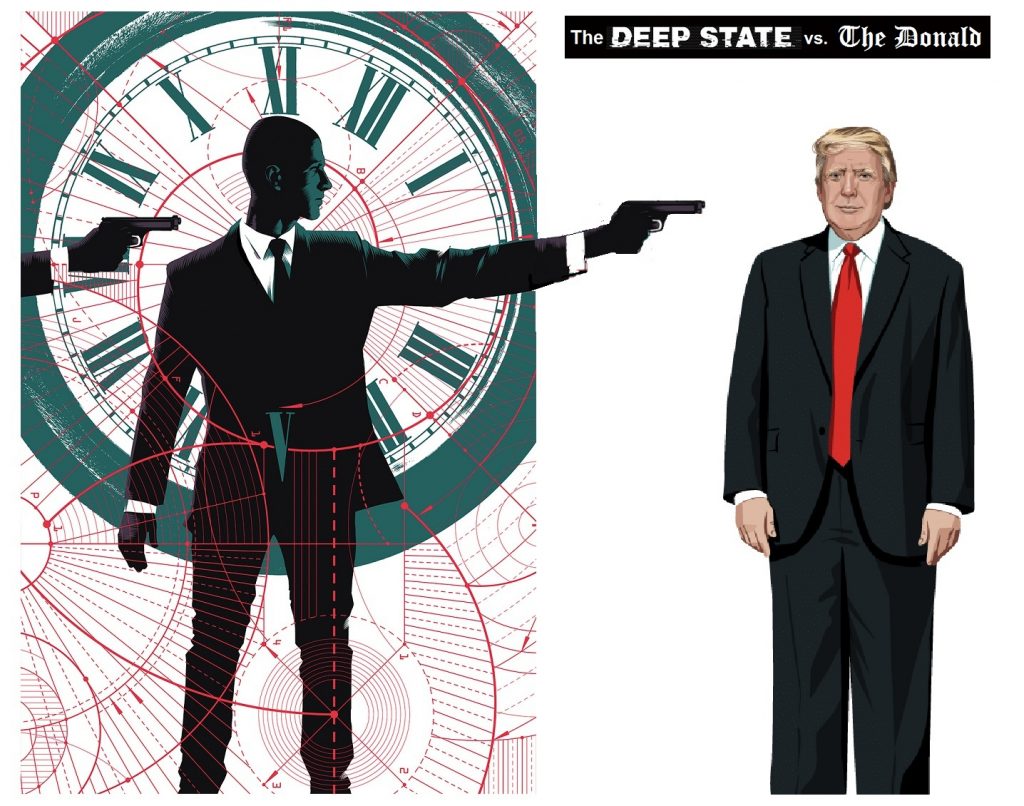 March 30, 2017 © EU and
US
all rights reserved. Permission to use this report in its entirety is granted under the condition it is linked back to its original source at WhatDoesItMean.Com. Freebase content licensed under
CC-BY
and
GFDL
.
~~~
ERIC ZUESSE
28.04.2016 | WORLD
Seymour Hersh Says Hillary Approved Sending Libya's Sarin to Syrian Rebels
The great investigative journalist Seymour Hersh, in two previous articles in the London Review of Books («Whose Sarin?» and «The Red Line and the Rat Line») has reported that the Obama Administration falsely blamed the government of Syria's Bashar al-Assad for the sarin gas attack that Obama was trying to use as an excuse to invade Syria; and Hersh pointed to a report from British intelligence saying that the sarin that was used didn't come from Assad's stockpiles. Hersh also said that a secret agreement in 2012 was reached between the Obama Administration and the leaders of Turkey, Saudi Arabia, and Qatar, to set up a sarin gas attack and blame it on Assad so that the US could invade and overthrow Assad. «By the terms of the agreement, funding came from Turkey, as well as Saudi Arabia and Qatar; the CIA, with the support of MI6, was responsible for getting arms from Gaddafi's arsenals into Syria». Hersh didn't say whether these «arms» included the precursor chemicals for making sarin which were stockpiled in Libya, but there have been multiple independent reports that Libya's Gaddafi possessed such stockpiles, and also that the US Consulate in Benghazi Libya was operating a «rat line» for Gaddafi's captured weapons into Syria through Turkey. So, Hersh isn't the only reporter who has been covering this. Indeed, the investigative journalist Christoph Lehmann headlined on 7 October 2013, «Top US and Saudi Officials responsible for Chemical Weapons in Syria» and reported, on the basis of very different sources than Hersh used, that «Evidence leads directly to the White House, the Chairman of the Joint Chiefs of Staff Martin Dempsey, CIA Director John Brennan, Saudi Intelligence Chief Prince Bandar, and Saudi Arabiás Interior Ministry». And, as if that weren't enough, even the definitive analysis of the evidence that was performed by two leading US analysts, the Lloyd-Postal report, concluded that, «The US Government's Interpretation of the Technical Intelligence It Gathered Prior to and After the August 21 Attack CANNOT POSSIBLY BE CORRECT». Obama has clearly been lying.
However, now, for the first time, Hersh has implicated Hillary Clinton directly in this «rat line». In an interview with Alternet.org, Hersh was asked about the then-US-Secretary-of-State's role in the Benghazi Libya US consulate's operation to collect weapons from Libyan stockpiles and send them through Turkey into Syria for a set-up sarin-gas attack, to be blamed on Assad in order to 'justify' the US invading Syria, as the US had invaded Libya to eliminate Gaddafi. Hersh said: «That ambassador who was killed, he was known as a guy, from what I understand, as somebody, who would not get in the way of the CIA. As I wrote, on the day of the mission he was meeting with the CIA base chief and the shipping company. He was certainly involved, aware and witting of everything that was going on. And there's no way somebody in that sensitive of a position is not talking to the boss, by some channel».
This was, in fact, the Syrian part of the State Department's Libyan operation, Obama's operation to set up an excuse for the US doing in Syria what they had already done in Libya.
The interviewer then asked: «In the book [Hersh's The Killing of Osama bin Laden, just out] you quote a former intelligence official as saying that the White House rejected 35 target sets [for the planned US invasion of Syria] provided by the Joint Chiefs as being insufficiently painful to the Assad regime. (You note that the original targets included military sites only – nothing by way of civilian infrastructure.) Later the White House proposed a target list that included civilian infrastructure. What would the toll to civilians have been if the White House's proposed strike had been carried out?»
Hersh responded by saying that the US tradition in that regard has long been to ignore civilian casualties; i.e., collateral damage of US attacks is okay or even desired (so as to terrorize the population into surrender) – not an 'issue', except, perhaps, for the PR people.
The interviewer asked why Obama is so obsessed to replace Assad in Syria, since «The power vacuum that would ensue would open Syria up to all kinds of jihadi groups»; and Hersh replied that not only he, but the Joint Chiefs of Staff, «nobody could figure out why». He said, «Our policy has always been against him [Assad]. Period». This has actually been the case not only since the Party that Assad leads, the Ba'ath Party, was the subject of a shelved CIA coup-plot in 1957 to overthrow and replace it; but, actually, the CIA's first coup had been not just planned but was carried out in 1949 in Syria, overthrowing there a democratically elected leader, in order to enable a pipeline for the Sauds' oil to become built through Syria into the largest oil market, Europe; and, construction of the pipeline started the following year. But, there were then a succession of Syrian coups (domestic instead of by foreign powers – 1954, 1963, 1966, and, finally, in 1970), concluding in the accession to power of Hafez al-Assad during the 1970 coup. And, the Sauds' long-planned Trans-Arabia Pipeline has still not been built. The Saudi royal family, who own the world's largest oil company, Aramco, don't want to wait any longer. Obama is the first US President to have seriously tried to carry out their long-desired «regime change» in Syria, so as to enable not only the Sauds' Trans-Arabian Pipeline to be built, but also to build through Syria the Qatar-Turkey Gas Pipeline that the Thani royal family (friends of the Sauds) who own Qatar want also to be built there. The US is allied with the Saud family (and with their friends, the royal families of Qatar, Kuwait, UAE, Bahrain, and Oman). Russia is allied with the leaders of Syria – as Russia had earlier been allied with Mossadegh in Iran, Arbenz in Guatemala, Allende in Chile, Hussein in Iraq, Gaddafi in Libya, and Yanukovych in Ukraine (all of whom except Syria's Ba'ath Party, the US has successfully overthrown).
Hersh was wrong to say that «nobody could figure out why» Obama is obsessed with overthrowing Assad and his Ba'ath Party, even if nobody that he spoke with was willing to say why. They have all been hired to do a job, which didn't change even when the Soviet Union ended and the Warsaw Pact was disbanded; and, anyone who has been at this job for as long as those people have, can pretty well figure out what the job actually is – even if Hersh can't.
Hersh then said that Obama wanted to fill Syria with foreign jihadists to serve as the necessary ground forces for his planned aerial bombardment there, and, «if you wanted to go there and fight there in 2011-2013, 'Go, go, go… overthrow Bashar!' So, they actually pushed a lot of people [jihadists] to go. I don't think they were paying for them but they certainly gave visas».
However, it's not actually part of America's deal with its allies the fundamentalist-Sunni Arabic royal families and the fundamentalist Sunni Erdogan of Turkey, for the US to supply the salaries (to be «paying for them», as Hersh put it there) to those fundamentalist Sunni jihadists – that's instead the function of the Sauds and of their friends, the other Arab royals, and their friends, to do. (Those are the people who finance the terrorists to perpetrate attacks in the US, Europe, Russia, Afghanistan, Pakistan, India, India, Nigeria, etc. – i.e., anywhere except in their own countries.) And, Erdogan in Turkey mainly gives their jihadists just safe passage into Syria, and he takes part of the proceeds from the jihadists' sales of stolen Syrian and Iraqi oil. But, they all work together as a team (with the jihadists sometimes killing each other in the process – that's even part of the plan) – though each national leader has PR problems at home in order to fool his respective public into thinking that they're against terrorists, and that only the 'enemy' is to blame. (Meanwhile, the aristocrats who supply the «salaries» of the jihadists, walk off with all the money.)
This way, US oil and gas companies will refine, and pipeline into Europe, the Sauds' oil and the Thanis' gas, and not only will Russia's major oil-and-gas market become squeezed away by that, but Obama's economic sanctions against Russia, plus the yet-further isolation of Russia (as well as of China and the rest of the BRICS countries) by excluding them from Obama's three mega-trade-deals (TTIP, TPP & TISA), will place the US aristocracy firmly in control of the world, to dominate the 21st Century, as it has dominated ever since the end of WW II.
Then, came this question from Hersh: «Why does America do what it does? Why do we not say to the Russians, Let's work together?» His interviewer immediately seconded that by repeating it, «So why don't we work closer with Russia? It seems so rational». Hersh replied simply: «I don't know». He didn't venture so much as a guess – not even an educated one. But, when journalists who are as knowledgeable as he, don't present some credible explanation, to challenge the obvious lies (which make no sense that accords with the blatantly contrary evidence those journalists know of against those lies) that come from people such as Barack Obama, aren't they thereby – though passively – participating in the fraud, instead of contradicting and challenging it? Or, is the underlying assumption, there: The general public is going to be as deeply immersed in the background information here as I am, so that they don't need me to bring it all together for them into a coherent (and fully documented) whole, which does make sense? Is that the underlying assumption? Because: if it is, it's false.
Hersh's journalism is among the best (after all: he went so far as to say, of Christopher Stephens, regarding Hillary Clinton, «there's no way somebody in that sensitive of a position is not talking to the boss, by some channel»), but it's certainly not good enough. However, it's too good to be published any longer in places like the New Yorker. And the reporting by Christof Lehmann was better, and it was issued even earlier than Hersh's; and it is good enough, because it named names, and it explained motivations, in an honest and forthright way, which is why Lehmann's piece was published only on a Montenegrin site, and only online, not in a Western print medium, such as the New Yorker. The sites that are owned by members of the Western aristocracy don't issue reports like that – journalism that's good enough. They won't inform the public when a US Secretary of State, and her boss the US President, are the persons actually behind a sarin gas attack they're blaming on a foreign leader the US aristocrats and their allied foreign aristocrats are determined to topple and replace.
Is this really a democracy?
Republishing is welcomed with reference to Strategic Culture Foundation on-line journal www.strategic-culture.org.
~~~~~~
ANTACTICA, THE ONGOING ICE-COVERED MYSTERY
WEATHER MODIFICATION? WHAT IS THIS WEIRD MICROWAVE PULSE COMING FROM ANTARCTICA?
A bizarre pulse anomaly showed up on the Morphed Integrated Microwave Imagery at CIMSS readout for Global Total Precipitable Water on Sunday.
It originated from Antarctica.
You can view the original
here
.
The energy pulse appears to be feeding into the main jet stream.
It's interesting timing because not only did a 5.3 earthquake hit off the coast of Italy the following day, a quake that was apparently hidden my major agencies like the USGS —
But back during the Cold War in the 1950s during the International Geophysical Year (1957-58) after which a dozen nations signed the Antarctic treaty which claimed, among other things, the entire continent of Antarctica would be used only for purely scientific, internationally cooperative purposes, it was mentioned in the papers multiple times that all weather originates at the poles and that global weather control was within scientists' reach in Antarctica.
Fast forward to today where the general public is told little about the place except here and there when scientists find a new harmless bacteria or something and, randomly we pick up an anomalous microwave pulse coming from there on the radar…
We encourage you to share and republish our reports, analyses, breaking news and videos (
Click for details
).
---
This content may be freely reproduced in full or in part in digital form with full attribution to the author and a link to www.TheDailySheeple.com.
~~~~~~
MULTIPLE CHEMICAL SENSITIVITY, THIS IS AN EXCELLENT SHOW ... This is what the Kougar suffers from, although -- THANK THE DIVINE --- not quite as severe as Mr. Alan Bell.
http://www.coasttocoastam.com/show/2017/04/04
Attorney
Alan Bell
prosecuted drug and homicide cases for the state of Florida before developing multiple chemical sensitivity, and subsequently founded the Environmental Health Foundation. In the first half of the show, he detailed his own toxic exposure, and how he now advocates for victims of environmental injury. In the 1980s, his law office in Miami moved into a brand new building, and he developed such symptoms as sore throat, dizziness, and burning eyes/lungs. After consulting with over 100 doctors, and a multitude of tests, he was diagnosed as having a kind of blood poisoning, and initially because of his profession, it was thought to be an act of retribution by one of the criminals he prosecuted. However, when it turned out that many other employees had become ill in the same building he worked in, it was declared to be a case of "sick building syndrome."
Bell believes he breathed in toxic fumes from out-gassing new carpeting, glues, paints, and plastics, worsened by a lack of fresh ventilation. His case was so severe that he became hypersensitive to almost everything in the environment including pollen, mold, foods, and everyday chemicals, and he eventually had to live inside an isolated "bubble" in Arizona just to stay alive. After almost a decade, his condition improved substantially on anti-seizure medication and he was able to live outside the bubble. He cited that 7 out of 10 cases of cancer are caused by environmental exposure, and that the US lags behind other countries in regulating the safety of chemicals. He also talked about winning a case against a chemical company, in which he was able to prove their product used in flooring had cause the onset of ALS in a client.