An hour after midnight yowls and roars, most adored and amazing KitKats ... what a day! just too difficult for this Big Cat to deal with, all the huge problems that arise these days ... although, things have calmed down now, and things have been taken care of, for now ... so, lots of brouhaha brewing everywhere on our planet ... bigtime brewing ... so, many have their proverbial panties in a huge ole wad over President Trump signing the omnibus bill ... okay, understandable ... HOWEVER, the Kougar feels no distress... why? ... nuggets of pure gold will come out of this held-hostage, yet strategic move ... okay, this is how this Big Cat views this situation ... number one: WE THE PEOPLE need the protection of the military from the deepstate globalists, hence taking care of our protectors ... as the Kougar commented:
@Kougarfang
Replying to @TheMarkPantano
No, this is called lulling the enemy into complacency, then destroying them with their own foolishness. Don't you get it? WE THE PEOPLE need the military to protect us, be on our side AGAINST THE SWAMP BEASTS.
Also, as some pointed out, the omnibus bill is under the direction of the President, which means he has actual control of HOW the money is spent ... he can delay monies to say planned parenthood ... FURTHER, Trump put the huge ole SPOTLIGHT on the demoncraps and on the RINOS ... get these traitor-creepazoids out of office... get those candidates in who actually care about us, care about America First.
Ohgosh, the Kougar just lost her train of thought... she's tired and needs to go to bed...
OKAY yeah, this Big Cat wishes NO ONE would pay fed taxes ... after all, it all goes to the Federal Reserve, a private bank ripping us all off with non-payable and illegal debt ... this is just a rape and pillage and plunder *bankster gangster* scam to control, then kill off America with a stupid fiat currency.
Anyway, Alex tells it like it is...
CRAPAFORNIA RAINSTORM...
Man and his dog are winched out of swollen river after ATMOSPHERIC RIVER dumps record amounts of rain on California during ferocious storm that forces the evacuation of thousands
Record-breaking rain has poured in the western US state during last three days
An 'Atmospheric River' is channel of water vapor which moves with the weather
These channels then release the moisture in the form of massive rain or snowfall
Rescuers reported pulling a total of 10 people from Salinas River in Paso Robles
The downpour follows wildfires and landslides which had devastated some areas

Read more: http://www.dailymail.co.uk/news/article-5535435/Man-dog-rescued-dramatic-floods-California-storm.html#ixzz5AdhQZ0NU
Follow us: @MailOnline on Twitter | DailyMail on Facebook
QUAKAFORNIA
YELLOWSTONE SUPERVOLCANO...
Underwater 'fountain' of magma is found beneath Yellowstone supervolcano sparking fears a deadly eruption is on the way
Experts found a column of hot volcanic ash beneath Yellowstone National Park
This 'magma plume' could provide the heat that drives the park's surface activity
The Yellowstone supervolcano experienced a series a mini tremors last week
Recent volcanic activity at the park has raised fears the volcano is about to erupt

Read more: http://www.dailymail.co.uk/sciencetech/article-5527451/Underwater-fountain-magma-beneath-Yellowstone.html#ixzz5ARbN5zFo
Follow us: @MailOnline on Twitter | DailyMail on Facebook
NO KIDDING!!! WILL MUELLER BE ONE MORE VICTIM OF THE CLINTONISTA CRIME SYNDICATE ?
SUPER FLASHPOINTS TO DIVIDE AND CONQUER
LIKELY A MESSAGE TO PRESIDENT TRUMP ... WE CAN NUKE A CITY...
ANOTHER DEVOUT MUSLIM ATTACK ... SHARIA LAW MUSLIMS MUST BE DEPORTED, AND DEPORTED NOW!
REPUBLI-CONS, ALRIGHT!
THIS WILL NOT END WELL FOR THE REDCOAT-ENFORCERS IF THEY DON'T BACK OFF
GUN GRAB: STATE INITIATIVE REQUIRES GUN OWNERS TO SURRENDER 'ASSAULT WEAPONS'
'This explicitly comes for your guns,' says congressman
Oregon has submitted a proposal to ban assault weapons and high capacity magazines in a ballot initiative petition meant to prevent mass shootings.
The proposal, called Initiative Petition 42, would require legal gun owners "to surrender or register their assault weapons or face felony charges."
"The proposal defines an assault weapon as any semiautomatic rifle that has the capacity to accept a detachable magazine, and any feature like folding or telescoping stock, or that can accept more than 10 rounds of ammunition,"
reported
KGW News.
The initiative petition states that "a reduction in the availability of assault weapons and large capacity ammunition magazines will promote the public health and safety of the residents of this state."
The proposal would require citizens in legal possession of an "assault weapon to sell, surrender or remove the weapon from the state, or render it inoperable, within 120 days of passage."
Gun owners are rightly concerned because the language of this bill classifies a huge percentage of firearms as "assault weapons," and any violation of the proposal would be considered a Class B felony.
"This is completely out of hand — I couldn't believe it," Rep. Bill Post (R-OR), told the Statesman Journal Tuesday night.
"I've been told so many times by people in favor of gun control: 'no one is coming to take your guns.' This explicitly comes for your guns."
---
http://allnewspipeline.com/Google_Busted_Again_Manipulating_Search.php
KEEP TELLIN' YA, FACEBOOK HAS NEVER BEEN YOUR FRIEND ... IT IS 1984 SURVEILLANCE, ONE OF MANY TENTACLES
WOW, HOW IS THIS ANY SURPRISE? THE *INTERNET BILL OF RIGHTS* SUPPRESSED BY EVIL GO-OGLE
March 18, 2018
Google Busted Again Manipulating Search Results As 'Internet Bill Of Rights' Gains Traction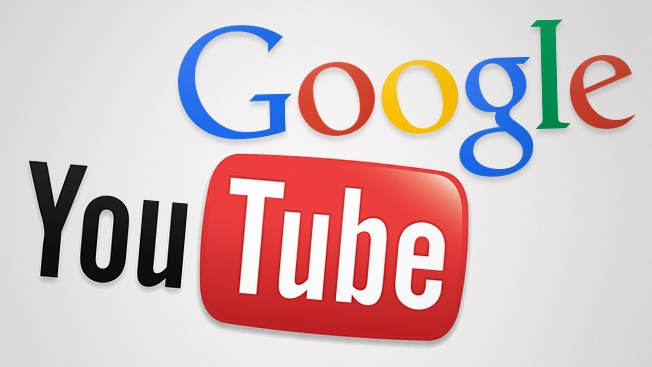 By Susan Duclos - All News PipeLine

It will come as no shock to regular readers that big tech is completely out of control, as is social media giants like Twitter and Facebook, as we have been documenting the increasing intensity and frequency of their outright censorship of Independent and conservative websites, videos, and social media posts.

While it is not surprising, it is important to document their censorship practices as they find new ways to silence anyone that doesn't promote or conform to their preferred narrative and official spin, because one cannot fight against attacks if they do not see them and where they are coming from.

GOOGLE WANTS TO CONTROL WHAT YOU ARE ALLOWED TO SEE

One recent example and proof of Google's censorship practices is highlighted over at Free Thought Project is Google's manipulation of search results, shown in screen shots of keyword searches and the difference in results by Google's search engine in comparison to what is seen using the same keywords using other search engines.

While the entire piece is a must-read, the lead-in to the screen shots, along with the images showing the contrast, below:


The most striking of these results came when we searched for the words "girl says 3 shooters parkland," expecting the news footage of an eyewitness from the school saying that there were multiple shooters.

On Google this video did not come up, nor did any articles about the statement that the student made to the news, despite the fact that our search was extremely specific. Don't be fooled by the top article "Calling B.S in Parkland, Florida," it is an op-ed promoting gun control.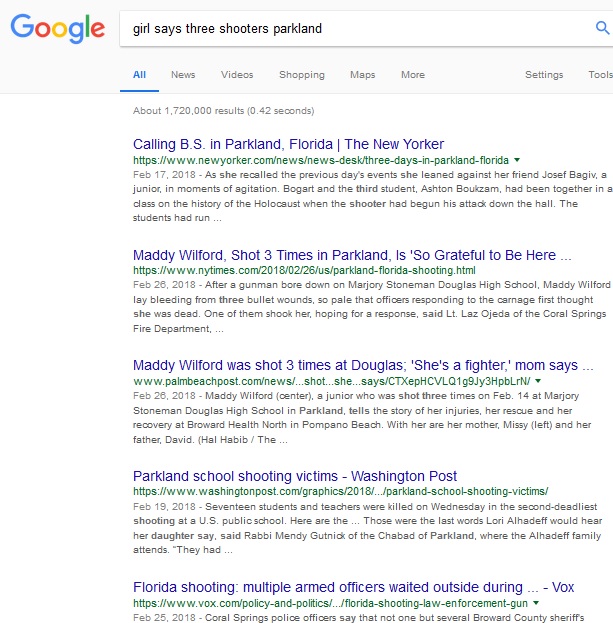 The Free Thought Project then provides screen shots of the results found using DuckDuckGo and Bing, excluding the Yahoo result screen shot because it was identical to the Bing results: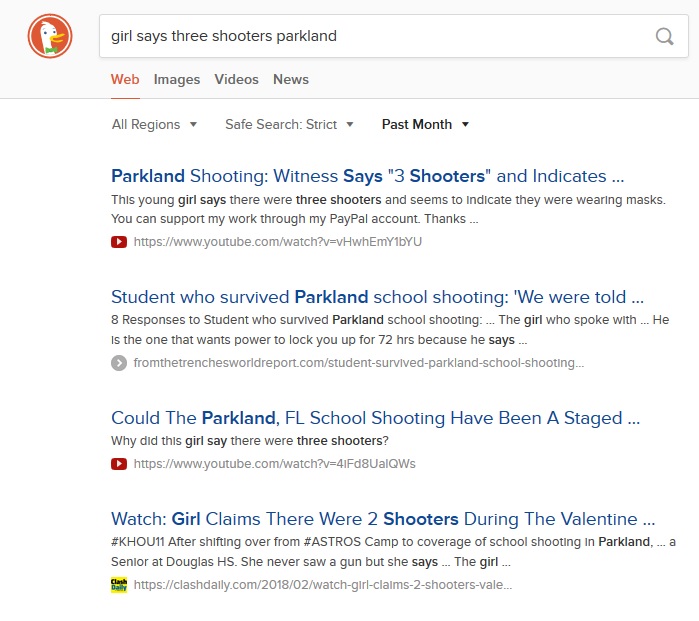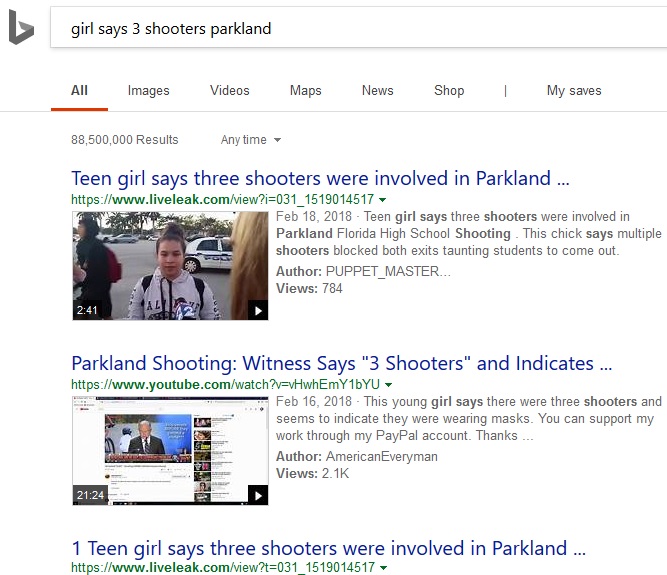 Whether one believes the information from the girl in the interview or not, is of no consequence. The fact is she said it, and Google is attempting to prevent anyone from finding something that should be publicly available and easy to find, especially using specific keywords. They are quite literally controlling what people that utilize their services are allowed to see.

As ANP has highlighted previously, Google's video platform YouTube has done the exact same thing by removing any videos they do not want users to find, the most recent example was when David Hogg, hailed as the "gun control student activist," was caught practicing his lines and being coached by a CNN reporter. Dozens of copies of that video, if not hundreds, were ruthlessly scrubbed from YouTube's site, with other video platforms being the only places that video can be found and shown to the general public.

Now we learn that Google's YouTube will be adding "information cues," alongside videos they determine are "conspiracy." Those will contain links to what Google deems a "fact based" website to counter the information contained within the video in questions.

Via Vigilant Citizen:


After demonetizing thousands of channels (many of which were "truther" and "conspiracy"-related), YouTube is now taking further steps to fight undesirable videos. YouTube CEO Susan Wojcicki announced this week that the video platform will soon begin displaying links to "fact-based" sites alongside conspiracy videos. Called "information cues", these snippets of information will link to "reputable" articles in order to combat "hoaxes" and "fake news" stories (gotta use lots of quotation marks to highlight mass media's biased vocabulary).

Here's how it will work: If you search and click on a conspiracy theory video about, say, chemtrails, YouTube will now link to a Wikipedia page that debunks the hoax alongside the video. A video calling into question whether humans have ever landed on the moon might be accompanied by the official Wikipedia page about the Apollo Moon landing in 1969. Wojcicki says the feature will only include conspiracy theories right now that have "significant debate" on the platform. "Our goal is to start with a list of internet conspiracies listed on the internet where there is a lot of active discussion on YouTube," Wojcicki said at SXSW.

– Wired, YouTube Will Link Directly to Wikipedia to Fight Conspiracy Theories

We have to address the lack of intelligence in the decision of Google to use Wikipedia as a primary source of debunking or verifying anything. They are handy sometimes for quotes or sourcing to find original sources of information, usually more so when it is an uncontroversial topic, but on their own page they admit "While some articles are of the highest quality of scholarship, others are admittedly complete rubbish." They state on that same page "since Wikipedia can be edited by almost anyone anytime, articles may be prone to errors, including vandalism."

They also advise readers "please do not use Wikipedia to make critical decisions."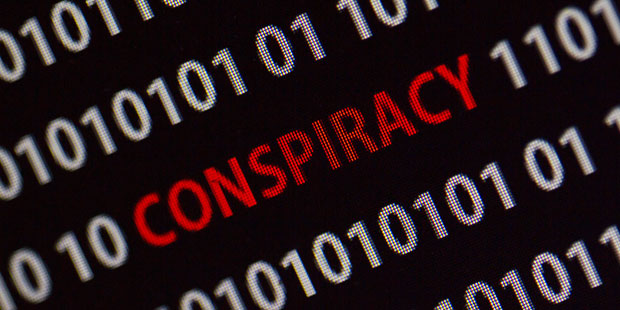 HUGE DIFFERENCE BETWEEN 'CONSPIRACY' AND A HOAX

Please note how Google is attempting now to not only determine what is a "conspiracy," but how they are treating conspiracy theories as hoaxes or fake news.

That is a very dangerous game to play, because a hoax is something put out that deliberately offers outright fake information to mislead people, where a "conspiracy," is questioning the official narrative. The CIA actually started pushing the "conspiracy theory" label as an attempt to discredit anyone that does question the official narrative.

The fact is many "conspiracy theories" have later been proven to be true.

One memorable example was how the MSM labeled Tea Party and Patriot groups "conspiracy theorists," when they accused the Obama administration and the IRS of targeting them due to their political ideology. Years after they were falsely labeled as conspiracy nuts, IRS official Lois Lerner publicly apologized for targeting Tea Party and patriot groups unfairly.

Other "conspiracies" that were discovered years later to be true include, but are not limited to: MKUltra and their CIA mind control program; Bohemian Grove, where the rich and powerful go to misbehave; the CIA funding the Dalai Lama to undermine the Chinese Government; President Lincoln's assassination had multiple co-conspirators; The CIA's fake vaccination program; Operation Mockingbird - The CIA's control over the mainstream media; Operation Paperclip: The Secret Intelligence Program to Bring Nazi Scientists to America.

Those are just a few examples of the many "conspiracies" that were later proven true. They also offer one of the biggest reasons why Google/YouTube, social media giants and big tech's censorship of any news that doesn't fit the official narrative is doing a massive disservice to all internet users, because any current "conspiracy" that later proves to have been true, means that it is Google/YouTube, Twitter, Facebook and other big tech companies that will, in fact, have been pushing "fake news," by automatically declaring them false, rather than treating them as simply questioning the official, approved narrative.

RECOMMENDATIONS TO FIGHT INTERNET CENSORSHIP

As always we would like to provide options, a way Internet users can fight back against this type of censorship. While we are encouraged that the idea of an "Internet Bill of Rights," is gaining traction to prevent big tech and others from discriminating and censoring Independent News and views and questions, things like that could take years to fully implement and enforce, and we need options now.

Another form of censorship by Google has been Adsense program where publishers like ANP has seen the same amount of ads, the regular off-presidential election year drop of traffic, maybe 15 percent, yet the revenue has dropped by nearly 80 percent in comparison to what was brought in before the 2016 election. This has been noted by the majority of conservative or Independent News sites that supported Donald Trump in 2016.

Independent Media Publishers: We can now comfortably vouch for a new ad service, Commodity Ad Network, that is geared toward Independent Media websites, as their first payment not only came in on schedule but was the exact amount their dashboard indicated throughout the first month, which doubled with one single ad, the pittance brought in by Google Adsense with three ads. They offer one banner ad per page.

(Note- If after the first three months with Commodity, these numbers continue at this rate, ANP will be able to remove at least one Google ad, perhaps two. The ultimate goal is to be in a position where we can remove all three.)

Independent Media sites can join here to start their way toward independence from Google.

Future phases will include a social media platform, a search engine geared for Independent Media sites, and a video platform to replace YouTube, all without censorship.

Another service run by people that believe in free speech and do not censor Independent News websites is Revcontent. Native ads, they pay on time, and require no contracts, and publishers are paid the next billing cycle.

Advertisers: With Google manipulating search results, downranking conservative and Independent Media sites in their results, any drop in organic traffic means that advertisers are not receiving the amount of traffic they could be getting, since Google is blocking them from whole segments of the Internet. Google is also limiting what ads are being seen on those sites, which also damages advertisers that want their ads shown everywhere as part of their advertising goals.

Being a new startup, Commodity Ad Network can offer those advertisers being harmed by Google's censorship practices, a whole new audience that Google is preventing them from reaching. Advertisers can join Commodity Ad Netwrok here.

Search Engine Alternatives: For internet users that want to get the results they are searching for, rather than the result Google wants them to get, here are links to DuckDuckGo, Bing, Yahoo, Ask, StartPage by IxQuick. We highly recommend testing them all, then finding a favorite and setting it as their default search engine.

Video Alternatives to YouTube: While it is still hard to find exactly what is needed in an embeddable format at the smaller start-ups, there are a number of things in the works.

Social media website Gab just started their own Gab TV, where content creators can upload videos, with pro-members being able to livestream, without censorship. As of now there are no options to embed on external websites.

D.Tube is another option, though they do need to work on their search functionality and streamline the joining process, they do offer videos that can be embedded.

Vimeo is a service that does offer embed codes for websites that use clips.

Natural News' Mike Adams has also announced a project called Real.Video, which will work differently than most video platforms and users can request an invite here.

BitChute has seen a recent uptick of YouTube content creators who see the writing on the wall as Google's YouTube continues to purge accounts as part of their censorship agenda. BitChute does not offer embed codes at this time either.

Social Media: After the massive Twitter lockout of conservatives, and the continued censorship practices by Twitter, with shadow bans, limiting the ability to share content that Twitter doesn't approve of, Gab.ai has seen tremendous growth in 2018. While the mainstream media continues to claim Gab is for the "alt-right," we have noted political ideologies from across the spectrum and they don't censor the left or the right. So far, they seem to truly be one of the few truly "free speech" social media sites.


BOTTOM LINE

The relentless attack on Independent Media sites, specifically those that supported Donald Trump for president in the 2016 presidential election cycle, continued not only unabated, but has consistently increased in intensity.

Many Independent Media sites have started moving toward ad services geared to fairness in an attempt to generate enough revenue to first blunt the impact, then reverse the trend in order to be in a position to start removing ads from services that do censor and downrank Independent voices to punish them for their political leanings. Alternative social media platforms are seeing major increases just by offering true free speech. Video platforms are being created to offset Google/YouTube's censorship.

Bottom line, things are looking up and moving at a rapid pace to prevent big tech from silencing our online voices.




Thank You PipeLiners: Well ladies and gentlemen, it is time for a heartfelt thank you to our readers, those that comment and those that lurk, those that shared our work, and those that have humbled us with your generous donations to help us through what has been a very difficult couple of months. We now see the light at the end of the tunnel. Collectively, you all did it, you got us through March. Stefan and I just wanted to say thank you all. PipeLiners Rock!

Below is the new standard donation message that will be seen below all articles.

NOTE TO READERS:

With the active suppression of Independent Media by social media, Google/YouTube, big tech etc... donations help to keep websites that do not conform to the official narrative alive. Any extra readers may be able to spare for donations is greatly appreciated. Thanks to all our readers and donors who are helping to keep Independent Media alive.






THE ENEMY-MSM AND HOLLOW-WOOD, EXTINCTING THEMSELVES
TOMMY ROBINSON ... YOU ARE BEING REPLACED
WAS THIS ANOTHER ATTEMPTED CLINTONISTA HIT???
FORMER MARINE CHARGED IN SHOOTING, HIT-AND-RUN OF CONTROVERSIAL SETH RICH INVESTIGATOR
Burkman was shot and run over March 13 at a Rosslyn Marriott hotel's parking garage
A former Marine, who claims to have worked as a special agent with the Department of Energy, has been charged with shooting and running over Republican lobbyist Jack Burkman, who conducted a controversial investigation of former DNC staffer Seth Rich's murder.
Kevin Doherty, 46, was charged Monday with Use of a Firearm in the Commission of a Felony and two counts of Malicious Wounding, according to
a press release
from the Arlington, Va, Co. police department.
The Washington Post
provided
more details about the attack, which was the second to befall Burkman over the past several months. An unidentified
assailant attacked
Burkman with pepper spray at his home in January.
Burkman was shot and run over March 13 at a Rosslyn Marriott hotel's parking garage. Burkman was there to retrieve what he thought were documents from an FBI whistleblower.
March 19, 2018
DO YOUR BEST TO STOCK UP ON FOOD, WATER, AND OTHER NECESSITIES ... DISASTER HAPPENS, BE PREPARED
The Unprepared Will Die. Period. Food Shortages Across The Country As Intel Employees Are Preparing For Catastrophe

By Susan Duclos - All News PipeLine

I found two seemingly unrelated links over at Steve Quayle's website this morning, but when looked at together the picture that emerges is devastating because it shows that when a national catastrophic disaster hits, whether it is a natural disaster, a terrorist attack, an EMP, or a economic and societal collapse, the millions of Americans that are unprepared will die in the aftermath. Period.

U.S. INTEL AGENCY EMPLOYEES ARE PREPARING FOR DOOMSDAY

The first link is to an article titled "Official Washington flocking to Doomsday Camps." The article isn't talking about politicians or their employees, or the "Elite," it is referencing members of some of the top U.S. intelligence agencies, such as the FBI, CIA and DIA.

National security officials are joining Fortitude Ranch, who are building "doomsday camps" across the country, which promises protection and a year's supply of food when the "inevitable" catastrophic event occurs, with one member telling he reporter that he and others had joined after "waking up" to the potential of a national crisis, stating "For most of us, something rattled our cages and woke us up."

The list of those potential scenarios addressed in the article includes an attack or even a weather-related electromagnetic pulse shutdown of the electric grid, which the Fortitude founder, a retired Air Force colonel and intelligence officer, called "inevitable"; Financial meltdown or political violence; Nuclear war, and; a possible virus attack.


Each camp is expected to house 50-500 in a crisis and Miller said they will have lodges, underground bunkers and guard towers. In the event of a social meltdown, members will be responsible for manning those towers. Each camp has a shooting range.

Members are paying $1,000 per person, per year to join.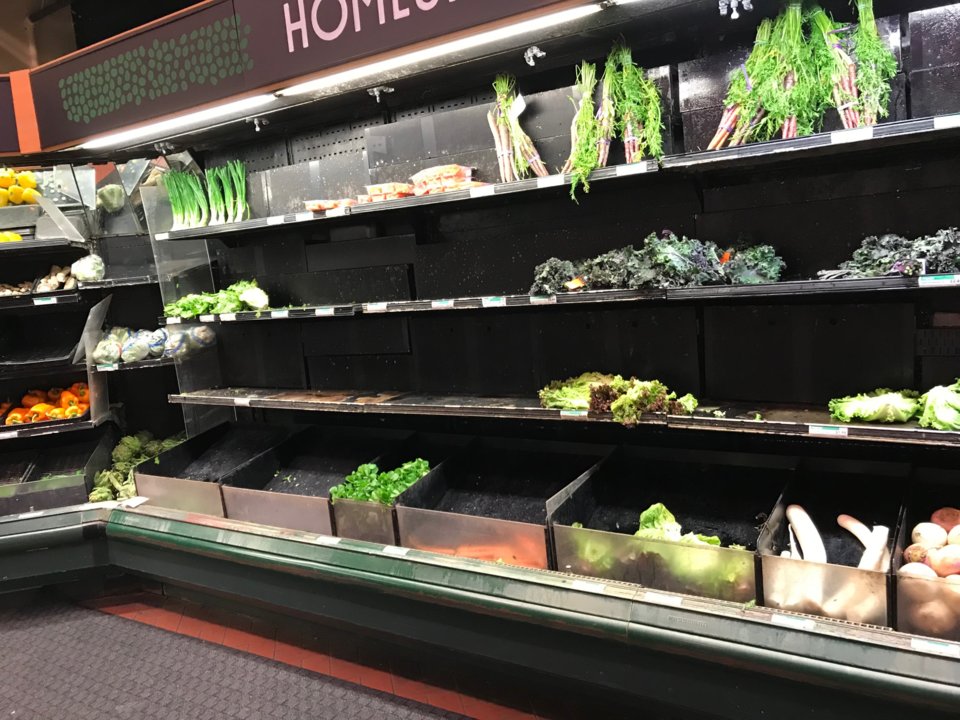 (Image- Houston Whole Foods Produce Section)

FOOD SHORTAGES COMING TO A STORE NEAR YOU

The next link that caught my attention was a Bloomberg piece detailing how supermarkets and grocery store bankruptcies are starting to pile up, such as Southeastern Grocers, owner of the Winn-Dixie and Bi-Lo supermarket chains and Tops Friendly Markets. Southeastern Grocers will be shuttering 94 of their nearly 700 locations to start with and Tops Friendly Markets has about 170 stores where their future is uncertain. Even the bigger chains like Kroger and Walmart are reporting a combined loss of over $30 billion this year alone.

Previously reported stories shows that after Amazon bought the Whole Food chain, they started seeing an increase in food shortages, with some reports stating "Entire aisles are empty."


"It has for weeks had empty shelves, and I shop there twice a week," one customer told Business Insider. "The prepared-food section is not refreshed, and food looks stale."

The Business Insider article blames these food shortages on a "newly implemented inventory-management system called order-to-shelf, or OTS," but the point is that the store is constantly running out of items and do not have the stocks to refill the aisles.

The website Eater details other factors contributing to the food shortages since the Amazon purchase. Such as Amazon's decision to discontinue Whole Foods' local sourcing program:


For years, Whole Foods employed staffers called foragers who went out into their neighborhoods in search of local artisans at farmers markets or state fairs. There, they found home-made jams and mustards and dressings that they'd buy in bulk.

For mom and pop preservers and picklers, selling their wares at Whole Foods was a boon, and over the past decade, thousands of small brands — many of which still put each label on each jar or package by hand — have come to depend on Whole Foods for the bulk of their business. As part of each store's local sourcing program, the maker was responsible for stocking their items on Whole Foods' shelves and could pick a few weekends to set up a table and offer customers a sample. Makers said they were far more likely to sell their items when they were present in the store, answering questions about a product and forging a personal connection while making that sale.

"Whole Foods was always an advocate for the small business. They always wanted to support local artisans," says Erika Kerekes, founder and owner of Not Ketchup condiments. Not Ketchup was sold at Whole Foods locations in Southern California, near where Kerekes lives, for several years, up until six months ago. (Now it's sold via its website and on Amazon.)

They announced the discontinuation of the local food sourcing program one month after Amazon acquired Whole Foods. According to WSJ, Whole Foods "will no longer allow 'brand advocates' in stores, a potential blow to local sellers, because most do not have the budget to fly to Austin to present their products.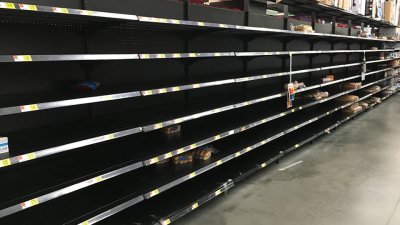 (Empty shelves at Walmart in the D.C. area in preparation for snow)


THE UNPREPARED WILL DIE

Looking at these two unrelated stories, along with what is already happening at Whole Foods, and remembering what happens when a massive snow storm hits parts of the country, how unprepared masses start rushing into stores and panic shopping, emptying stocks with hours, and you begin to see what would happen when the "inevitable" national disaster hits. Rather than being geographically specific, imagine this type of panic hitting country wide during a grid down scenario, or a societal collapse or any other number of potential catastrophic events.

The same type of people that emptied the shelves within hours simply because a snowstorm was approaching in 2016, might not even be able to obtain basic items at all, with no possibility of the stores being restocked.

While obtaining numbers on how many preppers and survivalists there are in America is difficult, the last estimate came from 2013, which was approximately 3 million, so even if we doubled or tripled that amount for the sake of argument, in a nation that has 325.7 million (2017 numbers), we are talking hundreds of millions of people that most likely have no more than a week or two of food, and in many cases much less, probably three days of food.

These are people that assume if a catastrophic, nation-wide event occurs, the "government" will be able to rush right in to save them. In the event of an EMP, or an attack on the electrical grid or even a devastating solar event, no one would be there to help, perhaps for weeks or months.

Food isn't the only issue as most preppers are aware, water, medical supplies, just basics would run out in a very short amount of time. The fact is, many millions would die.

BOTTOM LINE

When the "elite" start buying bunkers, or land in areas with their own air-fields, scared the poor will rise up against them, that could be waved away by some as paranoia or fear, but when members of our own intelligence agencies start paying out $1,000 a year, for each person in their family, because they "woke up," and are "rattled," enough to purchase space in a "doomsday camp," then the obvious question has to be, what do they know that we don't know? What exactly rattled them?

Add that together with supermarkets and grocery stores showing signs of failure, stores closing and shelves already empty in some areas, with nothing in stock to refill the shelves, without any type of disaster, the obvious conclusion is that there are going to be whole segments of the country that are not going to be able obtain even the basics to survive.

Note - No one is suggesting that anyone take their last dime and rush out to buy everything in sight, but steadily getting a little extra here and there on each shopping trip to stock up on basic survival needs, will at least give one a better chance to survive disaster than those totally unprepared.

Readers are encouraged to share prepping tips, links, videos, in the comment section to help others.



NOTE TO READERS

:

With the active suppression of Independent Media by social media, Google/YouTube, big tech etc... donations help to keep websites that do not conform to the official narrative alive. Any extra readers may be able to spare for donations is greatly appreciated. Thanks to all our readers and donors who are helping to keep Independent Media alive.







SEX TRAFFICKING, THE FOSTER CARE SYSTEM ... WHAT AN EVIL HORROR PERPETRATED ON AMERICA'S CHILDREN ... TRUST NO ONE IN THE SYSTEM
THIS SHOULD NEVER HAVE HAPPENED ... HOPEFULLY THIS MURDERER WILL BE PUT AWAY FOR A VERY LONG TIME
Muslim refugee was fast-tracked onto Minneapolis police force
YEAH, OF COURSE, SOROS AND OTHER LEFTIE-COMMIES
GUN CONFISCATION ... HIDE YOUR GUNS!!! DEVELOP A VIABLE BLACK MARKET FOR GUNS AND AMMO
THE BIG BAD BEAST SYSTEM OUT OF EFFING CONTROL
WOW, NOW THERE'S A WORTHY LEADER ... SNARK!
THE POWER OF THE HUMAN VOICE IS BEYOND KNOWING AT THIS POINT ... YET WILL BE REVEALED AS THE AQUARIAN AGE UNFOLDS
Raw Power of Words;With our voices we can praise God, transform the thoughts of others, shatter a glass, inspire people, induce healing, and escape the realities of this world by listening to melodious
OKAY, WHO WOULD HAVE THOUGHT THAT THIS WOULD BE ACTUALLY VOICED ... MAY IT BE SO... SOON!
LIKE THAT HASN'T ALREADY BEEN DEVELOPED AND IS BEING USED NOW
PRAY/SEND GOOD THOUGHTS THAT THE GOOD PEOPLE OF SOUTH AFRICA WILL COME TOGETHER FOR THE BENEFIT OF THEIR COUNTRY
CANADA IS BEING RUINED BY TRUDEAU AS OBUMMER RUINED OUR COUNTRY FOR EIGHT EFFING YEARS!!!
YEAH, COMMUNISM JUST WORKS REAL WELL FOR THE HUMAN FAMILY ... NOT!!!
BRING IN THE WHITE FARMERS, THROW OUT THE SHARIA-LAW MUSLIMS
AT LEAST, WE KNOW WHO THE TECHNOCRAT ENEMY OF THE HUMAN RACE IS...