Friday yowls and roars, most darling and beautiful KitKats ... so, the Kougar has been in an energy-deficient situation ... too overwhelmed and tired to post ... but yes, San Francisco, Los Angeles, Sacramento --- large coastal cities in the *golden* state known as California are literal crapholes ... as most of you likely know, there are the infamous poop maps ... really, who wants to live in that kind of filthy environment ... what, are they regressing to medieval towns where human waste was merely tossed onto the streets below ... yeah, that must have been fun ... not only the unholy mess and stench but it's a perfect breeding ground for diseases ... ah, yes, the good ole hepatitis outbreak happening now, and gawd knows what disease-else... oh hey, how about all those heroin needles decorating the sidewalks ... and not to mention all the poor homeless people, most of who WOULD NOT be homeless, except for the massive derivative *fraud* around mortgages that caused the massive foreclosures ... as well, except for the fact that THE TAXES are out of this world in California, and only rising... plus, all the OTHER MAJOR problem-situations confronting the people of California ... like the manufactured drought ... the nefariously created firestorms ... and on, and on, and on... BUT THERE IS A RAY OF GOLDEN SUNSHINE ... that is, those who are positively engineering the state of New California, those who want to separate from the Red China-Bolshevik-Commie craziness as exemplified by Berkley... yes, the Antifa-Zombies who believe in VIOLENCE, violently attacking you if you dare disagree with them ...
And hey, isn't Governor Moonbeam-Idjit doing his Jesuit-traitorous job of completely destroying California,turning it into Chinafornia ... he's brought in the Commie Chinese to takeover the seaports, to conquer Hollow-Wood's entertainment industry ... Chinese money is buying up California, in general ... likely now, with pennies on the dollar given all the drought-stricken and burned out areas, etc. THE TREACHERY IS SO HUGE, who can keep track or understand it all???
So, President Trump and ICE attempt to roundup the notorious-killer MS13 gang, and other illegals WHO HAVE BIG CRIMINAL RECORDS in the Oakland area of Mexifornia ... well, the stupid air-head *WE'RE A SANCTUARY CITY* mayor actually warns rapists and murderers in advance. Whatever crimes that are committed from those who would have been deported, well, sweetheart-idjit, THE BLOOD, TERROR, AND THE RUINED LIVES ARE ON YOUR HANDS!!!
Bless all the GOOD PEOPLE in California, May You Prevail!!!
YEAH, THE TECH GIANTS IN SILICON VALLEY, CALIFORNIA ... YOU ARE GOING INTO THE HELL-LANDIA YOU HAVE BUILT FOR THE REST OF US... GOODBYE!
THE MEDIA INDUSTRIAL COMPLEX AT WORK...
March 4, 2018
This Is What The Media Is Hiding Behind The Distractions - Major Developments On FISA Abuse Scandal Emerge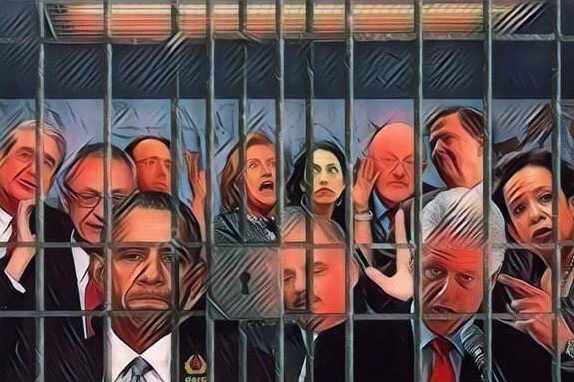 By Susan Duclos - All News PipeLine
While the direct attacks against Americans' constitutional rights, from gun-grabbers attempting to violate the Second Amendment and Internet social media giants and Google/YouTube actively attacking our First Amendment right of free speech, are both critical issues, there is also some very big news on another front that should not be ignored.
ANP readers have noted that recent events has knocked this growing scandal off the front pages of the major newspapers, buried beneath an avalanche of other issues, many of which more important to the MSM than to ordinary, everyday Americans.
DOJ INVESTIGATION INTO FISA ABUSE SCANDAL
Last week
Attorney General Jeff Sessions announced that the DOJ would be investigating potential Foreign Intelligence Surveillance Act (FISA) abuses by the Obama administration, specifically in relation to charges that information contained in the unverified, Kremlin sourced, Steele dossier was used to obtain FISA warrants to surveil Trump campaign team members.
The reaction to the announcement, especially that it would be the DOJ Inspector General that would be spearheading the investigation, has been mixed, with
President Trump stating
"Why is A.G. Jeff Sessions asking the Inspector General to investigate potentially massive FISA abuse. Will take forever, has no prosecutorial power and already late with reports on Comey etc. Isn't the I.G. an Obama guy? Why not use Justice Department lawyers? DISGRACEFUL!"
On the flip side of the coin, House Intelligence Committee Chairman Devin Nunes, publicly came out in favor of the Inspector General's help in investigating wrongdoing by top FBI and DOJ officials during Barack Obama's presidency. Nunes stated "I welcome anybody to help come investigate because so far it's only the House Intelligence Committee Republicans who are actually doing anything to get to the bottom of who was colluding with Russia.
In a letter sent to Attorney General Jeff Sessions on Thursday, Nunes wrote that the apparent use of the controversial "Trump dossier" to make the case for spying on Page suggests a "clear violation" of FBI protocols because it contained unverified information and such a breach of protocol may have violated five criminal statutes, including conspiracy, obstruction of justice, and contempt of court. He asked Sessions to answer questions about DOJ protocol and any actions performed to "hold accountable those officials who violated these protocols," and asked for an answer next week.
(
Source
)
Nunes did not stop there as he then claimed there is "clear evidence" that it was Democrats that actively colluded with Russia.
http://allnewspipeline.com/Big_News_On_The_FISA_Abuse_Front.php
THE CLONE CLOWN AT WORK...
LOOK AT THE PICS...
QUAKE AFTERSHOCK...
VOLCANO ERUPTION...
BOMBOGENIS
LAND CHANGES
GEE, WHY ISN'T THIS SURPRISING? THE HILDEBEAST AT WORK...
WHAT IS REALLY GOING ON WITH JEFF SESSIONS???
UN
GUN CONFISCATION RAMPS UP... POLICE STATE AMERIKA MUST BE DEFEATED!
THIS IS SO HORRIBLE ... OH YEAH, FACEBOOK IS YOUR CHILD'S FRIEND ... AND IF YOU BELIEVE THAT, DON'T BUY THE BRIDGE, JUMP OFF IT
REAL INVESTIGATION OF THE FLORIDA SHOOTING...
March 2, 2018
Is 'Deep State' Already Planning Their Next Massacre Of Americans? Real Investigation Of Florida Shooting Would Expose Satanic Secrets And Crimes Of Hillary Clinton And The DNC!


Submitted to All News Pipeline by William B Stoecker
I always say that everything is in the patterns. Any one fact about, say, the JFK assassination may be dismissed by a "skeptic," although most of these people seem to be professional debunkers. But the overall pattern of evidence is damning. The same is true of Waco and the Oklahoma City bombing, or the first WTC bombing. By contrast, 9/11 was in-your-face, blatantly obvious to anyone able to see (perhaps nearly a third of the population by now).

And mass shootings often leave a pattern of evidence indicating that they are false flag operations, staged by the Deep State to provide a rationale for "gun control," meaning confiscation of all weapons owned by us "deplorables." Of course, our would-be masters have no desire to disarm the criminals, for they are criminals themselves and even armed a Mexican drug cartel via the "Fast and Furious" operation.

Taken as a whole, all these terrible crimes, each with its own pattern of evidence, add up to a larger overall pattern. The US government and, infuriatingly, many state and local governments are controlled by an elite who positively delight in mass murder, especially the satanic sacrifice of young children. Let's take a look at two of the most recent mass shootings.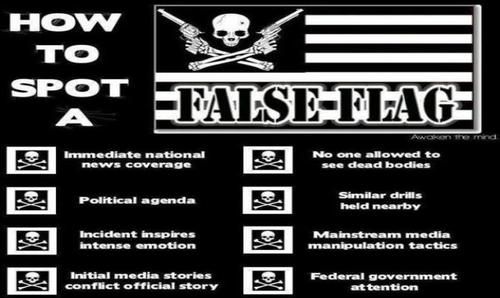 On 10/1/17 a man named Stephen Paddock, who had no prior criminal record and no known affiliation with any kind of terrorist or extremist group, allegedly booked two adjoining rooms at the Mandalay Bay hotel in Las Vegas, amassed a huge store of weapons and ammunition including ten AR-15 rifles with 100 round magazines, and opened fire on the crowd attending a country music concert, the Harvest Music Festival, an open air event some 490 yards from his room, wounding 422 people. Allegedly 58 of them died, making this the greatest mass shooting in US history. Supposedly he used "bump stocks" which can convert a semi-automatic rifle into a kind of full auto weapon. We are told that he fired over 1,100 rounds in the ten minutes from 10:05 to 10:15.
The first problem with this official scenario is one I have written of previously. Yes, with all those rifles and huge magazines, he could have fired that many rounds. But he was firing at extreme range; weapons are far less accurate on full auto; and bump stocks are even less accurate than full auto fire with a weapon designed for the purpose. Yet, even if we allow for 1,200 rounds fired, he hit one person for every 2.8 rounds. With people running for cover and dispersing, this would be virtually impossible.

Initially, the Clark County Sheriff, Joe Lombardo, said Paddock had help. Then he changed his story, making Paddock yet another in a long line of "lone gunmen." Then he changed his story again, saying someone else was involved, but no one in law enforcement has bothered to elaborate on this, and no one else has been charged. In fact, Lombardo repeatedly changed his story about virtually every aspect of the shooting, over and over. At one appearance before the cameras, a visibly nervous Lombardo stood next to a sinister-looking individual in plain clothes.

As usual, the FBI had inserted themselves into this sorry business right from the start…was this man an FBI agent making sure Lombardo stuck to the (ever-changing) script? Had the FBI threatened Lombardo? To clear up some of the confusion about the police and sheriff's department in Vegas, they are one and the same…there is only a sheriff's department and no separate city police department. Ironically, this came about due to massive corruption in the city police (this is depicted in the movie Casino) at a time when Clark County had an honest sheriff.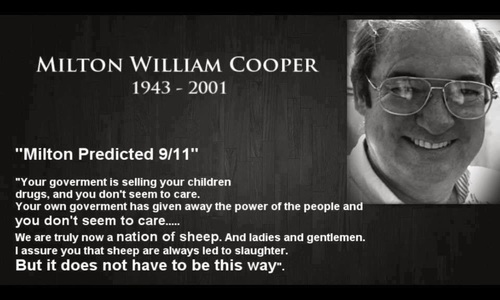 Then there is the lack of any motive. Paddock had supposedly had some gambling losses but was still quite wealthy. Yet he decided, just for the heck of it, to spend thousands on weapons and risk almost certain death or imprisonment to murder people he didn't even know. Really?
Supposedly a Mandalay Bay security guard, Jesus Campos, was sent to the 32nd floor just before 10:00 because an access door had been blocked (supposedly by Paddock). Paddock then (we are told) fired through the door of his room and wounded Campos. Then maintenance worker Stephen Schuck (the same first name as the alleged shooter) arrived, and, seeing that Campos was wounded, called the front desk. Police arrived at around 11:17, more than an hour after the shooting stopped. At 11:20 they blew the door and entered Paddock's room, allegedly finding him dead by suicide.

Why had he not escaped in all that time? The only "proof" of his death is a photo showing the lower legs of someone who could be dead or alive, Paddock or someone else. And no one else on that floor heard all the shots and notified the police or the front desk? And Paddock carried perhaps 200 pounds of weapons and ammunition to his room and no one noticed? We are told that he put a surveillance camera in the hall…no one noticed that either? Many people thought they heard gunfire from multiple shooters from different directions, and even gunfire in other Vegas hotels; Las Vegas Fire Department personnel were sure that there was another shooter on or near the top floor of the Mandalay Bay.

Maybe this could be attributed to panic, confusion, and echoes…maybe. But Paddock's house in Mesquite was burglarized by persons unknown before the intrepid FBI men could search it…why was it not secured? Or did the FBI themselves break in and destroy evidence? Incredibly, Campos was allowed to go to Mexico after the shooting, although he returned. And other guards at the Mandalay Bay claimed that they did not know Campos and had never seen him. The FBI confiscated every cell phone they could and erased all the pictures before returning them to their owners. Authorities refused to release autopsies of the victims, even with names redacted. The Clark County Coroner, after much public pressure, finally released an alleged autopsy of Stephen Paddock, describing a man several inches shorter than Paddock. And several survivors said a woman, just before the shooting, told them that they would all die. There's more, but that should do for now.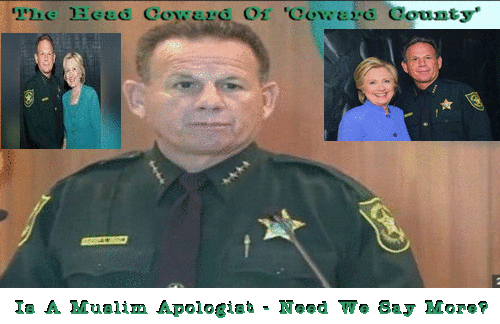 And so there was another "lone gunman" on 2/14/18 at the Marjorie Stoneman Douglas High School in Parkland, Broward County, Florida. A former student allegedly shot and killed 17 students and teachers and seriously wounded 14 in the latest "gun free zone," which, we are told, proves the need to turn our entire country into a "gun free zone," logic too subtle for us bitter clingers to understand. The FBI had been warned twice about this punk, but failed to notify local "law enforcement."

But it wouldn't have mattered anyway, since local police and deputies had been called to his house 39 times due to his violent acts and blatant threats, but both they and the local school district have long had a policy of not arresting even violent teenagers, less the crime statistics make them look bad. Had they charged and tried him they could have confiscated his weapons, but they want to disarm the victims, not the murderers.
The heroic Deputy Scot Peterson, assigned to protect the students, people he saw every day, played it safe and stayed outside, letting them die. He was joined by three more heroes, and they all stayed safe and did nothing; it has now been verified that they did so on the orders of Sheriff Scott Israel. They also prevented EMT personnel from entering the buildings and saving lives. Even compared to previous crimes by our elites, this is mind-boggling. Their radios then went out for no apparent reason; the same thing had happened during the 2017 Fort Lauderdale Airport shooting.

Sheriff Israel has refused to release surveillance videos that might shed light on the matter; this, too, is a common pattern in these events. Per WND, there have been over 60 criminal investigations of the Broward County Sheriff's Department since 2012, for drugs, destruction of evidence, and numerous other crimes, but nothing has been reformed and the genius voters keep reelecting Israel. The Sheriff is a Demoncrap, a crony of Debbie Wasserman-Schultz, and posed for a picture with the bug-eyed Witch Hillary.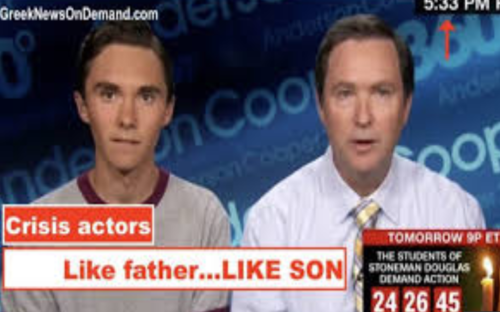 He has long advocated disarming the commoners. And a student named Hogg, son of a retired FBI critter, has been on TV advocating this same cause, and made a video, either during or before the shooting, depicting him and others allegedly hiding from the killer and advocating "gun control" and "diversity." As if all of this isn't enough, one student claimed she was talking with the alleged killer, and he was unarmed, and she could hear shots coming from another part of the building. And the good Sheriff had met and posed for a picture with members of CAIR, a group linked to Islamic terrorism, and had at least one Muslim deputy. All of this, taken together, beggars the imagination.
This was a false flag…period. Either the government did an act of mass murder or they faked it, or a little of each. Remember, if anyone deliberately allows a mass killing to happen, he is every bit as guilty as the trigger puller. In fact, virtually every major terrorist act or mass shooting in the US during the last two decades or so was a false flag.
Now we are told that Florida Governor RINO Rick Scott (the Scotts are piling up here…more synchronicity), is ordering an "investigation" of the Broward County Sheriff's Department. Really? Will that produce the same results (none) as the last 60 "investigations"? Scott has the authority to fire Scott right now, and to question the deputy Scot and the others.

This case has the potential to blow all the Deep State's secrets wide open, and a real investigation by Trump's "Justice" Department could soon reveal the deepest crimes of the Clintons and the DNC. But it's beginning to look as if it will be business as usual and any justice in America must be of the do-it-yourself variety. I'm afraid we may soon have to take our safeties off and take to the streets.


NOTE TO READERS - If we make it through March when we start seeing the revenue generated by the new ad network, we may just have a chance to turn big techs' bias back against them and come through this stronger, louder and more powerful, together. February 2018 has been the most brutal month yet due to the censorship we have been battling against this past year, so any extra readers may be able to spare for donations is greatly appreciated.




HAS THIS MAN BEEN FOUND???
Nationwide manhunt underway for missing CDC worker; Ebola containment aircraft dispatched to Little Rock then back to Atlanta
Is there any connection between the missing CDC public health commander and the Ebola containment aircraft recently deployed to Arkansas?
https://www.intellihub.com/nationwide-manhunt-underway-for-missing-cdc-worker-ebola-containment-aircraft-dispatched-to-little-rock-then-back-to-atlanta
USEFUL IDIOTS FOR SOROS AND THE EVIL GLOBALISTS ... OH WAIT, NOW SAYING GLOBALIST IS ANTI-SEMITIC ... TOO BAD, YOU CREEPAZOID-PSYCHO GLOBALISTS
March 2, 2018
Something So Disturbing About Baby Killers From Planned Parenthood 'Training' Children Gun Control Activists About 'Saving Lives'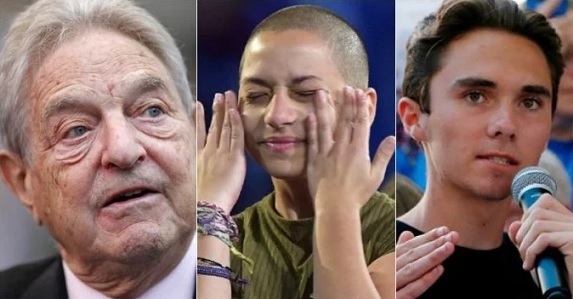 By Susan Duclos - All News PipeLine
Once again the media fails to inform the public of the truth about the children activists from Marjory Stoneman Douglas who have been all over television since Valentine's Day when a killer visited their school and opened fire, killing 17 people, who have been hailed by the liberal MSM for their "organizational skills," and poise, but who, in reality are nothing more than figureheads, used by groups like Everytown, Giffords, Move On, , and the Women's March LA, for their gun control agenda.
Top that off with the organization providing "teaching and hosting trainings," to these children, who claim to be fighting to save children's lives, which is none other than one of the biggest known organization of baby killers in existence..... Planned Parenthood.
How is that for irony?
Everytown for Gun Safety — bankrolled mostly by Michael Bloomberg — recently secured a $1 million donation from entrepreneur and philanthropist Eli Broad.

MoveOn said it will encourage its millions of members to follow and promote the March for Our Lives movement on social media and attend the rally next month. The group said it had offered support in organizing logistics such as security and portable toilets, but it is unclear if the students have taken them up on their offer.

A spokesperson for Planned Parenthood said the group is "teaching and hosting trainings" for young activists across the US "to keep momentum going so they don't get burned out."

Planned Parenthood said it has been in contact with Giffords, which is spearheading the national coalition of groups working with March for Our Lives.

Democratic US Rep. Debbie Wasserman Schultz, a Broward County resident for nearly 30 years, told BuzzFeed News she has been in touch with students from Marjory Stoneman Douglas since the day after the shooting, helping them connect to state legislators and plan their trip to Tallahassee last week.
Related
:
Parkland 'March For Our Lives' Movement Has EVIL SOROS SECRET They Don't Want You To Know
According to Planned Parenthood's 2015-16 report, they performed 328,348 abortions, up from 323,999 the previous year, as
Washington Times reported in May of 2017
, making it the largest single provider of abortions in the nation.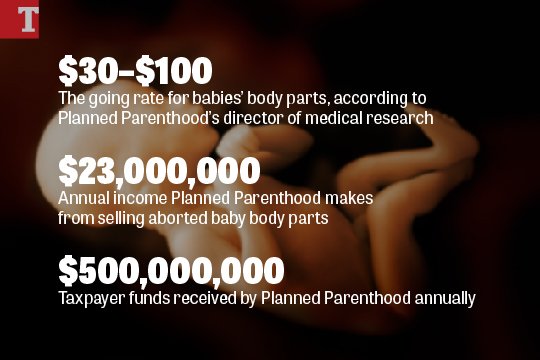 http://allnewspipeline.com/Baby_Killers_Training_Children_Gun_Control_Activists.php
http://www.thecommonsenseshow.com/president-trump-is-failing-to-protect-the-very-people-who-got-him-elected
TURNS OUT OUR PRESIDENT TRUMP IS GOING AFTER THE TECH GIANTS AND THEIR CENSORSHIP OF THE PEOPLE
President Trump Is Failing to Protect the Very People Who Got Him Elected

America is on the verge of losing the 1st Amendment. If this happens this country will quickly descend into Civil War. This article discusses how President Trump is not protecting his base and working to preserve the 1st Amendment which is our first line of defense against tyranny.
Risking Everything to Get Trump Elected
As a matter of background and context, it is accurate to say that myself and many of my esteemed colleagues in the Independent Media risked everything, including our lives, to get Donald Trump elected as the 45th President of the United States. I told my family that if Hillary Clinton won the election, we would likely have to leave the country. If Hillary had been elected, I am confidant in stating that we would be at war in Syria, the process would be well underway to eliminate the Constitution as the supreme law of the land and political persecutions for people like myself would already be underway under the "snatch and grab" provisions of the NDAA which does not require due proces to remove an "enemy combatant" from society without a trace.
It is also accurate to say that without the combined efforts of people like Steve Quayle, Dr. Ted Broer, Paul Martin, Mike Adams, Alex Jones and myself, Donald Trump would not be the President.
The Deep State and their minions at the mainstream media made a gross miscalculation in 2016, they did not think we had enough power to remove the stranglehold on true news prior to the 2016 election. The 2016 election was supposed to be a coronation of Hillary Clinton. The globalists discovered that the collective efforts of the Independent Media carried more weight than the entire MSM put together. We overcame extreme MSM bias and villification (eg The Common Sense Show was overtly accused of being a Russian spy by the Washington Post) in order to help Donald Trump to achieve final victory.
The Consequences of Loyalty to President Donald Trump
The establishment media, beholding to the Deep State, made a gross miscalculation with regard to the 2016 election. They thought they could just ignore us and it cost them the Presidency. Now they have learned their lesson. For example, the social media giants, who are unregulated monopolies, are being allowed to violate anti-trust laws in the name of blatant censorship of anything that is pro-American, pro-Christian, pro-family values and pro-Constittution. The DOJ has the low-hanging fruit of legal cases against, Facebook, Twitter, Youtube (Google) and Google's manipulation of Internet search engines awaiting legal prosecution from the Department of Justice.
The Deep State, social media and the mainstream media have all learned their lessons. They have all combined their efforts to drive the Independent Media out of business. In the case of The Common Sense Show, Google, who controls 80% of all Internet searches, have turned their sites on people like my organization. Google search engines used to comprise 20% of all organic traffic to The Common Sense Show (CSS). Since the Inaugaration, that number has dwindled to .3%. On Youtube, the attacks upon the CSS are even more devastating and pronounced. Overnight, my Youtube traffic was cut in half and this happened in October. This is because the CSS Youtube has zero organic traffic thanks to Google censorship and traffic manipulation. Back in October, the CSS had 92,000 subscribers. When one reaches 100,000 subscribers, special share options appear and Youtube is doing everything they can to prevent the CSS from reaching the 100,000 mark. Since October, the CSS has added a net gain of abot 1,700 subscribers per month according to Youtube's own metrics. According to Youtube, I should 103,000 subscribers. However, they only list me at 93,000 subscribers. Youtube demonitizes nearly every video I made as being "unsuitable from most advertisers". However, I have caught them, with screen shots, advertising their products on my"unsuitable for advertisin"g video. This is fraud, but without the help of the DOJ, there is no way to strike back at these mafia tactics. After 5 days, Youtube will remonitize almost all of the videos but only after the traffic and the profits have passed. This is collusion to drive one out of business. What I have described here is happening to EVERYONE in the Independent Media from Steve Quayle to Alex Jones to Dave Hodges.
---
IF THE MAINSTAYS OF THE INDEPENDENT MEDIA ARE ELIMINATED FROM ALL FORMS OF PUBLICATION, THERE WILL NOWHERE THE PEOPLE CAN GO TO GET THE TRUTH. THERE WILL NEVER BE A PROTEST OR ANY KIND OF ORGANIZED MOVEMENT THAT IS DEDICATED TO PREVENTING THE ELIMINATION OF TRADITIONAL FAMILY VALUES, THE FREE AND INDEPENDENT WORSHIP OF GOD, THE CONSTITUTION AS THE SUPREME LAW OF THE LAND INCLUDING THE CIVIL LIBERTIES CONTAINED IN THE BILL OF RIGHTS. WITHOUT THE TRUTH-TELLERS, AMERICA WILL BE DEFENSELESS AGAINST THE ONSLAUGHT OF THE DEEP STATE. THIS WILL USHER IN THE DARKEST DAYS OF HUMANITY AND ALL WILL BE LEFT WITHOUT RECOURSE AS ALL AMERICANS WILL BE RENDERED DEFENSELESS. THE INDEPENDENT MEDIA IS THE LAST LINE OF DEFENSE FOR THE AMERICAN PEOPLE.

---
Conclusion
The fate of our country lies in the balance. The Deep State is an arm of the New World Order (NWO). The NWO is intent on the destruction of the United States. Our freedoms and economic power cannot allowed to stay in place if the globalists are going to introduce a "New Wold Order" which will be tyrannical and autocratic.
Thomas Jefferson introduced the 1st and 2nd Amendments to the Constitution. The 1st Amendment was put into place as a watchdog against criminal and tyrannical activity on the part of government. This is why the freedom of the press and the freedom of religion are protected under the 1st Amendment. These two groups (ie reporters and clergy) were to be the nation's watchdogs against tyranny. The clergy have failed in their prime directive thanks to 501c3. The 2nd Amendment was designed to be the last line of defense against tyranny when the 1st Amendment was ineffective. America is quickly losing the 1st Amendment and now the 2nd Amendment is under attack.
If the people were unsuccessful in stopping tyranny through the use of the 1st Amendment, there were to defend themelves under the 2nd Amendment. President Trump has yet to step up to the plate in this issue. I also have questions regarding Trump's committment to the 2nd Amendment. This will be the topic of Part II.
Steve Quayle and Tome Horn will join Dave, on Sunday night on The Common Sense Show at 8pm Eastern.
SUE THEIR TECHNOCRACY ASSES OFF
March 3, 2018
The 'Purge' Is Out Of Control, Congress Must Strip Social Media, YouTube Liability Immunity From Them Because They Are Not 'Neutral' Public Forums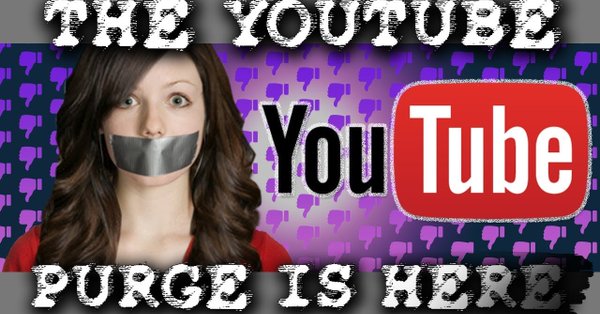 By Susan Duclos - All News PipeLine
In January 2018, Senator Ted Cruz grilled representatives from Facebook, Twitter and Google's YouTube over their overt censorship of Independent and conservative users, providing multiple examples of that censorship, showing it was almost entirely enacted against those that lean right of the political aisle.
Cruz prefaced his direct and pointed questions by forcing these representatives to answer one simple question, which was "Do you consider your companies to be neutral public forums?" Despite attempts to not directly answer the question with a simple yes or no, two of the companies finally had to claim they were, and the third simply answered 'yes' before Cruz moved on to provide evidence that they were indeed censoring conservative content.
By the end of their interactions, Cruz stated the pattern he noted in the examples he offered was "highly disturbing" and then he highlighted his original question, then pointed out that "If you are a neutral public forum that does not allow for political editorializing and censorship, and if you are not a neutral public forum, the entire predicate for liability immunity under the CDA is claiming to be a neutral public forum, so you can't have it both ways.
http://allnewspipeline.com/Socials_No_Longer_Neutral_Strip_Immunity.php
HITLARY WOULD BE DOING THIS TO US ... REMEMBER THOSE FUN CAMPS
IN BED WITH THE REAL JIHADI TERRORISTS...
RETAIL APOCALYPSE ... RISE OF THE MOM AND POP BUSINESSES IS ALSO HERE
GEE, YA THINK... THE POPE IS A BLACK JESUIT ... GOVERNOR MOONBEAM-IDJIT IS A JESUIT...
SINISTER SEMANTICS ... IT'S ALL ABOUT DEMONIC PROFIT AND CONTROL
MARC MARANO IS AMAZING!!!
New Best Selling Book 'Body Slams Climate Agenda In New Bestseller'

Read the Full Article
NoTricksZone Review: The book 'exposes the hypocrisy of jet-setting, yachting & limousine' driving Hollywood liberals.
"Morano's renowned, upbeat attack-style comes through in full color. Not only is the book humorous, but it's also chock-full with data, facts and recent hard scientific findings that will make the Al Gore-acolytes cringe in embarrassment."
"Green hypocrisy exposed: Morano's book exposes the hypocrisy of jet-setting, yachting limousine billionaire leftist elitists, who lead pampered lives in energy-guzzling mansions and private jets while preaching to the rest of us trying to make ends meet about the need to forego fossil fuels."
"Morano writes climate sanity was restored to the United States with Trump's election, and that Trump is: "The warmists' worst nightmare."