March Madness yowls and roars, Bigtime Bold Kitkats ... please pray and/or send good protection vibes to Ted Malloch, a really good man. The FBI took him off a plane in Cleveland... Mr. Malloch was arriving from London ... according to Dr. Jerome Corsi ... well for the whole SHOCKING MAFIA-BRUTAL story listen to the vid below ... NOW, Ted and his wife Beth have been missing for over seven hours [much longer now] ... their phones are not working ... email is not working ... no one knows where he is ... Dr. Corsi did say Ted sounded panicked after the FBI interrogated him ... the Kougar is hoping maybe Ted and his wife are in hiding, and are safe ... hoping! This is really, really scary. Because who knows if the FBI did kidnap-disappear Ted and Beth??? THE DIVINE FORBID! THE DIVINE HELP THEM!
Okay, no doubt there are major horrific false flag events on the evil globalists' board. Be prepared, most darling kittens. However, the Kougar is calling for DIVINE INTERVENTION.
The photo above is Nigel Farage and Ted Malloch...
Ted Malloch
American businessman
Theodore Roosevelt Malloch is an American author, consultant, and television producer. He was a professor at the Henley Business School of the University of Reading, England.
wikipedia.org
Bio
Theodore Roosevelt Malloch, Ph.D.
Theodore Roosevelt Malloch, is Chairman and CEO of The
Global Fiduciary Governance LLC
, a leading strategy thought leadership company. Ted Malloch conceptualizes and executes some of today's most dynamic international projects. He was President of the 1992 World Economic Development Congress sponsored by CNN, "the common frame of reference for the world's power elite." That Congress focused on "Building the Integrated Global Economy" and offered Chief Executive Officers, Ministers of Governments, planning, marketing, investment, and economic leaders worldwide a forum where new business relationships were established. At that Congress Lady Margaret Thatcher dubbed him, "a global sherpa".
Dr. Malloch is a pioneer of the global market, who works exclusively with CEO's, business and government leaders who need to conceptualize projects on a global scale, who require access at the very highest levels, and who demand "real-time" information to understand and manage rapidly changing markets, government transformations, emerging trading blocs, and critical relationships.
Some of Dr. Malloch's other projects have included: The founding of "The CEO Learning Partnership" for a big six accounting firm; The fashioning of the Fortune 500 Forum for Fortune Magazine; Bringing together the largest US. companies for exclusive CEO discussions; Managing the development of UN EDIFACT, the new rules and standards for global paperless trading; Creating one of the largest selling stamps in international history, to commemorate the environment and endangered species; Bringing about one of the largest mergers of two international consulting and software firms; Planning and consulting with scores of governments on privatization programs and debt for equity deals, involving billions of dollars of assets.
Dr. Malloch has served on the executive board of the World Economic Forum, which hosts the renown Davos meeting in Switzerland. He has held an ambassadorial level position in the United Nations; he headed consulting at Wharton-Chase Econometrics; has worked in capital markets at Salomon Brothers; and served in senior policy positions in the U.S. Senate Committee on Foreign Relations and in the U.S. State Department. Dr. Malloch earned his Ph.D. in international political economy from the University of Toronto and has authored numerous books, articles, and corporate reports. He also serves on numerous corporate, not-for-profit and religious boards and international and governmental advisory bodies.
| | |
| --- | --- |
| In 2005 Malloch founded and Chairs the Spiritual Enterprise Institute. He is a Research professor at Yale University. His many books include: Trade and Development Policy; Beyond Reductionism, Unleashing the Power of Perpetual Learning, The Global Century, with Scott Massey, Renewing American Culture: The Pursuit of Happiness, Being Generous, Thrift: Rebirth of a forgotten Virtue, and the classic best selling Spiritual enterprise: Doing Virtuous Business. | |
Malloch also co-direct's the project "Practical Wisdom for Management from the spiritual and philosophical traditions" along with
EABIS
and
Yale University
.
trmalloch@comcast.net
http://www.tedmalloch.com/bio
ABOUT 16-20 MINUTES IN THE VID...
BREAKING: FBI DETAINS INFOWARS CONTRIBUTOR
Questioned about Donald Trump, Julian Assange and Russia
A frequent guest on the Alex Jones Show was reportedly detained Wednesday after flying into the United States from London.
Pundit and former Davos executive board member Ted Malloch was detained by the FBI and questioned about Donald Trump, Julian Assange and Russia, according to Infowars DC Bureau Chief Jerome Corsi.
Alex Jones will host a special emergency broadcast at
infowars.com/show
at 7PM Central to discuss the controversy, and its implications.
Watch a few of Malloch's interviews on the Alex Jones Show below:

MEANWHILE, THIS HORROR ... DIVINE INTERVENTION IMMEDIATELY!!!
Ecuadorian government severs internet, accuses WikiLeaks founder of breaching written agreement
HoggWash Hitler Hell ... NO THANK YOU! This Big Cat ain't living there.
Note: the Kougar well remembers the first time in grade school when she was shown a grainy movie of Hitler speaking. She's never ever forgotten those images, that sound. Well, here it is!
Hogg Hitler! The little dictator in the making.
Published on Mar 26, 2018
EARTHQUAKES ... A LOT MORE IN THE NEAR FUTURE
JOAN BAEZ ... THE KOUGAR REMEMBERS ...
She's the queen of the Sixties protest song, who helped make her lover Bob Dylan famous. Now, as she prepares for her farewell tour, Joan Baez has got a new bone to pick... with today's hyper-sexual and apolitical female pop stars
Joan Baez is refusing to go quietly. Embarking on what she insists will be her final tour, the legendary singer and cultural icon has no shortage of choice opinions to get off her chest.
At 77, as befits her status, the Queen of Folk is both earthy and slightly grand, airing her thoughts on today's female pop stars ('the bottom of the barrel'), ex-lovers Bob Dylan ('paranoid') and Steve Jobs ('complex and driven'), her pending retirement ('whoopee!') and much else besides.

Read more: http://www.dailymail.co.uk/home/event/article-5531115/Joan-Baez-talks-protest-MeToo-Steve-Jobs.html#ixzz5As7GpJRc
Follow us: @MailOnline on Twitter | DailyMail on Facebook
OH THOSE UFOS... HERE ARE SOME MORE... YEAH, KEEP DRIPPING OUT THIS MASSIVE FLOOD OF TRUTH...
Two pilots report seeing UFO in southern Arizona skies
https://ktar.com/story/2001938/pilots-ufo-arizona/

CHINA HAS ACCESS TO YOUR PHONES ... LIKE THAT?
BREAKING: COMMUNIST CHINESE MOLES HAVE TAKEN CONTROL OF US TELECOMS
Takeover sets dangerous precedent
Alex Jones breaks down how the Chinese have infiltrated American telecoms and could flip a switch to shut down our phones, internet, and any other information sent by telecom cable.
Overhaul of U.S. Telecoms Database Sparks Fear of Catastrophic Failure
Foreign firm handling overhaul cited for national security breaches
http://freebeacon.com/national-security/overhaul-u-s-telecoms-database-sparks-fear-catastrophic-failure
RED AND BLUE DISSIDENTS
Shepard Ambellas: 'The NSA Main Core program authorizes computer searches through a massive electronic database, tracks red and blue listed dissidents'
"There are over eight million of them now listed in the Main Core"
(INTELLIHUB) — Alternative media guru and radio talk show host Shepard Ambellas explained on Monday's show how the National Security Agency has already entered eight million Americans into a massive supercomputer database called Main Core.
https://www.intellihub.com/shepard-ambellas-nsa-main-core-program-authorizes-computer-searches-electronic-database
EVERYTHING CAN BE HACKED ... IT'S A NIGHTMARE IN THE MAKING
Baltimore 911 dispatch system hacked, officials confirm...
NO DAMN KIDDING, THE TRAITOR-ZOIDS...
WHY CAN'T WE HAVE AN ONGOING BACKGROUND CHECK ON THIS TOTAL DISGUSTING TRAITOR
YEAH, THE GUN DID IT... SO STUPID AND SAD
THE OMNIBUS BILL ... THE GOOD NEWS
http://allnewspipeline.com/Read_Omnibus_Bill_OIG_DOD.php
March 25, 2018
Read Omnibus Bill- Surprising Little Nuggets Hidden In Mammoth Bill As President Trump Announces 'Build WALL Through Military'
- The Wall Is Now A Matter Of 'National Defense'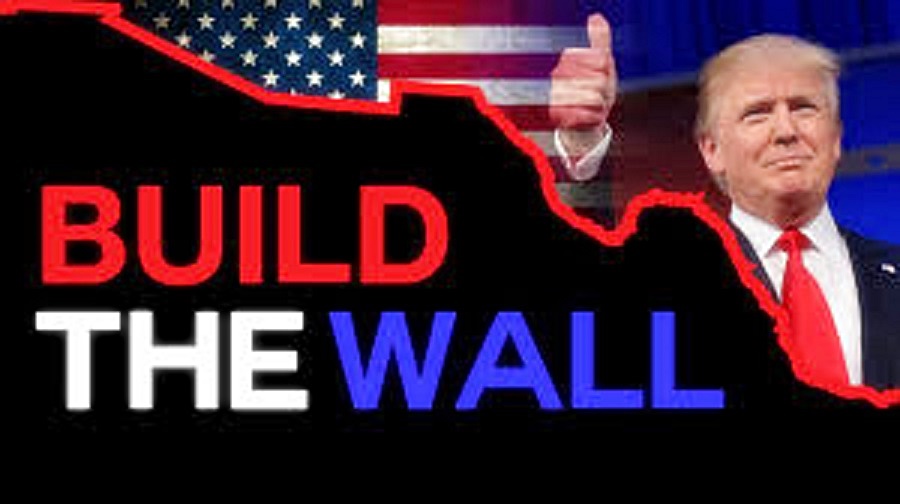 By Susan Duclos - All News PipeLine

The one thing that liberals celebrating the 2,200+ Omnibus Bill just passed and signed by President Trump have in common with unhappy Trump supporters, is that no one celebrating or complaining has actually read the mammoth bill.

It is bad, make no mistake, but the claims the mainstream media has managed to program into the minds of the public are also very misleading.

The entire Omnibus bill is embedded at the bottom of the article, but we will be addressing some specific points from it below.

OMNIBUS BILLS VERSUS FEDERAL BUDGET

A federal budget is an itemized plan for the annual public expenditures of the United States, Via Investopedia: "Expenses made under the budget are classified as either mandatory or discretionary spending. Mandatory spending is stipulated by law and includes entitlement programs such as Social Security, Medicare and Medicaid. Such expenses are also known as permanent appropriations. Discretionary spending is spending which must be approved by individual appropriations bills...."

Since 2009 Congress has appropriated funds to keep the government open with Continuing Resolutions and Omnibus bills rather than proper federal budget legislation.

An Omnibus bill provides all discretionary funding for all of the 12 annual Appropriations bills that are required to fund the government, wrapping them all into one mammoth bill, while throwing in "pork," as backroom wheeling and dealing for votes for special pet projects and funding continues to be the subject of justified criticism.

An Appropriation bill authorizes the expenditure of government funds and sets money aside for specific spending, with instructions/suggestions on how the money is to be spent, but actual distribution (spending the money congress appropriated) is done by the administration.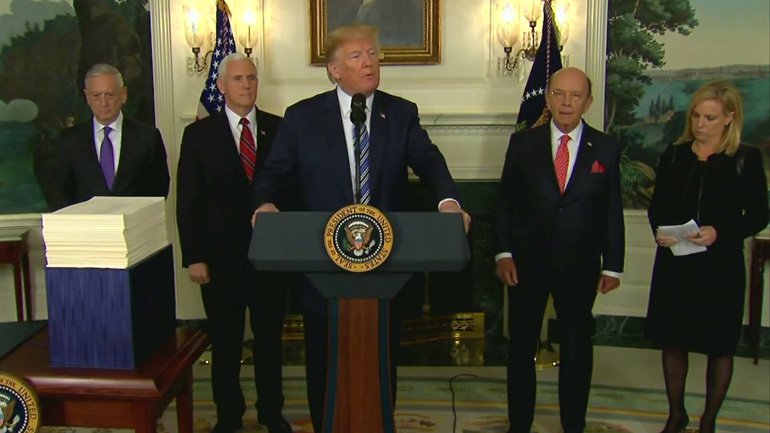 APPROPRIATIONS AND PRESIDENTIAL SPENDING POWER

Cited by Encyclopedia.com , Louis Fisher succinctly explains the process in the most understandable terms, stating "On the basis of the Constitution and traditional legislative prerogatives, Congress lays claim to exclusive control over the purse. Nevertheless, while it is up to Congress to appropriate funds, it is also true that the President and the executive branch enjoy considerable discretion as to how those funds are spent.

Examples from both the Obama administration and the Trump administration clearly shows that despite Congressional "instruction" or suggestions, presidents enjoy considerable flexibility in interpreting those instructions.

For example, in the Omnibus bill for 2012, when Congress attempted to block funds from being used to "advocate or promote gun control," he would not "construe these provisions as preventing me from fulfilling my constitutional responsibility to recommend to the Congress's consideration such measures as I shall judge necessary and expedient."

Congress also attempted to bar Obama from using taxpayer dollars to pay for "salaries and expenses," of Obama's White House czars, to which Obama said could prevent him from "fulfilling my constitutional responsibilities, by denying me the assistance of senior advisers and by obstructing my supervision of executive branch officials in the execution of their statutory responsibilities." Obama then asserted "I have informed the Congress that I will interpret these provisions consistent with my constitutional duty to take care that the laws be faithfully executed." (Source - The Hill, December 2011)

Another example of presidential flexibility comes from August 2017 reports showing that despite Congress allocating funds for the State Department, some $80 billion, the Trump administration simply didn't "spend it," causing Sen. Ben Cardin of Maryland, the ranking Democrat on the Senate Foreign Relations Committee to complain "We've seen just too many instances these past few months ... where there is clear congressional intent and funds provided, yet an unwillingness or inability to act."

Politico reported at the time that funds allocated by Congress for the Norwegian Refugee Council USA, which works with Population, Refugees and Migration bureau at the State Department and the Office of U.S. Foreign Disaster Assistance at USAID, was complaining they thought the Trump administration was slowing down the "disbursements of money."

In the new Omnibus bill one of the small details that has largely been left out of the conversation is a portion of the bill that provides "cross agency funding flexibility."


The omnibus also gives agencies some flexibility to transfer unused funds to use for broad, governmentwide initiatives.

Specifically, the budget lets agency heads transfer or reimburse the General Services Administration any funds made available during the fiscal year or rebates from charge cards and other contracts to use in support of governmentwide IT modernization, procurement or financial projects, or management initiatives.

Agencies must get approval from the Office of Management and Budget. GSA will administer the transfer. They'll work with inter-agency organizations, such as the President's Management Council, Chief Information Officers Council and Chief Human Capital Officers Council.

Total funds for improving inter-agency coordination or reducing duplication can't exceed $15 million, while total funds for government priority goals can't exceed $17 million, the omnibus said.

Congress has 15 days to reject these transfers. Otherwise, agencies can move forward with these transactions on their own.

ADDRESSING SPECIFIC ITEMS

Planned Parenthood: One of the most controversial items contained within the new Omnibus bill is the funding for Planned Parenthood, which is the largest abortion provider in the nation, but which also provides other services to low income areas. Abortion funding is specifically addressed in section 810, Page 639, where it states the following:


SEC. 810. No funds available for obligation or expenditure by the District of Columbia government under any authority shall be expended for any abortion except where the life of the mother would be endangered if the fetus were carried to term or where the pregnancy is the result of an act of rape or incest.

The Wall: Another complaint seen quite a bit across the internet is the claim that the border wall is not funded, but a look at provisions within the bill, in conjunction with President Trump's statement announcing his signature on the OmniBus bill, shows that the funds are there, and legally can be used to fund the entire wall, if Trump chooses to do so.

In President Trump's statement, he included some very specific terminology in relation to the border wall, saying "I want to address the situation on border security, which I call national defense. I call it stopping drugs from pouring across our border. And I call it illegal immigration. It's all of those things. But national defense is a very important two words, because by having a strong border system, including a wall, we are in a position militarily that is very advantageous......."

CNN called it "odd" and "bizarro," but what Trump did was tie "the wall" in to "national defense," putting it directly under the Department of Defense (DoD) umbrella.

The DoD itself received nearly $655 billion in the OmniBus bill, which has been touted in the mainstream media, but what hasn't been focused on is that the DoD was also given more "flexibility" and expanded the DoD's reprogramming authority, where they can move funds from one account to another, with larger amounts being subject to congressional approval.

One of the federal agencies that fall under the DoD is the Army Corps of Engineers, which includes approximately 37,000 civilians and military personnel, considered one of the "world's largest public engineering, design, and construction management agencies," as described by www.army.mil.

In July 2017, the Army Corps of Engineers reportedly had already "begun preliminary preparations for the construction of segments of a wall in several places along the border with Mexico, According to NYT (Archive is link here), showing they were involved in the process.

While President Trump's statement specifically highlighting the border wall as part of his "national defense" strategy, caused considerable chatter and speculation that he would use a portion of the DoD funding to build the wall, which is estimated to cost approximately $25 billion to complete, his statement on Sunday, pretty much turns that speculation into stated intent.

Trump tweeted on March 25, 2018: "Because of the $700 & $716 Billion Dollars gotten to rebuild our Military, many jobs are created and our Military is again rich. Building a great Border Wall, with drugs (poison) and enemy combatants pouring into our Country, is all about National Defense. Build WALL through M!"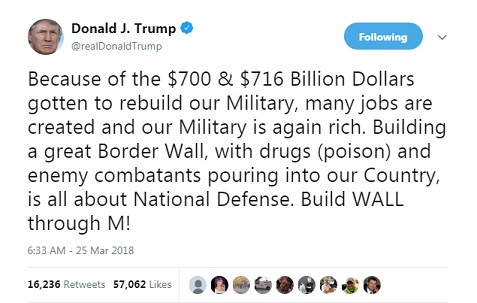 So, while Democrats were dancing a little jig about only providing $1.6 billion for wall construction and limiting what those funds could be used for, specifically barring any of that $1.6 billion from building concrete barrier or construction of any of the wall prototypes President Trump has been considering , in the name of "national defense" the wall has just become part of military strategy to prevent "enemy combatants," from entering the United States.



OIG FUNDED TO THE GILLS IN OMNIBUS

As Stefan Stanford touched on in a previous article, the Office of Inspector General also saw a huge increase in funding, mentioned on pages 571, 573, 578, and 581, to the tune of nearly $300 million for a variety of functions, which may or may not indicate that the Inspector Generals across the nations federal agencies are expected to be very busy in 2018.

Related: As Investigations Of Misconduct Mount, Can Hillary Clinton Avoid Jail?

The DOJ OIG has spent over a year investigating the actions of the FBI/DOJ actions in the run up to the 2016 presidential election, with Inspector General Michael Horowitz expected to issue his final report within weeks, which is what multiple agency heads have publicly testified to be waiting for in order to determine if criminal charges needed to be filed.

The IG investigation has already caused the termination, resignations, and reassignments of nearly a dozen senior level intelligence community employees.

BOTTOM LINE

Readers are encouraged to weed through the Omnibus bill embedded below and highlight portions they think are noteworthy in the comment section.

While no one is calling this a "good" piece of legislation, there are hidden nuggets that promote and further the Trump agenda, and complaints, criticisms and praise is always more noteworthy when it comes after people inform themselves by reading the actual bill, rather than just going by what the media chooses to highlight.

One thing we should all remember is that the media has set themselves up as an "opposition" party to President Trump and it has been their main goal for the last two years to turn Trump supporters against him and cause infighting among them, which is why much of the "good" contained within the bill, things Trump supporters would like, is not being reported by the MSM.

Highlights of the omnibus bill can be found at the Committee Of Appropriations website.



NOTE TO READERS

:

With the active suppression of Independent Media by social media, Google/YouTube, big tech etc... donations help to keep websites that do not conform to the official narrative alive. Any extra readers may be able to spare for donations is greatly appreciated. Thanks to all our readers and donors who are helping to keep Independent Media alive.





A MOST EXCELLENT COMMENT:
THE UK STEAKING RUSSIAN MONEY
LIAR, LIAR, ANDROID PANTS ON FIRE ... TOLD YOU SO!!!
ZUCKERBERG 2009: FACEBOOK WILL NEVER SELL YOUR INFO...
HACKING DOWN THE SOCIAL MEDIA GIANTS ... TIMBER!
March 26, 2018
The Creepiness Of Social Media Giants Are Hitting New Levels Of Crazy - Facebook And Twitter Are Doing Some Very Strange Things
By Susan Duclos - All News PipeLine
Anyone that hasn't been living under a rock already knows that social media platforms and big tech like Facebook, Twitter, Google, and YouTube have been censoring conservatives and Independent Media news, but over the past couple of weeks, other revelations have emerged which are, in a word, creepy.
Facebook
: Last week
news broke
that more than 50 million Facebook users had their data harvested and sold to an outside group, which tanked Facebook stock, created a panic within Facebook itself, and caused the company some very negative coverage. Right on the heels of that, as Facebook CEO Mark Zuckerberg was making the rounds for interviews and taking out ads in newspapers to apologize, another scandal dropped on them when it was reported that Facebook was
collecting metadata from about phone calls and text messages on Android devices
, including names, phone numbers, and the length of each call made or received.
So they not only allow third party apps to harvest user data and data of those users' friends list on their site, but users that signed on to Facebook using their Android devices, were also having their information scraped.


http://allnewspipeline.com/Creepy_Weird_And_Downright_Wrong.php
http://www.thecommonsenseshow.com/committing-national-suicide-through-gun-control
YEP... NATIONAL SUICIDE
Committing National Suicide Through Gun Control

They that can give up essential liberty to obtain a little temporary safety deserve neither liberty nor safety."
The is the first in a series in which I expose the broad-based attack upon Americans in favor or creating a world that is genderless, borderless and ultimately lawless.
Americans are being attacked on multiple fronts. However, nowhere is the threat as great as it is with the attacks upon the Second Amendment. The Second Amendment is the only thing that stands between you and genocide which would be perpetrated by the Deep State.
America Is a Fully Developed Police State
Americans do not live in an emerging police state; all Americans now live in a fully developed police state. From a false flag event, 9/11, to the development of the most complete police state apparatus the world has ever seen, one has to wonder what's the "endgame"?
The modern day gun confiscation efforts led by George Soros associate and leader of the modern-day Hitler Youth Movement, David Hogg(wash), is the culmination of what began nearly a generation ago with the false flag attacks of 9/11. There can be little doubt that 9/11 was perpetrated, in part, to legitimize our imperialistic forays into the Middle East which also led to unparalleled oil company and numerous other private sector profits. However, corporate profits were merely a subplot to the real agenda to the 9/11 false flag operation which was the destruction of what was left of the freedom and civil liberties of the American people which would eventually lead to the enslavement of all which will ultimately result in the extermination of many. Today, as a direct result, the Second Amendment will soon be put on life support.
Let Us Protect You
All totalitarian governments begin their invasion into civil liberties with the promise of safety from whoever plays the convenient role of the "boogey man" of the day. In Nazi Germany, the original boogey man were the communists who allegedly burnt down the Reichstag and then the specter of boogey men kept expanding until anyone who was been considered an enemy of the German State needed to be controlled and "dealt with". Today, the totalitarian pleas of "Let us protect you from yourself" ring loudly and clearly through the membership of Democratic Party on behalf of the Deep State.
True to the Hegelian Dialectic, America's present day "boogey men" are Christians, Second Amendment advocates, Constitutionalists, Libertarian Party members, supporters of the traditional family structure and even those that would offer acknowledgement of God's creation of Adam and Eve in which the two-gender human race is under attack. In other words, you and I are the new terrorists. Here is a brief video I made in response to the administration at Mt. Holyoke College, an all "
women's
" college, when it was declared that professors could no longer use the word "female" in their classrooms.
I offer the Mt. Holyoke College "genderless" policies as an example of the broad-based attack that is presently engulfing America. However, the most immediate threat, is the threat to remove any firewall between the people, their Constitutional liberties and most importantly, their ability to protect themselves from corrupt government through the private ownership of guns.
The world has been down this slippery slope in the past and the consequences were catastrophic. If Mark Twain were alive today he might be inclined to say that history may not repeat itself, but it sure does rhyme.
Gun Control
Since 9/11, the government has stepped up its efforts to ban private ownership of guns. However, the efforts have reached a fever pitch in 2018.
Society and the media are ignoring the obvious lesson which is that the only way to prevent gun violence to arm people in harms way.
Florida vs. Maryland: The Fallacy of Gun Control
Over a month ago, Nikolas Cruz killed 17 people in Parkland, Florida. There was nobody with a gun who opposed Cruz as he went on his killing spree.
Just over a week ago, a shooter in Maryland tried to go on the same kind of killing rampage but was stopped in his tracks by an armed school resource officer who shot and killed the perpetrator. The comparison of these 2 events makes it clear that they only way to protect our children, and people in general against gun attacks, is to have a ready-made response ready that includes the use of guns in self-defense of the Manchurian Candidates that invade our schools and kill our defenseless children.
The anti-gun movement is so devoid of common sense, that they in places like Pennsylvania's Blueridge School District, have takn to arming their students with 5 pound buckets of rocks. The school has placed 5 pound buckets of rocks in each classroom and intends on conducting training on the use of rocks to stop a school shooter. The principal of this school is obviously dumber than a box of rocks.
Freedom Begins with the Second Amendment
The Second Amendment directly protects its citizens from the democide that is often perpetrated by government against its own citizens. Further, the Second Amendment is needed to help repel a foreign nation's invasion of our country.
Private ownership of guns is the necessary component needed to fulfill the Jeffersonian mandate for self-defense against one's own country. With the advent of the Soros inspired Hogg)wash) movement, the private ownership of guns is imperiled and America will be far less safe to the ravages of genocide and/or invasion. Yet, increasingly and reminiscent of Nazi Germany, the United States government is incrementally chipping away at private citizens right to own a gun. Why? FBI statistics clearly show that 90% of the guns used in the commission of a crime are stolen! Does the government really believe that criminals, both American citizens and illegal aliens, as well as terrorists, are suddenly going to perform their civic duty and immediately register or turn in their guns? How is America better-served if the only ones who don't have access to guns are the law-abiding citizens? So, one must ask who are the gun control laws designed to protect and why? Again, compare the end result of the Florida school shooting to the Maryland school shooting. Case closed!
The Threat of Genocide
Gun control and gun confiscation has preceded every instance of genocide in the 20th century. How quickly we forget the lessons of history. If we ever allow government to subvert the second amendment, we very well could be witnessing a prelude to an American genocide. There is nothing as dangerous to a totalitarian regime as an educated and well-armed populace. Before we strip away our last line of defense from the planned actions of an already fully entrenched totalitarian government by acquiescing to the United Nations and American advocates for gun control, perhaps we should examine the end game resulting from past gun control efforts:

1.

In 1911, Turkey established gun control. From 1915-1917, 1.5 million Armenians, unable to defend themselves against their ethnic-cleansing government, were arrested and exterminated.

2.

In 1929, the former Soviet Union established gun control as a means of controlling the "more difficult" of their citizens. From 1929 to the death of Stalin, 20 million Soviets met an untimely end at the hand of various governmental agencies as they were arrested and exterminated.

3.

After the rise of the Nazi's, Germany established their version of gun control in 1938 and from 1939 to 1945, 13 million Jews, gypsies, homosexuals, the mentally ill, and others, who were unable to defend themselves against the "Brown shirts", were arrested and exterminated.

4.

After Communist China established gun control in 1935, 40 million political dissidents, unable to defend themselves against their fascist leaders, were arrested and exterminated.

5.

Closer to home, Guatemala established gun control in 1964. From 1964 to 1981, 100,000 Mayans, unable to defend themselves against their ruthless dictatorship, were arrested and exterminated.

6.

Uganda established gun control in 1970. From 1971 to 1979, 300,000 Christians, unable to defend themselves from their dictatorial government, were arrested and exterminated.

7.

Cambodia established gun control in 1956. From 1975 to 1977, one million of the "educated" people, unable to defend themselves against their fascist government, were arrested and exterminated.
The total numbers of victims who lost their lives because of gun control is approximately 80 million people in the 20th century. The historical voices from 80 million corpses speak loudly and clearly to those Americans who are advocating for tighter gun control legislation. Gun control works, just ask Hitler, Stalin or any other despot.
Frighteningly, American gun control legislation is imitating Hitler's Nazi Germany gun control legislation. Consider the key provisions of the Nazi Weapons Act of 1938 and compare it with the United States Gun Control Act of 1968. The parallels of both the provisions and the legal language are eerily similar.
Why Are School Shootings Uniquely American?
America has been plunged into an ever-increasingly unsafe world, and our citizens are about to relearn the lessons of history that they failed to grasp in their United States History classes.
Switzerland, for example, has a higher private gun ownership rate per capita than does the United States. However, Switzerland does not have school shootings.! Why?
Conclusion
The lesson of the 20th Century genocides can no longer be dismissed as something that could never happen in America. Can we imagine where we would be today if the Americans at Lexington and Concord did not have their private supply of guns? The logic of personal self-defense should be hitting home as our country plunges deeper into the depths of fascist totalitarian control (e.g., the NDAA, Patriot Acts 1&2, Detainee Bill, etc.).
America is on the verge of committing "National Suicide by Gun Control". The gun control advocates are positioning themselves and their gun-grabbing policies to be perfectly timed to influence people during this window of opportunity to seize all guns.
One final thoought, why does China continue to butt into our national politics and demand gun control after every school shooting? It is a question worth pondering.
AMERIKA ...
http://allnewspipeline.com/Are_The_Gulags_Of_Russia_A_Look_At_The_Future_Of_America.php
March 26, 2018
This Shows How Perilously Close America Is To A One Way Street To Genocide - Extreme Brutality Carried Out By Stalin's Regime Was Accepted If Done In The Name Of 'Social Justice'
- Now 'Glorified' Russian Gulags Are A Look At America's Possible Future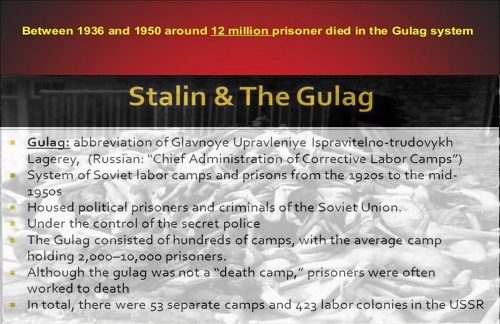 By Stefan Stanford - All News Pipeline - Live Free Or Die
In this March 25th story over at the Daily Mail titled "Care To Visit The Gulag, Comrade?" they report that Vladimir Putin and the Russian government are giving museum-style makeovers to some of the Soviet Union hell-holes where prisoners were executed, tortured, starved and frozen to death during the 1930's through the 1950's.
With the Perm-36 gulag one of the first to be revamped and being glorified to "reinforce a new narrative that Joseph Stalin was an 'effective manager' who made the Soviet Union great", their story reports that such gulags were built "to house the ideological enemies of socialism", of whom Stalin effectively 'managed' to slaughter millions.

Keep in mind, these were 'ideological enemies' of a totalitarian political philosophy. Most had committed no 'crimes'.
With Stalin 'effectively managing' to send 'enemies of the state' to outposts all across the frozen tundra to "toil in the freezing cold indefinitely", this October of 2013 story from the Daily Mail titled "Stalin's Gulags And His Left Wing British Apologists" reported this stunner that should sound loud and clear to awakened Americans in 2018: "Such a system — whose

goal was 'social justice

, relied on any number of Western apologists to deny what others had witnessed first-hand."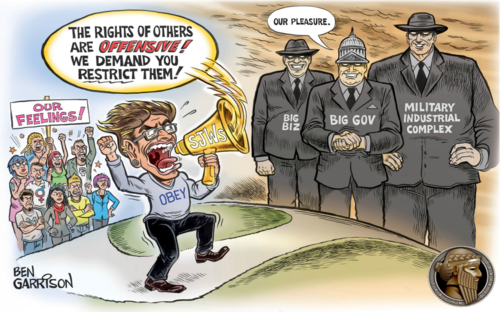 As Nikita Coulombe reported in this September of 2016 story over at Medium titled "Social Justice Warriorism As The New Communism", "Social justice warriorism has been slowly suffocating popular culture and the education system like some kind of medieval crushing torture. Academics can now have their careers ended when they highlight factual information, say something others deem offensive or merely ask a question."
With truth now considered treason in the empire of lies we live within and our educational system preaching the same kind of 'social justice' that eventually led to the slaughter of millions of people during Stalin's reign of terror, the fact that the extreme brutality that was carried out by Stalin WAS ACCEPTED by the masses "provided it was meted out in the name of social justice" should tell us everything we need to know when we look at what is happening today.

As Pastor Carmack reported in this March 20th ANP story titled "These Haunting Words From The Gulag Have Come To Pass In America As The 'Last Bastion Of Freedom' Has Become Dreadfully Degraded", much of what Russian dissenter and real-life gulag prisoner Aleksandr Solzhenitsyn warned about long ago in his experience of living within the reign of terror of Stalin is now happening here in America to this very day: And like the reign of terror of Stalin, America had forgotten God.

And while many believe that 'gulags in America' will never happen, the fact that Hillary Clinton uttered the following words back in 2015 should give us another reason to be thrilled that President Trump is in office despite his flaws.

As I have gotten older, I have decided we really need camps for adults," she said to laughter.

"And we need the kind of camps you all run." "None of the serious stuff, not of the life-challenging stuff; more fun!" Clinton continued.

"I think we have a huge fun deficit in America. And we need to figure it out how to fill that fun deficit, certainly for our kids, but also for the rest."

"We need some reminder about life skills from time to time, maybe some enrichment, certainly some time outdoors."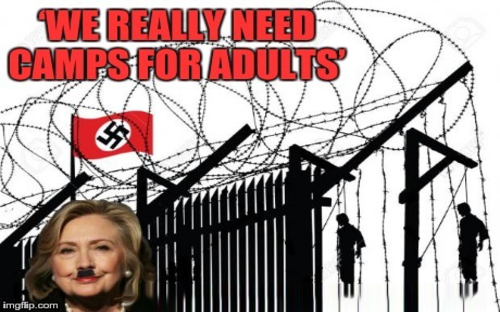 The significance of her remarks were not lost on the Daily Caller:

On an entirely unrelated note, "joycamp" was the Newspeak term for forced labor camps in George Orwell's "1984."



Nor upon the Washington Free Beacon:



Instead of forcing all of us to go to a camp put together by Big Brother, maybe Clinton should focus on having her own fun. Instead of proposing we all go back to the fourth grad, Clinton might want to focus on how, as president, she would deliver better paying jobs that offer the financial flexibility to engage in more enjoyable activities.



And Paul Joseph Watson reported at Infowars:

Hillary added that the camps would be places where people would

"have to come together and actually listen to each other."



"So Clinton hands over to us all to consider the idea of a progressive sending adults to camps, and the idea of a politician infamous for being humorless and suspicious being an arbiter of "fun," wrapped in a great big bow," remarks Reason's Scott Shackford.

The hashtag #HillaryFunCamp was soon born on Twitter, with some pointing out that joycamp was the term used in George Orwell's 1984 for forced labor camps in which political dissidents were incarcerated.

And with liberals proving since the election of President Trump that 'listening to each other' is a one-way street with most liberals 'screaming helplessly at the sky' or attempting to silence anybody who says anything at all that they disagree with, it's easy to see how Hillary's 'fun camps' would have played out had she been elected, a one-way street to genocide.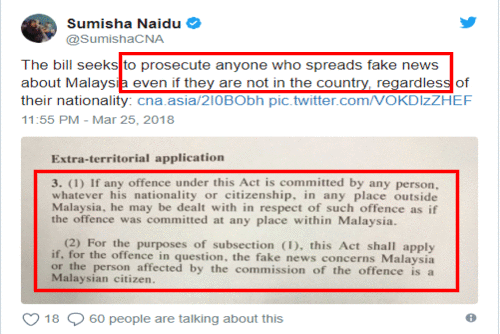 While some still refuse to see the growing tyranny here in America and across the Earth, just as leftists in the West refused to see the tyranny being carried out by Joseph Stalin in Russia as reported in this Daily Mail story, a new story that the Drudge Report linked to on Monday morning out of the country of Malaysia, half-a-world-away from America, gives us another taste of the direction that totalitarian government's are heading and its global.

As Reuters reports, the government of Malaysia has proposed 10-year jail terms and hefty fines for anybody publishing 'fake news'. And while you might ask "why should I care about what is happening in Malaysia?", the Malaysian government bill would apply to "offenders outside Malaysia, including foreigners, if Malaysia or a Malaysian citizen were affected."

With the bill covering not only online digital websites but social media users and outlets as well, imagine making a facebook or twitter post from your bedroom or office in the US which 'triggers' an ordinary, every day Malaysian citizen or some totally corrupt government official in Malaysia who's been hiding their crimes and who might read about it in Malaysia.

As this new story from Channel News Asia reports, while the true intentions of this law are purposely vague, the punishments for committing such a horrific crime of publishing 'fake news' in a facebook post could hypothetically be levied against American citizens who do so from the comfort of their own homes with a still unnamed branch of the Malaysian government tasked with deciding what news is true and what isn't. Anybody else see something terribly wrong in that? The Reuters story also points out that rulers of authoritarian countries will quickly label any news that doesn't fit their preferred narrative as 'fake' and people are killed because of it.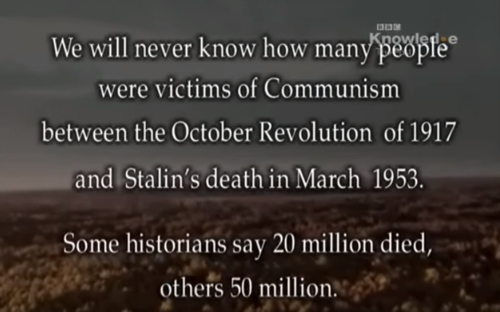 With 'global government' now proven fact and not some tinfoil hat conspiracy and the nature of that global government proving itself to be of a tyrannical nature, the 2nd Amendment in America and 'a gun behind every blade of grass' along with our still-breathing 1st Amendment are the only things preventing a full-scale communist purge in this nation.

With history giving us proof of what happens when tyrannical, dictatorial regimes take hold in a nation and the reign of terror of Joseph Stalin completely ignored by leftists in the West giving us proof that those who have long called for 'social justice' only want in on their own one-way street, the Soviet gulags that are being refurbished this very day in Russia offer Americans a warning that we pray never comes in our lifetimes but see the steady creep towards them even today.

Yet with Solzhenitsyn's warning we should see just how perilously close America has come to Stalin's hell-holes becoming our new reality here with Christians, Conservatives and those who follow the US Constitution looked at by many as 2nd class citizens, deprived of the rights which the left keep for themselves as if they are for them alone. From Aleksandr Solzhenitsyn.:

More than half a century ago, while I was still a child, I recall hearing a number of older people offer the following explanation for the great disasters that had befallen Russia: Men have forgotten God; that's why all this has happened.

Since then I have spent well-nigh fifty years working on the history of our Revolution; in the process I have read hundreds of books, collected hundreds of personal testimonies, and have already contributed eight volumes of my own toward the effort of clearing away the rubble left by that upheaval. But if I were asked today to formulate as concisely as possible the main cause of the ruinous Revolution that swallowed up some sixty million of our people, I could not put it more accurately than to repeat: Men have forgotten God; that's why all this has happened.

What is more, the events of the Russian Revolution can only be understood now, at the end of the century, against the background of what has since occurred in the rest of the world. What emerges here is a process of universal significance. And if I were called upon to identify briefly the principal trait of the entire twentieth century, here too, I would be unable to find anything more precise and pithy than to repeat once again: Men have forgotten God.

In the final video below titled "Watchman Report: The Dismantling of America", we hear Pastor JD Farag break down for us the systematic destruction of our country that has been taking place now for decades and which, if we allow it to be carried out to its completion, will see out nation in tatters and as he wisely tells us, its destruction by design.

Referencing Saul Alinsky and his book "Rules For Radicals" as well as the long-stealth but now wide open attempts to implement communism within this country, Pastor Farag tells us why setting up a global socialist state will surely bring on the 'antichrist' and lead to America's total annihilation. Are gulags the 'end game' for those who want to take away the 2nd Amendment and our right to speak freely? The first video below is a historical look at the gulags of Joseph Stalin.

And there but for the amazing Grace of God go we.





NOTE TO READERS:

With the active suppression of Independent Media by social media, Google/YouTube, big tech etc... donations help to keep websites that do not conform to the official narrative alive. Any extra readers may be able to spare for donations is greatly appreciated. Thanks to all our readers and donors who are helping to keep Independent Media alive.






ART OF THE TRADE WAR...
President Trump already winning trade war with Chinese
YEAH, YOU GET TO BE RAPED, BUT HEAVEN FORBID YOU SAY ONE HONEST THING ABOUT MUSLIMS
CENSORING CHRISTIANITY... THIS IS SO UNBELIEVABLE, BUT HERE WE ARE IN THE ORWELLIAN TWILIGHT ZONE