WHATEVER WEAPON IS FORMED AGAINST PRESIDENT TRUMP WILL BE USED TO DESTROY THOSE ATTACKING HIM, AND PLANNING HIS TAKEDOWN. THIS IS BY DIVINE DECREE!
TIME TO FULLY EXPOSE THE GLOBALIST STOOGE, KUSHNER...
Friday yowls, most darling of KitKat Beauties ... the Kougar has been under assault by the bad gods ... so it feels ... to top it off, the other night while trying get her 16 year old pet inside, she slid on a patch of mud, and somehow the tip of her foot was caught and bent back backward in a terribly painful way ... in fact, her whole leg was hyper extended, affecting the muscles and ligaments up to her back ... well, she has to be able to walk just to take care of everyone every day... well, she applied the arnica gel first off, then began rubbing on the Tei-Fui lotion ... the pain was a gruesome ordeal throughout the night ... and this Big Cat prayed a lot ... so, thankfully, her foot was functional enough the next morning -- she could limp around -- and her foot and leg have continued to improve ... she has used natural anti-inflammatory formulas, Country Life's Aller-Max for one ... and she's also drinking more of Infowars' CAVE MAN bone broth formula ... because the ingredients are good for regeneration of tissue and inflammation ... so, she is very THANKFUL that she is healing and able to walk around almost normally ... really, kinda miraculous, given the seriousness of the injury...
Btw, the image above is original art by Savanna Kougar, and is copyrighted.
THE SICKO-ZOID WARMONGERS PLAN A SOVIET-STYLE *

Coup

d'état*

AGAINST OUR AMERICAN PRESIDENT
https://www.infowars.com/report-congress-holding-secret-conversations-about-removing-trump
REPORT: CONGRESS HOLDING "SECRET CONVERSATIONS" ABOUT REMOVING TRUMP
Critics pushing impeachment or removal under 25th Amendment
Members of Congress are holding "secret conversations" about removing President Donald Trump from office following a "difficult first 100 days," according to a report from The New Yorker magazine.
"Nobody occupies the White House without criticism, but Trump is besieged by doubts of a different order, centering on the overt, specific, and, at times, bipartisan discussion of whether he will be engulfed by any one of myriad problems before he has completed even one term in office—and, if he is, how he might be removed,"
wrote
Evan Osnos.
Osnos claims to have "interviewed several dozen people about the prospects of cutting short Trump's Presidency," including "his friends and advisers; to lawmakers and attorneys who have conducted impeachments; to physicians and historians; and to current members of the Senate, the House, and the intelligence services."
"This is a conversation that people are having around the dinner table, it's one people have at the office, members of Congress are talking about it in private and the question is very simple: is this a president who is able to do the job and is able to go the distance," Osnos
said
on MSNBC's The Last Word.
Critics of President Trump are actively seeking to remove him from office via impeachment or declaring him mentally or physically unfit for office under the 25th Amendment.
Under Section 4 of the 25th Amendment, a President can be removed from office if he is judged to be "unable to discharge the powers and duties of his office" by the Vice-President and a majority of the Cabinet secretaries or by a congressionally appointed body, such as a panel of medical experts.
If the President objects, Congress is given three weeks to decide if the President should be removed. A two-thirds majority in each chamber is required to remove the President.
Osnos argues the "considerable speculation about Trump's physical and mental health," as well as President Trump's alleged unwillingness to disclose details about his health, could be an effort to cover up a deliberating illness.
After the magazine Fact asked psychiatrists if they thought Barry Goldwater was psychologically fit to be President in 1964, over a thousand called him "warped," "impulsive," and a "paranoid schizophrenic."
Goldwater successfully sued for libel, and in 1973 the American Psychiatric Association created the so-called "Goldwater rule," which forbade making a diagnosis without an in-person examination and without receiving permission to discuss the findings publicly.
The "Goldwater rule" has been broken repeatedly in regards to President Trump, with nearly 50,000 mental-health professionals
signing
a petition claiming Trump is "too seriously mentally ill to perform the duties of president and should be removed" under the 25th Amendment.
"Although some of my sources maintained that laws and politics protect the President to a degree that his critics underestimate, others argued that he has already set in motion a process of his undoing," Osnos claims.
Democratic Senator Mark Warner of Virginia, the ranking Democrat on the Intelligence Committee, privately told friends that he puts the odds at two to one against Trump completing a full term.
William Kristol, an anti-Trump neo-con, argued the chance of Trump being impeached is "somewhere in the big middle ground between a one-per-cent chance and fifty. It's some per cent. It's not nothing."
"I believe that invoking Section 4 of the Twenty-fifth Amendment is no fantasy but an entirely plausible tool—not immediately, but well before 2020," said Laurence Tribe, a professor of constitutional law at Harvard.
GO, WIKILEAKS, GO!!!!!!!!!!!!
Sputnik | WikiLeaks published on May 5 "Archimedes", a tool used by the CIA to attack a computer inside a Local Area Network (LAN), usually used in offices.
BIG EARTHQUAKES ARE EVERYWHERE
WHEN ARE *WE THE PEOPLE* GOING TO TAKEDOWN THIS RUTHLESS POLICE STATE?
REAL CLIMATE ENGINEERING ... BUT MAKE ALL OF US PAY A CARBON TAX ... WHAT A GINGUNDIS BAMBOOZLE!
YOU ARE NOTHING BUT A HAPLESS GUINEA PIG TO THEM, THE MAD-SCIENTIST PSYCHOPATHS
FORMER PRESIDENT OF MERCK LED SECRET BIOWARFARE PROGRAM, INFLUENCING EXPERIMENTS ON AMERICANS
THIS IS THE NEW WORLD ORDER CRIMINAL'S PLAN FOR AMERICA ... DESTROY CHRISTIANITY, TRY TO FORCE US UNDER SHARIA LAW ... AND LET THE CLASH OF CULTURES COMPLETELY DESTROY AMERICA
YEAH, THE DEMOCRATS HAVE A RIGHT TO FORCE COMMIE-AGENT HITLARY ON US
DNC admits in court that it rigged the nomination process to get Hillary on the ballot
-
THANK THE DIVINE!!! THIS BIG CAT HAD TO WATCH AMERICA BE DESTROYED BY THIS COMMIE-MUSLIM CON MAN EACH AND EVERY DAY. MAY HE BE DESTROYED IN THE SAME WAY EACH AND EVERY DAY.
Steve Watson | Former President views Trump with "fear, and sad frustration."
REPORT: Obama mined NSA intercepts for intel on thousands of Americans during 2016 election...
JOHN MCAFEE IS A TRUE AMERICAN HERO
John McAfee Unveils The World's Most Hack Resistant Smartphone
-
A GOOD MOVE WHICH NEEDS TO MUCH FURTHER ... YOU KNOW, REAL FREEDOM OF SPEECH!
Trump to ease rules on church political activity...
GROW HEMP, AMERICA ... SCREW THE DARKSIDE DEEPSTATE GOVERNMENT
Hemp food products surged 44% to $129 million in sales despite insane regulations
-
TALK ABOUT ABSOLUTE FASCISM, FORCING YOU TO PAY FOR POISON WATER
Flint Threatens To Kick 8,000 Families Out Of Their Homes If They Don't Pay For Poison Water
-
CONGRESS DOES SOMETHING RIGHT ... SURRRPRISE, SURRRPRISE...
Congress Agrees To Give Jeff Sessions $0 To Wage War On Medical Marijuana
-
ANOTHER HORROR *DIVIDE AND CONQUER* THE PEOPLE SITUATION ... BUT, GO AHEAD, SLAUGHTER THE WHITE FARMERS AND YOU'LL REALLY BE UP SH*T CREEK JUST LIKE OTHER AFRICAN COUNTRIES WHO THREW OUT THEIR WHITE FARMERS
White South Africans Are Preparing For "The Slaughter and Removal of All Whites Within Five Years"
-
ONE MORE DAY LIVING IN POLICE STATE AMERIKA
This Is Why Government Is Dangerous: Man Who Dared To Point Out Red Light Camera System Flaw Is Fined And Silenced
-
Armed Agents Raid Park, Destroy Food, Seize Food Carts — Over Improper Permitting
Government agents have again let their true colors shine, in a latest attempt to fight one of the most pernicious and brutal crimes embattling far too many communities across the nation — a lack of permit.
Never fear, code enforcers raided street food vendors outside Sacramento's Southside Park, where they have long made food and beverages available to the public and attendees of Our Lady of Guadalupe Church each Sunday.
These fearless agents of the State, peace officers, not only seized the food supposedly so in need of a permit, they dumped punch into storm drains and confiscated coolers, tables, chairs, canned soda, and literally everything in the vendors' possession — the
entire raid
, captured on Facebook Live video.
http://www.activistpost.com/2017/05/armed-agents-raid-park-destroy-food-seize-food-carts-improper-permitting.html
WILL COMMUNIST FORCES OVERTAKE THE STATE OF CALIFORNIA WITH DISASTER-SABOTAGE???
http://www.thecommonsenseshow.com/2017/05/02/sabotage-at-the-oroville-dam-failure-is-imminent-part-1
Sabotage at the Oroville Dam-Failure Could be Imminent (Part 1)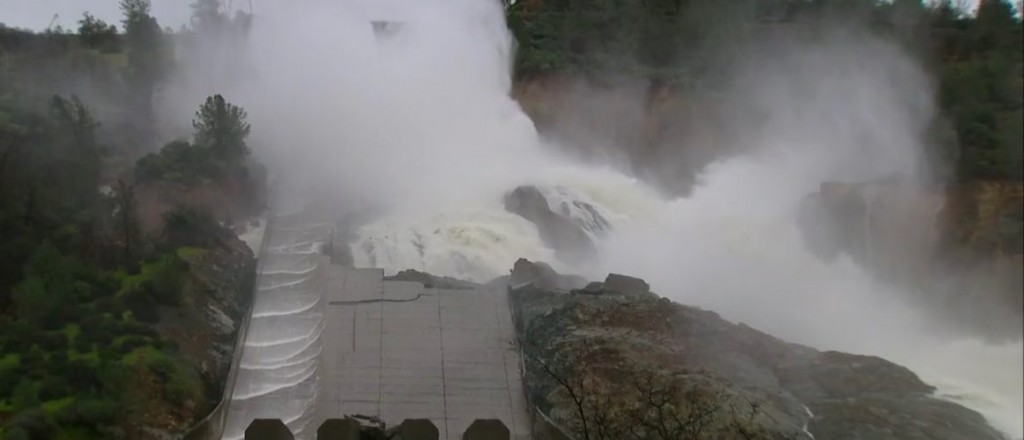 Sabotage of the Oroville Dam
For the past six months, Paul Preston, as well as dam expert, Chriss Street, and myself have been on top of reporting on the dire condition of the Oroville Dam. The dam is in a very dire state and cannot survive the natural conditions of wear and tear which threaten the dam's structural integrity. Spring runoff will eventually prove enough of a challenge to cause the dam to fail according expert, Chriss Street.
As previously covered on The Common Sense Show, the failure of the dam will initially be associated with the following events:
There are approximately 2.5 million people which could have their collective lives endangered.
The area between the Oroville Dam and Sacramento is the second large rice producer in the world. It is the largest producer of winter crop vegetables.
In the event of a catastrophic dam failure, nothing would grow in the Central Valley for 4 to 5 years except for algae.
Can you say the word, FAMINE? Or, DEPOPULATION? Or, ….?
Revelations from a Previous Investigation
The Gulf Oil Spill
Following the Gulf Oil Spill, I wrote a seven-part series called, The Great Gulf Coast Holocaust. In this series I painstakingly detailed how this "accident", was really no accident at all. In fact, I saw the same governmental behaviors as I am presently seeing in the Central Valley. Namely, we witnessed the world's largest artificial creation of algae along the coastline of the Gulf Coast states.
During the recovery and treatment phase of the Gulf, BP, over the objections of the EPA, used the highly dangerous oil treatment called Corexit. Corexit is so dangerous to human life that it is banned in 17 countries. So, why was it allowed? Corexit forces the oxygen into the water column. The net effect is that the only thing that grows is the new popular biofuel, algae. In fact, in the Gulf, people like Soros and Gore began showing us and investing in of all things, algae farms along the coast.
What I discovered three years is when the dams are destroyed in NO CAL, the only thing that will grow for several years will be algae. What an amazing coincidence.
One interesting side-note has to do with who is behind the destruction of the dams. It is none other than the former Secretary of the Interior, Bruce Babbitt, who opposed all dams in his tenure in office. In the case of the destruction of dams in NO CAL, Babbitt has helped Governor Jerry Brown in this endeavor. Hi partner in crime, to this end, is none other than John Podesta. So we have the dam buster joining forces with the child molester. This is the motivation behind these seemingly unconnected events.
Sabotage at Oroville
I received several notifications that there is the blasting of dynamite in the Oroville area. Both Paul Preston and I have received numerous threats to this area through blasting. With a structurally weakened dam, this could prove to be the tipping point. The California Department of Water Resources (DWR) does not deny the claim. I was contacted by an insider from DWR who is distraught over the blasting. He said he fears for his life. Here is a tweet that addresses the blasting.
This is pure insanity and could definitely trigger a catastrophic response.
Further, there is one more claim being made. It is the belief of many, including Paul Preston and myself, that HAARP is also being used.
I have received numerous communications which are talking about a hum in the community in the picture, below, on the upper right hand side of the photo. These people are complaining that they have migraines after hearing a consistently low humming noise. The animals are impacted and many of the people are having trouble sleeping at night in this area called the Kelly Ridge area.
Conclusion
The destruction of the dam shoud no longer be considered just an "act of God". The weight of the evidence is clearly pointing to intentional negligence and even overt sabotage!
The supporting evidence is so voluminous, I have made the decision to break this report up into two distinct parts. The second part of this report will include clear and concise evidence whcih shows thow HAARP can be used. Further, the expert testimony of people who are experts on dams and dam failures will be presented to demonstrate that the failure of this dam is imminent. Among the issues discussed will be a more detailed and scientific analysis of the blasting as well as HAARP's potential role thorugh a presentation of evidence from both the patent of HAARP and documents supporting the science behind these claims from "Air Force Owning the Weather 2025".
Below, I have created a video which summarizes these events as well as a look ahead to what is coming in Part Two of this series on the Sabotage of the Oroville Dam.
PEAK IDIOCY, PEAK AWARENESS ... THE EPIC BATTLE BETWEEN GOOD AND EVIL ACCELERATES ON PLANET EARTH
Has humanity reached "peak idiocy?" What happens when it bursts?

You may have already noticed that humanity seems to have reached a point of "peak idiocy."

When the "idiocy bubble" bursts, what happens to our world?

Find out in today's feature article which describes all the shocking ways in which humanity has put itself on the path of collapse and suicide...




BUREACRATIC CORRUPTION RUINS LIVES ROUTINELY ... JUST LIKE THIS PATHETIC EXAMPLE




GEE, AND LET'S JUST FORCE CHILDREN TO BE VACCINATED ... IT'S NOT BAD ENOUGH TOXIC PET TREATS FROM CHINA HARM AND KILL OUR PETS