Late night yowl-za, Big Cat Beauties... to get something off her chest, the Kougar has this to say: IF YOU WANT TO LIVE UNDER PRESIDENT HITLARY, FOR GOSH SAKES, CHANGE TO A TIMELINE WHERE SHE WON!!! Leave the rest of us alone with your spiritual unjudgemental pronouncements that are judgemental -- as one such individual said this evening, this a chance for Trump supporters to ***learn*** -- the indication being: learn from our big mistake in electing Donald J. Trump.
So, this Big Cat is damn bigtime-tired of hearing some so-called spiritually aware people who actually DON'T OWN ONE DAMN CLUE ABOUT THE REAL NATURE OF THE HILDEBEAST, and think we'd all be better offer under the Clintonista Crime regime ... NO! not ALL *on the spiritual-psychic side* people are that UNAWARE, and many supported/support Trump ... but GOOD GREAT GOSH, how is it those who believe in Hitlary now piously look down their *I'm spiritual* noses at those of us who supported/support Trump? How are they that completely utterly fooled by the evil, black-hearted Hildebeast witch??? What a mind-control exercise by ***SOMEONE*** ... has it been a major black-ops experiment? convincing people to believe in her [she's a woman] as the rigteous and rightful president?
In truth, the Kougar is asking herself these days, how mind-controlled is she? Without knowing it, of course. She's also asking, HOW INSANE IS THIS WORLD, REALLY? From her little, kitten window on the world, insanity ***mass insanity*** is tsunami-sweeping over the world's population as never before [look at the French elected president Macron's obviously bankster-ganster credentials, his Luciferian ties]...but, how, why? Okay, there are a plethora of reasons why insanity rules in these times, actually [and consider the absolute madness of the French Revolution]... still, it's darn difficult to understand the thick shroud of evil corruption, of evil controlling criminality we are being subjected to right now ... then, there is the zombiefied population who act more like lemmings than human beings ... this is not a world the Kougar would ever have envisioned, not in a million damn years ... ~le sighs~
WHAT THE DARKSIDE ELITE WANT TO DO TO YOU, AND YOUR CHILDREN ... note: this is tough viewing...if you're not up to it, don't watch.
IF YOU'RE GOING TO BOMB, HOW ABOUT TARGETING MONSATANO?
Monsanto hired thousands of trolls to try to destroy me...

New court documents reveal an astonishing level of sinister "black ops" being run by Monsanto against GMO critics.

It turns out Monsanto hired thousands of trolls to attack me and the Food Babe, hoping to destroy our credibility and audience.

Now, it's all backfiring because a lawsuit against Monsanto is bringing these truths out into the light, exposing the fact that nearly all criticism of anti-GMO activists is FAKE.

Also today: The American Academy of Pediatrics has declared "no science" is needed to prove vaccines are safe, since widespread belief (wishful thinking) is enough all by itself.

This is the shocking new low in "science" now being pushed by the vaccine industry.
YEAH, CULTURAL DIVERSITY ... LET'S ALL VOTE TO BE RAPE VICTIMS, BECAUSE IT'S THEIR CULTURE
https://www.infowars.com/rape-legalization-gains-ground-amid-migrant-influx-in-europe
Western Europe on path to legalize rape committed by migrants
As shocking as this might seem, a recent number of rapists who avoided severe punishment suggests there's a precedent already in place to decriminalize rapes by migrants because they don't "culturally understand" Western rape laws or even the word "no."
In short, rapes by migrants are downplayed as "cultural misunderstandings" and thus the victims never receive justice, meaning that "de facto" rape legalization is, for the most part, already in place.
"The prosecutor admitted that the acquittal must have been a heavy blow to the victim," reported the Märkische Allegemeine, translated from German. "On the other hand a conviction was not possible because there was no demonstrated intent of rape [by the accused.]"
Even more, the Turkish man claimed that because he wouldn't have committed a rape because he had a mother and a sister.
The court sided with the migrant even further by suggesting the girl's repeated "no" only pertained to forced anal sex, which the judges somehow did not consider rape.
He was also ordered to pay the equivalent of just $2800 in compensation to the victim.
This is a real rape culture taking place in Europe, but don't expect American feminists to take much notice.
SOCIALLY, THE PEOPLE ARE RETURNING TO THEIR FUNDAMENTAL ROOTS
MORE EARTHQUAKES, SHAKE, RATTLE, ROLL...
GOTTA WONDER WHAT IS REALLY GOING ON...
WELL, HOW EFFING PLEASANT AND DEADLY IS THIS? ... THANKS, BUT NO THANKS, BIG PHARMA MURDERERS
THE BIG-PHARMA/ MILITARY INDUSTRIAL COMPLEX *BOUGHT AND PAID* FOR FDA
THE NUKED GIFT NO ONE WANTS, BUT KEEPS ON GIVING
JOIN THE MILITARY...BE A GUINEA PIG ... YOU'RE ONLY FODDER, ANYWAY
GEE, THE INSANE ORWELLIAN CRAP JUST KEEPS PILING UP ... SO, LADIES, GO GET YOUR BREASTS CUT OFF 'CAUSE YOU MIGHT GET CANCER ... AND DON'T FORGET, WHILE YOU'RE AT IT TO GET YOUR GENITALS SURGICALLY REMOVED IN SOLIDARITY WITH ISLAMIC WOMEN ... YEAH, THAT'LL PROVE YOUR LOYALTY TO THE MEDICAL INDUSTRIAL COMPLEX AND TO OPPRESSED WOMEN EVERYWHERE
THE AMERICAN PEOPLE HAVE BEEN SOLD OUT TO THE SAUDI PERVERTED EMPIRE, TO THE COMMUNIST CHINESE EMPIRE ... AND TO THE HUMAN-TRAFFICKING UN [UNITED NATIONS]
MOTHER NATURE DOESN'T LIKE YOU!!!
LIFE IN POLICE STATE AMERIKA
State Finally Releases Kidnapped Homeschool Children After Months In Captivity
-
CAN WE SCATTER THEM TO THE WINDS LIKE PRESIDENT KENNEDY WANTED?
Julian Assange Just Destroyed The FBI, CIA And Fake News In An Epic Tweetstorm
-
WELL, THERE'S NEWS NO ONE KNEW ... SNARK!
International tribunal finds Monsanto guilty of crimes against humanity
-
YEAH, NO KIDDING ... AND FUNDED BY THE CIA, SAUDI ARABIA, MCCAIN, AND OTHER ASSORTED MONSTERS LIKE THE HILDEBEAST
Interviews With Syrian Civilians Reveal White Helmets And Nusra/Al-Qaeda Are The Same Thing
-
LIKE JIMMY KIMMEL DOESN'T HAVE THE MONEY TO SAVE HIS SON ... WHY DOES THE AMERICAN PUBLIC HAVE TO PAY FOR IT???
Jimmy Kimmel exposed as a "self-absorbed, narcissistic exhibitionist" by using his own child's heart damage to push a...
-
THE SUPER SURVEILLANCE STATE, RIGHT HANDY WHEN YOU'RE A SICKO POLITICIAN
Obama admin spied on THOUSANDS of Americans in months leading up to 2016 election
-
YEAH, DO GOOD THINGS TO HELP YOURSELF HEAL, AND THIS IS WHAT YOU GET IN A POLICE STATE
Woman with terminal cancer jailed over medication in her system
-
GOTTA GET RID OF THOSE MIDDLECLASS TROUBLEMAKERS... AND GET THAT SERF CLASS GOING
How Governments Outlaw Affordable Housing
-
SOCIALISM, ONE WING OF THE NEW WORLD ORDER CRIMINAL ELITE
TIME FOR THE TRUMP-BASHING REPUBLICANS TO BE TAKEN DOWN AND OUT
YOU ARE THE TARGET!!!
EU CIVIL WAR...AS EVIDENCED BY THE CHART BELOW, THE YOUTH ARE READY TO RISE
http://www.whatdoesitmean.com/index2294.htm
FRONT LINES: VENEZUELA
http://allnewspipeline.com/Footage_From_The_Front_Lines_Venezuela.php
May 4, 2017
Footage From The Front Lines: As Blood Flows In The Streets, Experts Warn Of A 'Violent End Game'
- 'They're Starving Us To Death - We Can Only Hope For A Miracle'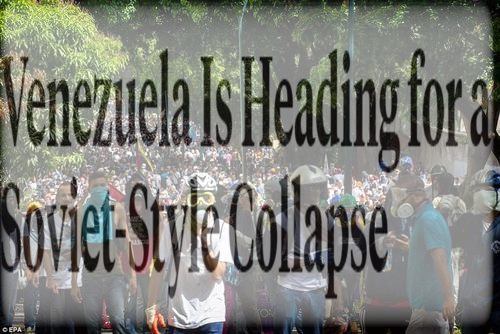 By Stefan Stanford - All News Pipeline - Live Free Or Die
According to this new story from Carbonated TV, there seems to be no light at the end of the tunnel for millions of people now living and dying in Venezuela as the crisis continues to worsen and spills over into neighboring countries such as Brazil. With Venezuelans access to food and health care supplies worsening by the day at a time when it looked like it couldn't get any worse, we take a look in this story at some of the latest scenes from the front lines in Venezuela, where many warn revolution is at hand while the streets have become chaos. Looking through the photographs, videos and stories outlined here within prove to us once again - there but for the Amazing Grace of God go we.

As we see in the first video below, Venezuela has been plagued by anti-government protests that have been growing more and more violent for the past month. Coming at a time when food shortages are hitting all but the very wealthy, this NY Times story reports protesters in Venezuela cover all age groups and as chaos reigns on the streets, one woman in her 60's recently gave the reason she and so many others have taken to the streets: "they're starving us to death, so nobody can stop me going out on to the streets to protest." The argument a fellow protester was using to get her to 'take cover' apparently fell on deaf ears: "We can't do anything if we're dead, Missus." From the NY Times story:



That's what's new in the protests taking place in Venezuela — the conviction that the 21st-century socialism begun by former President Hugo Chávez has failed and has left the country in ruins. And there are other, darker new elements involved — police brutality, mass detentions and the use of paramilitary groups armed by the government to carry out the dirty work the military doesn't want to handle: murdering people.





The opposition has been firm in its demands: Open a channel for distributing food and medicine to alleviate the people's suffering; restore the National Assembly's constitutional roles; set a timetable for elections; and free political prisoners. For the government, agreeing on even one of these points would be like opening a tiny crack that would soon turn into an enormous hole through which its control would slip away.





Is there a way out of this labyrinth? The possibility of a negotiated transition satisfactory to the opposition is negligible, even more at a time when Mr. Maduro has called for a constituent assembly to rewrite the constitution. But there is still a small window for dialogue. If that doesn't happen, the alternative would be a military intervention to install a national unity government that would organize free and fair elections — in essence, the plebiscite that Mr. Maduro refuses to hold.





Although it is dangerous to allow the military to mix in political matters, it has happened before in Venezuela; in 1958, a civic-military alliance toppled the dictatorship of Marcos Pérez Jiménez. There is also the risk of a Communist-type dictatorship modeled on Cuba's. It's an enormous challenge to find a political solution, but we must try.





Without one, we can hope for only a miracle.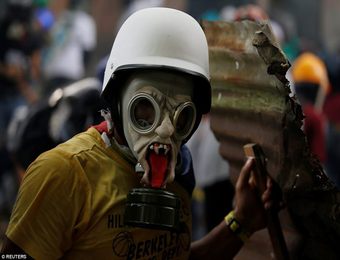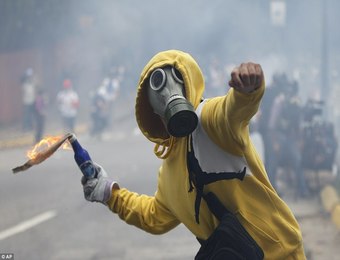 In the new story from the Daily Mail they report Venezuela is marching forward towards civil war after opposition leaders urged citizens across the country to 'rise up' against President Nicholas Maduro who had announced Monday a redrafting of the country's Constitution. Calling on people to take to the streets, we see the streets have turned once again to blood as more protesters are killed, bringing the death toll to at least 36 from the protests, not counting those dying in the streets from starvation and the associated diseases that come with not having adequate medical supplies and drugs.

As the Carbonated TV story reports, thousands of Venezuelans are walking to Brazil for medical care and medications because they cannot get them in their own country. According to this new story from Foreign Policy, Venezuela is headed towards a 'Soviet-style' collapse as the country deals with massive shortages that have led the masses to the streets. They report why it's only likely to get worse from here and provide within their explanation another warning to America.:



Venezuela already is dealing with massive shortages as a result of its controlled prices, because the government can no longer afford its own subsidies. But it will get worse from here.





Maduro seems intent on printing money like crazy, so the next step will be hyperinflation. Inflation is already believed to have reached 700 percent a year, and it is heading toward official hyperinflation, that is, an inflation rate of at least 50 percent a month.





Hyperinflation is as frightful as it is rare. According to Johns Hopkins University professor Steve Hanke, the world has experienced only 56 hyperinflations, and half of them occurred when communism collapsed. (All of the Soviet Union's 15 union republics suffered it during the country's disintegration.) Hyperinflation is profoundly demoralizing. Suddenly, it makes no sense to work any longer. Instead of standing in queues to buy food with the money they've earned, people stop working entirely, because they cannot spend the money they would have earned. Smart profiteers indulge in speculation, buying safe assets such as commodities or real estate.





As a result, output plummets and enters a downward spiral until financial stability is restored. In 1991, Soviet production probably fell by 10 percent, and oil production plunged by half from 1988 to 1995. Something similar seems to be going on in Venezuela.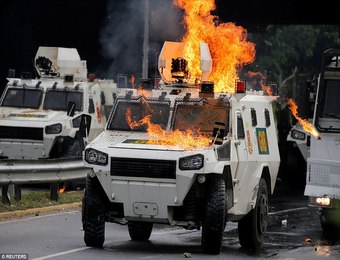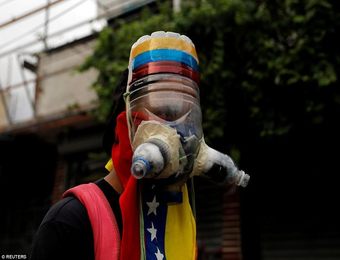 The new story from Time this morning reports Venezuela is near its tipping point and a violent endgame as huge numbers of furious Venezuelans hit the streets despite President Maduro recently raising their minimum wage by 60% to appease the angry poor. However, as their story reports, that won't reverse the decline of a country where production is in free fall, inflation is in the triple digits and hunger is now a common problem. Reporting that it's very difficult for people to find time to work while standing in line for the few remaining staples most of the public can afford, how long might it be before what is now happening in Venezuela comes to America?

With Maduro shredding the Constitution there as the masses starve and the dungeons packed with political prisoners grows, reports come in that armed civilian gangs are propping up the unpopular president while the US government considers new sanctions against Maduro's government as the crisis there continues to deepen. Florida Senator's Marco Rubio and Bill Nelson have also just introduced legislation that would provide Venezuela with $10 million dollars worth of medicine and nutrition supplements as well as an additional $9.5 million worth of aid.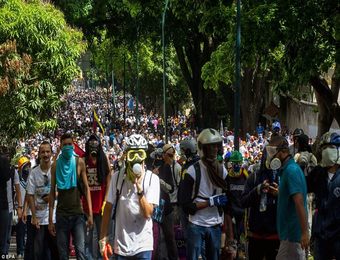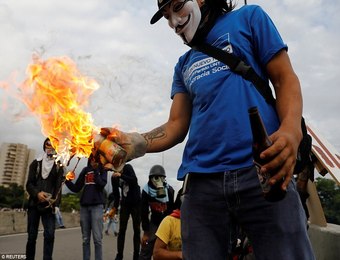 With the opposition in Venezuela now calling for new elections while accusing Maduro's government of being inefficient and authoritarian, the government in turn accuses the opposition of being supported by big media, elitists and the United States. However, Venezuela has long been spiraling out of control and as this recent story from CNN Money reports, the large majority of the population is losing weight amid the food shortages and skyrocketing prices.

As their story reports, the minimum monthly wage for most living there isn't even enough to buy basic foods and as has long been warned, government's have long been known to use food as a weapon against their people. Fortunately, some good news has emerged from there as groups called 'vegetable brigades' are helping some of the people of Venezuela buy vegetables directly from the farmers. However, the pain lives on for most.:



Venezuela's socialist government, led by President Nicolas Maduro, raised the minimum wage 60% on Sunday to 200,021 bolivares ($45) a month, including food stamps.





But that won't buy much at the supermarket. In March, a basket of basic grocery items -- including eggs, milk and fruit -- cost 772,614 bolivares, or close to four times the monthly minimum wage, according to the Venezuela-based Center of Social Analysis and Documentation, or CENDAS in the Spanish acronym.





Food shortages and soaring prices have led to troubling results. Last year, the average Venezuelan living in extreme poverty lost about 19 pounds due to the lack of food. Many of its citizens had to skip meals, according to a national poll.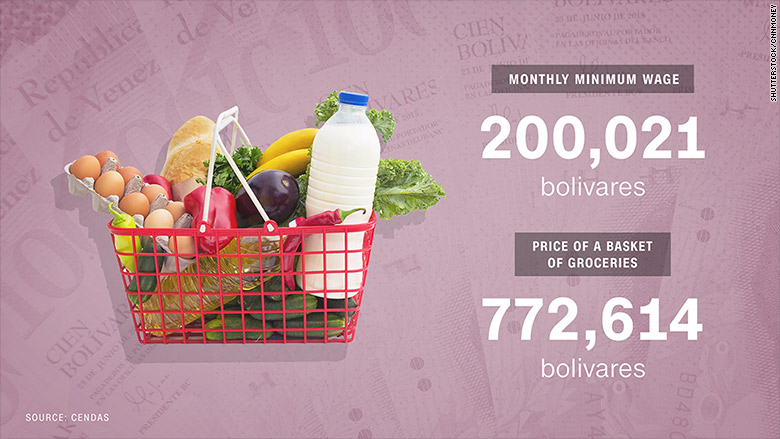 It's long been claimed that what is now happening in Venezuela should be seen as a warning to America and as we see in the videos below from the front lines in Venezuela, when people are starving, it really doesn't matter to them what they do or what laws they break. With millions feeling like their backs are up against the wall, will we soon see a full-scale war break out in the streets of Venezuela where blood already flows freely?

In this new story from Bloomberg that Steve Quayle linked to on his website Thursday morning they report there are 5 forces that will be 'shaking up the American supermarket', warning "why the retail crisis could be coming to American groceries". If you really believe America is immune to what is now happening in Venezuela, we beg you to think otherwise.

The videos below each take a look at what's now happening in Venezuela via several different sources. As we quickly see, with chaos mounting every day, it may not take long for things to quickly spiral out of control there. Venezuela provides us with proof that not only is food still being used as a weapon but one of the most important things that we can do is to prepare ourselves, our families and our loved ones for dark times such as this ahead.

While those times may not come tomorrow or the next day or even next year, the peace of mind that comes along with being prepared for anything makes it well worth the time and effort. The masses in Venezuela surely understand that by now.
Help Keep Independent Media Alive, Become A Patron for All News PipeLine at
https://www.patreon.com/AllNewsPipeLine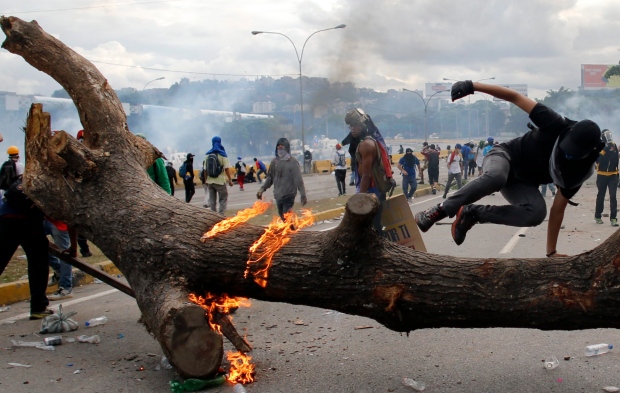 THE MONEY SHOULD NEVER HAVE BEEN STOLEN IN THE FIRST PLACE BY THE POLICE STATE CREEPAZOIDS
YEP, THE MONSTROUS TSUNAMI OF INSANITY!!!