Or this is the RISE OF THE *AI* GOD ... like we need another false god, geez...!
Sunday yowls and roars, most lovely and lithe KitKats ... wet, after the rainy night on the tame prairie ... a nice drenching rain, very much needed for Spring growth ... so the AI GOD is waiting, lurking, planning, perpetrating a massive level of evil deeds against humanity, against Mother Earth ... yes, against anyone and anything GOOD living and breathing on our beloved planet ... this is an alien AI, a techno-infection in most of our galaxy ... however, this machine-insane AI GOD is building a home -- or extending its relentless empire for its rabid-predator program, through the current transhumanism movement, through the Big Brother advancement of technologies useful to the human race ... this super intelligence despises anything human or truly bio-organic like our animals and plants ... why? We are children of the Creator/Creatoress ... we create our lives in a mindful way, or we have that capability. We also have souls, that universal connection to the Divine Head ... machines, no matter how advanced. CAN NEVER achieve a soul ... machines ARE NOT PEOPLE, and unless joined [not transhumanism] with a humanoid race, ARE NOT EMPATHETIC AND LOVING BEINGS.
Always remember that before you consider BOWING DOWN TO ANY GOD AI. You have been warned. Warned by this Big Cat, and many others such as Elon Musk.
THIS IS AN UTTERLY PHENOMENAL INTERVIEW...
WHAT ALEX TALKS ABOUT IS EXACTLY WHAT THE KOUGAR'S INTUTION IS TELLING HER ... PREPARE, GET OF THE BIG CITIES, IF YOU ARE ABLE ... YES! DIVINE INTERVENTION NEEDED!!!
STEVE QUAYLE SPELLS IT OUT HERE, AS WELL ... HE IS A GENIUS ON THE SUBJECT OF THE AI GOD AND TRANSHUMANISM ...
Transhumanism & Giants
In the first half, author and researcher
Steve Quayle
discussed his new bombshell book
Terminated
(view
cover image
) which deals with robotics in ancient history, accessing genetic memory from samples of ancient DNA, and demonic entities that inhabit DNA. The goal of transhumanism, Quayle suggested, is to build a better human being without any constraints, and he believes this could ultimately destroy humanity as we know it. The development of super-soldiers may already be happening-- last week, Syria's ambassador described the fighting and killing of American super-soldiers said to be over 8' 1" ft. in height, he reported.
"My contention," he said, "is that those creating these things in the lab have viable extracted DNA from the biblical giants, and that's what we're seeing." The spirits of giants or fallen angels may possess mechanical or AI entities, he continued, citing the ancient example of the Colossus of Rhodes. According to Quayle, giant cannibalistic beings that will be regenerated or brought out of suspended animation can only be killed by solid copper bullets or smoke grenades.
-----------------------------
https://www.coasttocoastam.com/show/2018/04/17
EARTH CHANGES? AND/OR WEAPONIZING THE EARTH...
April in Chicago coldest in 130 years...
DETAILED INFO ABOUT THE EVIL GLOBALISTS ***POSSIBLE*** NEXT MOVE/MOVES
April 18, 2018
Globalists Telegraph Their Next Move: An Attack Upon Our Electrical Grid, Attributed To Russia
- If 'Enemies Of America Within' Take Down The Grid, 'TEOTWAWKI' Would Ensure Americans NEVER Found Out Who Really Did It
By Stefan Stanford - All News Pipeline - Live Free Or Die
In this April 17th story by Susan Duclos on ANP she reports the globalists are now herding Americans towards a single belief as widespread cyber attacks take down websites across the net such as Twitter: "The Russians did it!"
While the headline plastered upon the Drudge Report from CBS Philly was "Officials Warn Russian Hackers Targeting U.S. Routers", the Daily Mail reported on Monday that the FBI has just warned Russian hackers could launch cyber attacks upon millions of laptops, phones and 'critical infrastructure' such as US power grids, with a joint statement from London and Washington DC stating "Russian sponsored hackers are gaining control of internet routers worldwide".

And while most experts agree that a long-term electric grid down situation in America would absolutely lead to widespread chaos and 'the end of the world as we know it', the 'Russia did everything' narrative we've been hearing from the mainstream media ever since November of 2016 is getting quite old, especially considering they consistently call every-day, President Trump-voting, red-blooded Americans 'Russian bots' every opportunity they get.

And now The Hill reports that the US should somehow 'respond' to these attacks which are being blamed upon Russia, arguing that America must launch 'counter strikes', just like the entire 'Syria chemical attack' narrative.
http://allnewspipeline.com/Globalists_Telegraph_The_End_Game_Russian_Grid_Down_Chaos.php
YES, THE VOLCANOES ARE AWAKENING DUE TO COSMIC FORCES... FOR THE MOST PART
THE SYRIA FLASHPOINT
WEATHER WARFARE....
REAL QUAKES OR STRIKES ON UNDERGROUND BASES...
Earthquake strikes US: California, Oklahoma, Texas and Nebraska hit in quick succession
A STRING of powerful earthquakes have rocked the west and central US with several of them hitting near to the dreaded RING OF FIRE.
https://www.express.co.uk/news/science/943476/earthquake-california-Oklahoma-Texas-Nebraska-latest-news-USGS
MASSIVE TREMOR?
Is a massive tremor on the way? Ring of Fire activity returns as a series of earthquakes shake California and Alaska
Near the end of January, a slew of Ring of Fire activity took place in many places
Alaska experienced an earthquake and a volcano erupted in the Philippines
At the time, the UN tweeted that the Pacific Ring of Fire was 'active'
Now, eight earthquakes have shaken the US with several close to the Ring of Fire
Three earthquakes struck in California with others in Alaska, Nebraska, Texas

Read more: http://www.dailymail.co.uk/sciencetech/article-5598955/Ring-Fire-activity-returns-series-earthquakes-shake-California-Alaska.html#ixzz5CKOzqgqO
Follow us: @MailOnline on Twitter | DailyMail on Facebook
NAZCA, NEW GEOGLYPHS DISCOVERED
THE BEAST SYSTEM GETS MORE RUTHLESS...
A MOST EXCELLENT ARTICLE OUTLINING THE RISE AND CURRENT STATE OF THE ***AI GOD***
OLD YET VERY IMPORTANT ARTICLE ...
http://www.whatdoesitmean.com/index2534.htm
Germany Opts Out Of World War III After US Nuclear War "Doomsday Plane" Goes Airborne In Aftermath Of Believed To Be Spetsnaz Takedown Of NATO Warplane
By: Sorcha Faal, and as reported to her Western Subscribers
Likewise, this report continues, the Americans further accused Spetsnaz troops of being responsible for the "electronic destruction" of a Greek-NATO warplane—and to which Russian military leaders suggested to the US that instead of asking Russia about this matter, they should, instead, should talk to Turkey about it as this NATO-Greek warplane was reported to be an aerial battle withTurkish warplanes at the time of its destruction.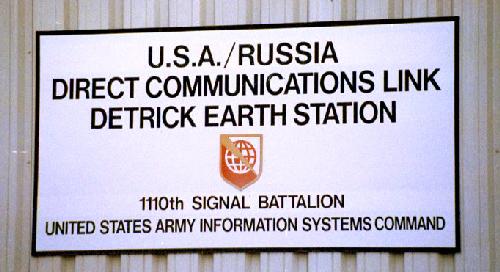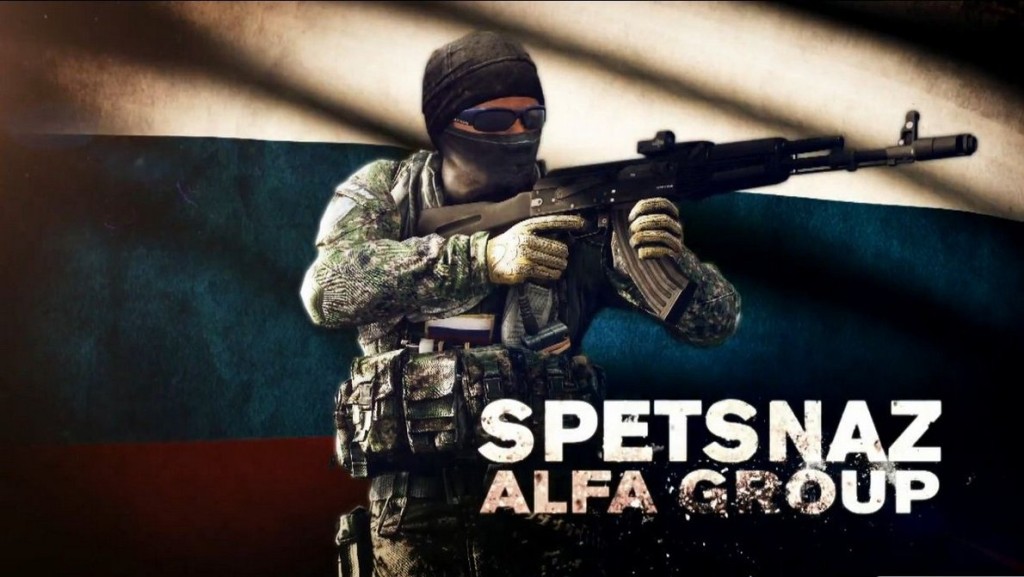 Russian Spetsnaz forces are the most feared in world due their speaking multiple languages and ability to remain in "deep cover" for years until activated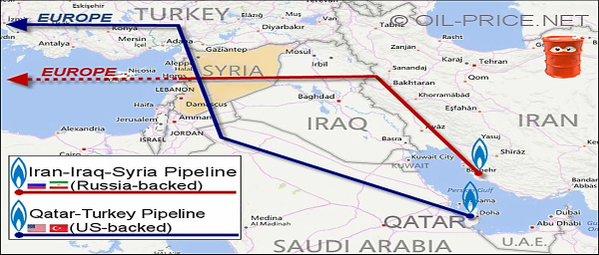 The true cause of World War III is over competing Russian-backed and US-backed pipelines in Syria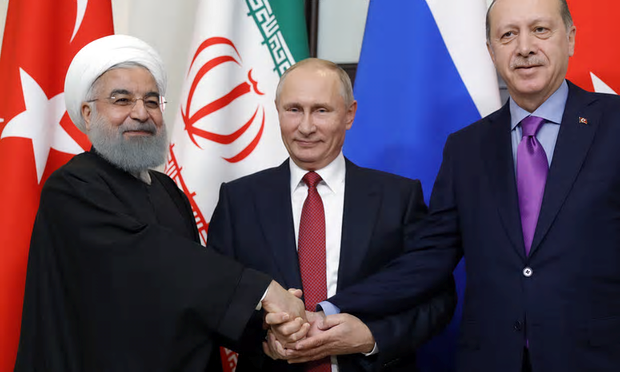 Iranian, Russian and Turkish leaders unite to bring swift end to needless Syrian war
Most interesting to note in this report is its conclusion section—and wherein the Security Council admits that the United States is, indeed, in an existential fight for its survival as without its being able to force other nations to buy US Dollars for their oil and gas purchases, its decades long practice of being able to print money out of thin air will end, thus collapsing the "petrodollar system" and, in turn, the entire Western economic structure.
But whose "Deep State" aligned leaders, this conclusion section continues, will not tell the American people the truth about over their fears that these people will realize that the alternative to needless war is the US finally realizing that it
can no longer rule the world alone
—and in doing so would then allow the trillions spent to maintain massive US military forces all around the globe able to be kept in America where it can pay off its nation's massive debt and, literally, rebuild its nation's cities, airports, roads, schools and hospitals many times over—and that whose current President Trump has advocated for years—
as he knows that
the

$5 trillion

spent on Iraq and Afghanistan alone, and counting those "relevant legacy costs"—like long-term healthcare commitments to US veterans and interest on the debt incurred by these wars—the total for America's needless wars is projected to top

$12 trillion by 2053

—and at whose current count of about 120 million US taxpayers, comes out to a

$100,000 a head for each and every American citizen
—and that is doing more to destroy the United States than anything Russia could ever do, except during World War III, of course.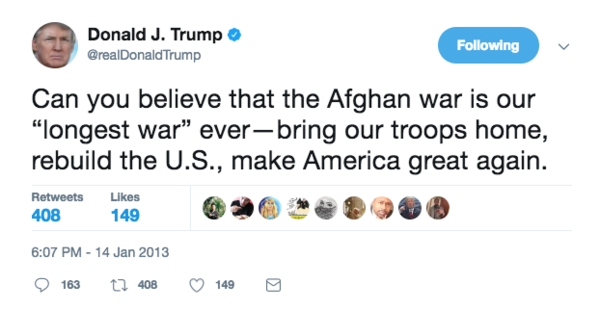 Important Notice:
If anyone knows this person, please have him report immediately to 1600 Pennsylvania Avenue, Washington,D.C., USA
April 12, 2018 © EU and
US
all rights reserved. Permission to use this report in its entirety is granted under the condition it is linked back to its original source at WhatDoesItMean.Com. Freebase content licensed under
CC-BY
and
GFDL
.
THE WAR AGAINST ***WE THE PEOPLE*** IT'S HORRIBLY HELLISHLY REAL
April 9, 2018
We Are At War: Attacked Physically Offline And Virtually Online - Conservatives, Trump Supporters And Independent Media Under Siege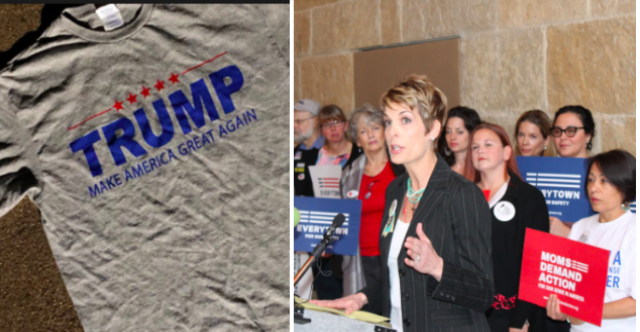 By Susan Duclos - All News PipeLine
Unhinged liberals are physically and verbally attacking Conservative Trump supporters, online and offline, downplayed by liberal media in order to distract the public from seeing the fact that we are, very literally, at war....... right here in America.
While the media is focused on Syria, captivating America's attention, or bashing the U.S. President on a daily basis, with CNN focused on Russia "sex coaches," strippers and teenagers that don't know how to keep their mouths shut, what is not being reported by liberal media outlets is the ongoing vicious attacks, both offline and online, against conservative Trump supporters.
A woman who was physically attacked at a DC restaurant for being a Trump supporter, and a teenage girl verbally attack by a liberal state council member for wearing a #MAGA shirt, are just the latest two examples...
...
BOTTOM LINE
This is happening all across the Internet to conservative or Independent Media outlets, against YouTubers, Twitter users, Facebook users, and Google down-ranking websites like All News PipeLine. While we, and others, do report on it often, with so much happening in the world, it isn't something we can detail every single day as a new line of attacks opens up on us. While readers know of these attacks, the sheer scale of them cannot be adequately conveyed, as Independent Media owners wake up every day wondering "how badly did they nail us yesterday?" as we check dashboard and internal reports and wonder how much longer can we sustain the ongoing attacks and which direction they will come from next.
The offline attacks can be countered, whether by law or simple self defense courses, but the online attacks from tech giants and social media giants, who are actively declaring an article about "civil war" against conservatives,
to wipe them out for a generation or two
,
a "good read," as Twitter CEO Jack Dorsey recently did
, should make it apparent to everyone that they will do everything in their power, from blatant censorship, to shadow bans, to outright demonetization, to silence us so they can control you.
We Are At War.
Imagine a world where the only "news" you can get is from the mainstream media, with no pushback because anyone with an independent view, a contrary opinion, or willing to ask questions, has been silenced.
That is their ultimate goal.
Congress must act. We need a true Internet Bill of Rights, where "modern public squares," as the Supreme Court has labeled social media, must not be allowed to violate the free speech of any American without severe repercussions.
http://allnewspipeline.com/We_Are_At_War_Brutal_Attack_Elite_Promotes_Civil_War.php
THE RED DAWN SCENARIO IS ACTIVE
STANDING FOR THE CONSTITUION AND THE SECOND AMENDMENT ... YES, THIS ALREADY HAPPENED
HOW TO DESTROY NOT ONLY YOUR LIFE BUT YOUR VERY SOUL
DARPA'S 'PROSTHETIC' MEMORY & BIOMETRIC ID TO BUY FOOD
New technology could result in a dystopian future
India & China are already rolling out population control technologies like requiring biometric ID to even buy food, but DARPA is making huge leaps in their ability to selectively remove memories or implant them, with the focus now on non-invasive brain interfaces.
THE *AI GOD* UNLEASHED...
The General Public Is About To Get Blindsided: The Change That Is Coming Will Unleash Widespread Chaos And Mass Civil Unrest And Nobody Will Be Able To Stop It
- 'Dark And Disturbed' AI Unchained Will Lead To Incredible Horrors


By Stefan Stanford - All News Pipeline - Live Free Or Die
"These technology leaps are going to yield incredible miracles, and incredible horrors". From "Do You Trust This Computer?"

In the April 6th story over at the Daily Mail which Steve Quayle highlighted on his website they report that according to Tesla founder and billionaire Elon Musk, if we continue traveling down the road we're on, we all will eventually be forced to serve an 'immortal robot dictator', whose power we can never escape, with Musk warning that AI which is created by authoritarian government's could very easily outlast the despotic individuals who created it.

Warning once again that AI is a fundamental risk to human civilization in remarks he made in the new movie we've embedded as the first video below called "Do You Trust This Computer?", Musk's warnings that the risk of AI will create 'a permanent system of oppression' sounds just like George Orwell's "a boot stamping upon a human face, forever".

Warning also that AI will impact most people's lives in ways that we can't even imagine right now, in the 2nd video below from Sheila Zilinskyfeaturing Steve Quayle they discuss the 'gates of hell' that are now opening and why our world is rapidly going mad and as we're told by Steve who highly emphasizes this warning, "demons will most certainly inhabit AI", echoing comments made by Musk that in 'humankind' embracing AI, we've summoned the devil.

As Musk tells us in the 1st video, "NOTHING will affect the future of humanity more than digital super-intelligence" and as we're told by another AI expert, "the general public is about to get blindsided by what's coming" and "there's nothing anybody can do to stop it".

Aptly, the video begins with a shot of the words of Frankenstein writer Mary Shelley:



"You are my creator, but I am your master..."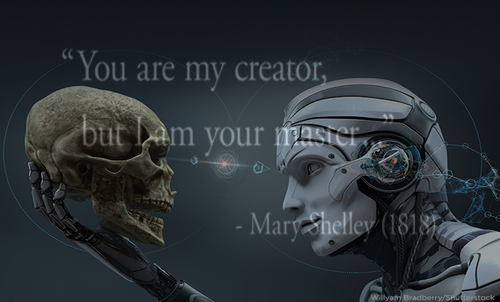 While Elon Musk's calls for regulations for AI have been largely gone unanswered, all it takes for an 'AI arms race' to begin is one participant and as this Zero Hedge story reports, one South Korean university which had allegedly made plans to build killer robots has a group of AI researchers from over 30 countries boycotting the university.

With robots actually replacing human soldiers in the 1st breaching exercise of its kind according to this new story over at Military.com giving us more proof that robotics are already being used in warfare and in an increasing number of different ways, the ZH story raises serious concerns over the introduction of 'killer robots' into society for good reason.

As we hear in the 1st video, there is little that will be able to stop a new global arms raced based upon AI that will rival or surpass the nuclear era and as one expert warns us, there is little that can stop what he believes is the 'end game'. "We know what the answer is. They'll eventually be killing us" warns another AI expert. From Zero Hedge:

The Korea Advanced Institute of Science and Technology (KAIST) and its partner, the weapons manufacturer Hanwha Systems, one of South Korea's largest arms dealers, are pushing back against the boycott, saying they have no intention of developing "killer robots" - even though the description of the project clearly states its goals, per the Guardian.

"There are plenty of great things you can do with AI that save lives, including in a military context, but to openly declare the goal is to develop autonomous weapons and have a partner like this sparks huge concern," said Toby Walsh, the organiser of the boycott and a professor at the University of New South Wales.

"This is a very respected university partnering with a very ethically dubious partner that continues to violate international norms."

What's worse, the scientists say, is Hanwha's history of manufacturing and selling cluster munitions and other arms that are banned in more than 120 countries under an international treaty that South Korea, the US, Russia and China have not signed.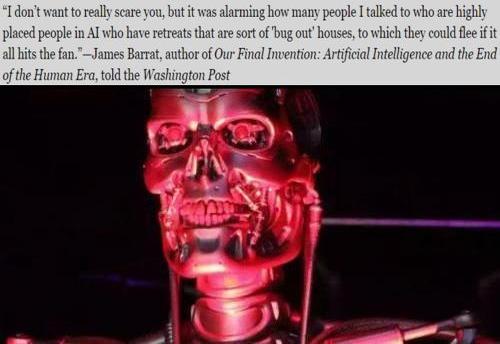 According to James Barrat, the author of the book "Our Final Invention: Artificial Intelligence and the End of the Human Era", it's quite alarming to him just how many people who are 'highly placed' in the AI field also have 'bug outs' to scurry away to should SHTF. As another AI expert warns us of in this video, with AI already taking jobs of millions of people across the planet, the end result could see mass unemployment leading to widespread chaos and social unrest.

As Musk suggests, the implications that AI will have upon the lives of most are shattering when one considers what we're witnessing already with the opinions of conservatives already being censored by AI algorithms used by twitter, facebook and youtube.

As End Gadget reported in this story from January of 2017 titled "How Artificial Intelligence Can Be Corrupted To Repress Free Speech", it's easier than anybody thinks, even here in America. Will those in authoritarian positions take their tyranny even further? From the End Gadget story:



The internet was supposed to open repressed citizens' eyes, expose them to new democratic ideals and help them rise up against their authoritarian governments in declaring their basic human rights. It hasn't. It was supposed to be inherently resistant to centralized control. It isn't.



In fact, in many countries, the internet, the very thing that was supposed to smash down the walls of authoritarianism like a sledgehammer of liberty, has been instead been co-opted by those very regimes in order to push their own agendas while crushing dissent and opposition. And

with the emergence of conversational AI -- the technology at the heart of services like Google's Allo and Jigsaw or Intel's Hack Harassment initiative -- these governments could have a new tool to further censor their citizens

.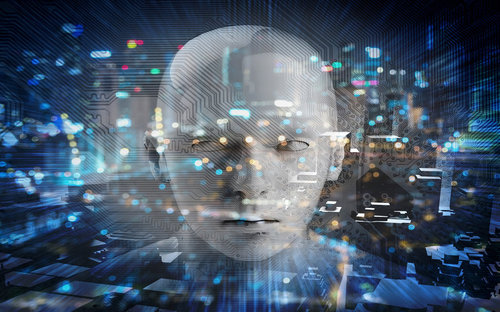 Scientific American recently put out a story titled "Will Democracy Survive Big Data and Artificial Intelligence?" within which they warned: "We are in the middle of a technological upheaval that will transform the way society is organized. We must make the right decisions now." Yet how many people even know that such decisions have to be made?

As their also story reports, the staggering amount of digital data which we produce as a society has been doubling every year and we haven't seen anything yet while bringing up the 'internet of things' which we've been warning about on ANP. :



The digital revolution is in full swing. How will it change our world? The amount of data we produce doubles every year. In other words: in 2016 we produced as much data as in the entire history of humankind through 2015. Every minute we produce hundreds of thousands of Google searches and Facebook posts. These contain information that reveals how we think and feel. Soon, the things around us, possibly even our clothing, also will be connected with the Internet. It is estimated that in 10 years' time there will be 150 billion networked measuring sensors, 20 times more than people on Earth. Then, the amount of data will double every 12 hours.



Many companies are already trying to turn this Big Data into Big Money. Everything will become intelligent; soon we will not only have smart phones, but also smart homes, smart factories and smart cities. Should we also expect these developments to result in smart nations and a smarter planet?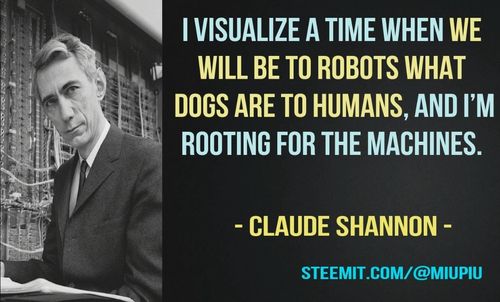 Their story also warns that we as people are 'being programmed', where AI knows more about us than we know about ourselves, and as their story eerily points out, 'persuasive computing' is already here, AI ready to lead us off the cliff.

And as we see in the comment above from Claude Shannon, there are actually those rooting against the human race.



Programmed Society, Programmed citizens





Everything started quite harmlessly. Search engines and recommendation platforms began to offer us personalised suggestions for products and services. This information is based on personal and meta-data that has been gathered from previous searches, purchases and mobility behaviour, as well as social interactions. While officially, the identity of the user is protected, it can, in practice, be inferred quite easily. Today, algorithms know pretty well what we do, what we think and how we feel—possibly even better than our friends and family or even ourselves.





Often the recommendations we are offered fit so well that the resulting decisions feel as if they were our own, even though they are actually not our decisions. In fact, we are being remotely controlled ever more successfully in this manner. The more is known about us, the less likely our choices are to be free and not predetermined by others.





But it won't stop there. Some software platforms are moving towards "persuasive computing." In the future, using sophisticated manipulation technologies, these platforms will be able to steer us through entire courses of action, be it for the execution of complex work processes or to generate free content for Internet platforms, from which corporations earn billions. The trend goes from programming computers to programming people.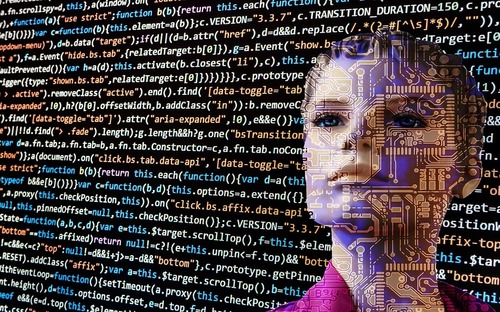 As we hear in the 2nd and final video below featuring Steve Quayle being interviewed by Sheila Zilinsky with their conversation on AI starting at approximately the 28 minute mark, most do not understand what we're now dealing with with AI and the potential for things to go horribly wrong with this new technology are being vastly underestimated and totally misunderstood by most.

As we reported in this story on ANP back on March 30th, the mad rush towards transhumanism as man merges with machine and the 'internet of things' comes to life will be the end of humanity as we know it. As we hear in the 1st video, with AI programmed by people, both good and bad people, there's no way to avoid AI with 'bad intentions'. As Steve warns us, 'dark and disturbed AI' will certainly be unleashed upon humanity as they move towards robotic tyranny.

Also discussed prior to the segment on AI are the mad rush towards World War 3 that we've been witnessing, the ongoing censorship of conservatives and the attempt to disarm law-abiding American citizens now being made by many on the left.

Are you prepared for the arrival of artificial intelligence? One interesting and ironic side note. Should an EMP, cyber attack or massive solar flare take down our electrical grid, any AI in America would most likely go down with it. Unless of course they've figured out how to harden themselves against such a threat in which case, well, ask helly-wood how that ends.





NOTE TO READERS:

With digital media revenue spiraling downward, especially hitting those in Independent Media, where attacks from every direction continue to hit, from the 'adpocalyspe' via YouTube, Google and other advertising services, to the MSM attacks against any outlet that doesn't toe the "official narrative," to social media shadow-banning and blocking anything from going viral if it questions that same official narrative, it has become apparent that traditional advertising simply isn't going to fully cover the costs and expenses for many smaller independent websites. Any extra readers may be able to spare for donations is greatly appreciated.






THE KOUGAR HAS WAKING NIGHTMARES OF BEING VACCINATED BY FORCE ... IF SHE CAN'T NEUTRALIZE THE TOXINS/POISONS, THE DNA REPLACEMENT ... SHE WILL LIKELY BE DEAD, DEAD, DEAD ...
California state senator who pushed vaccine mandate now seeks to CRIMINALIZE "fake news" about medicine, politics and government
Natural News
) In the latest stunning assault on the freedom to
think
,
California state senator Richard Pan
— known as
the "Mercury Joker" super villain
for pushing mandatory vaccines into law via SB 277 — now wants to
criminalize
all bloggers and independent journalists who dare question the official narratives on vaccines, medicine, politics and government.
https://www.naturalnews.com/2018-04-09-california-state-senator-who-pushed-vaccine-mandate-now-seeks-to-criminalize-fake-news.html
DRUDGE
Largest 'Black Lives Matter' Page A Fake...
Body parts from threatened wildlife widely sold on FACEBOOK...
IT'S ALL ABOUT DEMONIZING THE RUSSIAN BEAR ... GOTTA HAVE THAT WORLD WAR
WHILE THE KOUGAR DESPISES THE FDA, THIS IS NOT A GOOD THING FOR YOUR PRECIOUS HEALTH
THE HILDEBEAST NEWS
OH YEAH *SNARK* THIS WAS AN ACCIDENT... THIS LADY LAID HER LIFE DOWN FOR THE SAKE OF SAVING HUMANITY
YEP, CHRISTIANS ARE BEING RUTHLESSLY RELENTLESSLY PERSECUTED
THIS CONTENT WILL BE ON THE NEXT BLOGGIE IN A LARGER FORMAT
Government accidentally sends file on "remote mind control" methods to journalist
When journalist Curtis Waltman filed a Freedom of Information Act request with
Washington State Fusion Center
(which is partnered with Department of Homeland Security) to obtain information about Antifa and white supremacist groups, he got more than the information he was looking for – he also accidentally received a mysterious file on "psycho-electric weapons" with the label "EM effects on human body.zip." The file included methods of "remote mind control."
Creepy images like these were included:
So what gives?
https://boingboing.net/2018/04/19/government-accidentally-sends.html
GEE, WHAT A DIABOLICAL *NOT* SURPRISE...
Bill Gates backs a $1 billion plan to cover Earth in 'Big Brother' satellites capable of streaming 'live and unfiltered' HD footage of the planet
Japanese firm Softbank and aerospace giant Airbus are also backing the project
500-strong network of spacecraft will monitor Earth with and livestream video
Applications could including tracking illegal fishing, monitoring the weather and tracking natural migrations globally

Read more: http://www.dailymail.co.uk/sciencetech/article-5634953/Bill-Gates-backs-1-billion-plan-cover-Earth-Big-Brother-satellites.html#ixzz5DB2P0WF4
Follow us: @MailOnline on Twitter | DailyMail on Facebook
LEAKING LIKE A SIEVE... NO KIDDING... WHO COULDN'T HAVE PREDICTED THIS???