Friday yowls and big ole roars, most precious and precocious of KitKats ... imagine the Kougar's NOT SURPRISE to learn that fake-Mexican Beto O'Rourke's campaign monies are being used to fund the invading caravan planning to crash through our Texas and southern border ... on another note: if people die over this, the Kougar is truly sorry, unless they are jihadis ... however, they have been warned, and are being warned NOT to invade our country ... most these people are military age men from various countries including Venezuela, Iran and other DANGEORUS jihadi countries... MS13 gang members who seem to believe killing is best done with a machete are among them... men who have been deported because of violent crimes in the past are in this invading force [NOT TO MENTION THE HUMAN SEX TRAFFICKERS] ... this is HOW ROME FELL... this is a SOROS-EVIL GLOBALISTS-UN OP to conquer our country. MAKE NO MISTAKE ABOUT IT. Your tax dollars, given to the UNITED NATIONS, are being funneled to Soros, who pays ungodly sums to this so-called caravan, thousands of dollars to these people, with a promise to some that they will be paid 40,000 once they get here [gee, the Kougar should go join this caravan] ... yeah, and also funded [AS EXPOSED BY PROJECT VERITAS] with obviously, the campaign monies of Beto O'Rourke... this is the DEMONCRAT PARTY, folks, in these times... anything to win, and make us all beaten down impoverished peasants under a communist-fascist system. NO THANKS!
AS PRESIDENT TRUMP JUST SAID: "WE WILL FIGHT ON TO VICTORY"
YES, JAMES O'KEEFE AND HIS TEAM ARE HEROES AND HEROINES OF THE HIGHEST ORDER!!!
Blockbuster Video! Beto Caught Working With Illegal Migrant Caravan To Smash Texas Border
James O'Keefe begs patriots to spread this latest undercover video
November 2, 2018
Breaking! A new video from Project Veritas has just been released!
James O'Keefe joins Alex to discuss the undercover footage of members from the Beto O'Rourke campaign claiming they use funds to support the illegal caravan heading towards the border.
SEE VID AT LINK BELOW... ALSO AT
https://www.projectveritas.com
Watch Owen Shroyer talk to Texans about the undercover Veritas video below:
https://www.infowars.com/blockbuster-video-beto-caught-working-with-illegal-migrant-caravan-to-smash-texas-border/
Left desperate to stop impending red wave
RIGGED... THE QUESTION BECOMES WILL FRAUD WIN THE ELECTIONS OR WILL THE PEOPLE?
VACCINE ARE KILLERS ... DO NOT EVER GET VACCINATED FOR ANY REASON
THE POLICE STATE AT WORK... IF WE DON'T HAVE HONORABLE PEOPLE RUNNING THINGS, WE'RE REALLY SCREWED...
THE JIHADI INVASION OF OUR BELOVED COUNTRY
YEP....
BOW DOWN, PEOPLE OF EARTH, WE ARE YOUR CYBER GODS
THIS GUY IS DEFINITELY IN NEED OF AN INSANE ASYLUM... LOCK HIM UP BEFORE HE HURTS SOMEONE OR HIMSELF ... PLEASE...
END THE FEDERAL RESERVE ... DESTROY THE IRS GESTAPO
MORE INVASION NEWS...
GET YOUR BATTLE WEAPONS READY ... PROTECT YOURSELF, YOUR FAMILY, YOUR FRIENDS, YOUR NEIGHBORS...
https://www.thecommonsenseshow.com/dhs-telling-border-residents-we-cant-protect-you
DHS Telling Border Residents "We Can't Protect You"

In the past 48 hours, The Common Sense Show has received consistent information regarding the threat to US citizens at the border. I have solid and reliable communication on two sides of this issue. This country is not just dealing with an impending border breach by tens of thousands of migrants. We are looking at a paramilitary guerrilla force that will be inserted into this country with predesigned acts of terrorism to be carried out on US soil. America is indeed at war! And the architect of it all, is none other than George Soros.
"We Cannot Protect You"
One rancher reached out to me through email and informed me that DHS and a local Sheriffs Deputy visited his ranch and informed of major border breaches that are coming in the next several days.
---
Dear Mr. Hodges

I have followed your work for sometime. I thought you would like to to know that DHS was here today along with a Deputy. I was told that law enforcement might no be able to protect me from splinter groups that would be entering the country. I was further told that these splinter groups likely have an agenda to inflict mass casualties on Americans on this side of the border.

I was advised to consider leaving the area, but that a mandatory evacuation order will not likely be given. I was also told that I cannot talk to the media so please do not copy and paste this email.

The splinter group was described as being well trained and armed. I have a friend who is an ex-military sniper. Thinking options at this point. not sure what we are going to do. We are thinking about defending the ranch with our friends and allies. Thought you should know.

Name withheld by request

---

---
Along these same lines, I have been informed by an FBI agent that this type of border incursion has been anticipated. Reportedly, those in charge do not expect a single crossing. They expect that the terrorists and military types traveling with the caravans will be breaking off from the main group of migrants and entering the United States as a series of guerrilla forces in 6 to 8 man squads, each with a predetermined mission.
As far as authenticity for the email, I cannot offer any. However, the latter statement from FBI contact is highly reliable. And from three years ago, I received a widely publicized communications from a
Texas Ranger
which contained the following excerpts which serves to validate the point that this globalist-George Soros-option has been on the table for quite sometime:
…The main reason that I am writing to you is to encourage you to keep writing on the growing threat of infiltration in Texas and I suspect other states as well. The infiltration I am writing about is not just Special Forces that are going to conducting covert drills in our state. that is concerning and I agree with you this involves martial law. For now I am talking about ISIS and the danger that they pose to all of us. Our intelligence indicates that they have enough manpower & firepower to subdue a small town. The Midland Walmart takeover by DHS is a national security move in which we have been told falls under the Continuity of Government provisions. The Threat Fusion Centers are providing related information on what it is we are facing but the information sharing is only in one direction and that is very concerning.

We expecting an attack on more than one Texas city or town by ISIS and/or any of their partners. I believe the information to be accurate…
Even if we can reject all of these reports as unproven and likely false, it is still very interesting that even the controlled opposition network,

Fox News,

reported on the following parallel event in Texas inw hich Texas border residents have been warned that they could get caught in border crossfire.
The U.S. Border Patrol this week reportedly told Texas landowners along the U.S.-Mexico border to prepare for a possible influx of "armed civilians" on their property as the migrant caravan moves closer to the U.S., a report said.

The Associated Press reported that these civilians say they intend to support the National Guard and Border Patrol to prevent the illegal migrants from crossing into the U.S.

But some see the move as a negative, arguing that the armed civilians' presence would add even more tension should there be a confrontation.

Three activists told the AP they were going to the border or organizing others, and groups on Facebook have posted warnings about the caravan. One said it was "imperative that we have boots on the ground." Another wrote: "WAR! SECURE THE BORDER NOW!"

President Trump tweeted on Monday, "This is an invasion of our Country and our Military is waiting for you!"

---

@realDonaldTrump
Many Gang Members and some very bad people are mixed into the Caravan heading to our Southern Border. Please go back, you will not be admitted into the United States unless you go through the legal process. This is an invasion of our Country and our Military is waiting for you!
---

---

Shannon McGauley, president of the Texas Minuteman militia, told the AP that he already has members at three points of the state's border and expects 25 to 100 more people to arrive in the coming days.
Conclusion
As disturbing as this report is, I fear there is far worse lurking in the background that will soon surface. I am in receipt of reports from Paul Martin, a DHS official, Steve Quayle and local law enforcement which paint a picture that a threat of military invasion on selected US targets, not just on the border, but into the interior of the United States, is a very real possibility. This will be the subject a future report in the very near future. One more thing, can the UN be far behind with all the violence that is coming to our border? Think Kigali Principles.
FORCING YOU TO BECOME AN UNWITTING CANNIBAL...
SO, WHY DO WE NEED VIOLENT CRIMINAL PEOPLE INVADING OUR COUNTRY??? IF THERE IS SOME TRAGEDY ON THE BORDER, THEN SO BE IT ... THIS HORRIBLE HORRIFIC INVASION MUST BE STOPPED AT ALL COSTS!!!
YEAH, A REPEAT OF THIS NEWS ... IT CAN'T BE OVERSTATED...
THE ENORMOUS MAGNITUDE OF THE FRAUD AND CORRUPTION RUNNING, RUINING OUR COUNTRY
Source: Top Internet Company Pays Off NeverTrump Mags To Ignore 'Bias Against Conservatives And Trump Supporters' - Media Sits On Bombshell Audio Proof?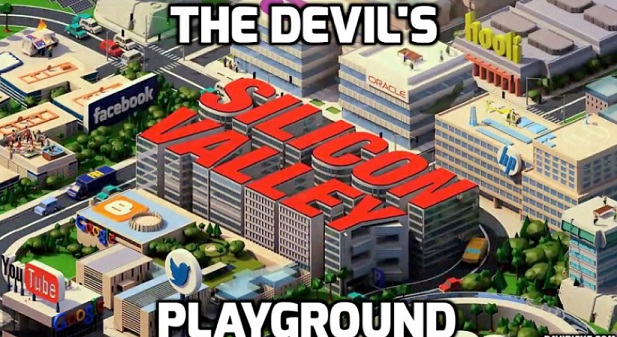 By Susan Duclos - All News PipeLine
One America News Network (OAN) Chief White House Correspondent, Emerald Robinson,
dropped a bombshell on Twitter on October 30, 2018
, that not only is the establishment mainstream media not reporting on, but if her "source" is correct, one "major newspaper" has "
audio recording
" proof of her claim, and is sitting on it.
Robinson wrote
"BREAKING: Source tells me that NeverTrumper mags took cash from top Internet company to suppress stories of bias against conservatives & Trump supporters. Audio recording of top tech executive explaining strategy has leaked to major newspaper."
She then continued in that same thread with "My source adds: "Once this story is out, these people will never recover. They were getting paid to ignore the discrimination against their fellow conservatives essentially. Or write pieces claiming there was no need for legislation protecting free speech on media platforms."
She then concluded "I should add: My fellow conservative journalists & pundits like @seanmdav @julie_kelly2 @KurtSchlichter @thechrisbuskirk @Doranimated @SebGorka @davereaboi will be able to guess which mags took the money because their subscriber base has disappeared after 2016."
http://allnewspipeline.com/Claim_Top_Internet_Co_Colluded_With_NeverTrumpers.php
YEAH, YOU DON'T COUNT AS A HUMAN BEING...
TRAITORS TO HUMANITY ... SHAME, SHAME!!!
Democrat operative and top globalist pushes anti-American agenda
THE REAL MUELLER EXPOSED... AGAIN...
Did the former FBI Director work with Whitey Bulger to rise to the top of the Deep State?