Meanwhile the Darkside Deepstate Admits ***Publicly*** the Government's Gonna Kill President Donald J. Trump ... NO, BY DIVINE INTERVENTION YOU WILL FAIL, AND THE BACKLASH WILL BE HORRENDOUS FOR THOSE WHO ARE IN *ASSASSINATE HIM* COLLUSION ... AND SO IT IS!
Friday afternoon yowls and roars, mightiest Big Cat Beauties ... it's on! the raging civil war happening at the highest levels in the global-tyrant captured government of these united states of America, IS NOW being openly revealed in the metaphorical town square of TV-viewing America. These psycho smut-tards who want nothing more than to rule your life --- and stomp on the human face forever --- are telling WE THE PEOPLE that our President Trump, who is doing everything he can to rebuild our beloved country, is TARGETED for elimination ... oh, because he isn't under their crushing thumb, and following their evil marching orders.
And yowling about civil war, really, what's going to happen if President Trump is "taken out" in some way... even if it's a natural event like a stroke, which is VERY UNLIKELY even at his age... because, who in flyover country will believe the deepstate-zoids, the ENEMY-MSM *whatever* event should occur??? Lots of guns, lots of tactical *guerilla war tactic* smarts in flyover country ... and if civil war does break out, even at a low level, lots and lots of taxpayers will be permanently turning their backs on the IRS ... course, that means martial law, likely brutal martial law with wholesale roundups ... but always remember Francis Marion, the SWAMP FOX, American Patriot during the Revolutionary War.
https://en.wikipedia.org/wiki/Francis_Marion
***Swamp Creature Mueller IS About To Crash and Burn In Hellfire*** This is the Kougar's prediction within the next three months.
NOTE: It's looking more and more like the upcoming August 21, 2017 ECLIPSE is the dividing line: the revolution-renaissance of 1776 freedom, OR the dark-age technocratic tyranny that enslaves humanity. YOU CHOOSE.
NO, YOU'RE THE ONE WHO IS GOING DOWN INTO THE BOILING PITS OF HELL
CNN ANALYST ON TRUMP: "THE GOVERNMENT'S GONNA KILL THIS GUY"
Phil Mudd's bizarre on-air comments fluster Jake Tapper
CNN counterterrorism analyst and former CIA agent Philip Mudd said on air "the government's gonna kill" Donald Trump because he disrespected the deep state.
Mudd subsequently clarified that he meant the phrase metaphorically, but the comments have caused alarm amongst Trump supporters.
"Let me give you one bottom line – as a former government official, the government's gonna kill this guy," said Mudd.
"He defends Vladimir Putin, there are State Department and CIA officers coming home and at Langley and in Foggy Bottom CIA are saying, this is how you defend us?'" Mudd added.
CNN VIDEO
CNN host Jake Tapper subsequently gave Mudd a chance to clarify his comments, remarking, "Obviously when you're talking about killing you're using that as a metaphor."
"Well obviously yeah," responded Mudd, before going on to say, "People talk about the deep state, when you disrespect government officials who've done 20 or 30 years, they're gonna say 'really – Vladimir Putin sends officers home and you support him before you support us?'"
Mudd's clarification was odd because of his reference to the "deep state" immediately after he talked about the government killing Trump.
As we have exhaustively documented, talk of a deep state coup against Trump has been doing the rounds for months.
Pastor Rodney Howard-Browne
recently claimed
that he was told by a senior Republican Congressman that there was a plot to "remove Trump suddenly from office". Browne said the plan was to "take the president out," by a method other than impeachment or indictment.
In comments made during the Aspen Security Forum, former CIA Director John Brennan
said
that if the White House tries to fire special counsel Robert Mueller, executive branch officials should "refuse to carry out" that order, which is effectively a call for a coup.
Last month, Rush Limbaugh also
told his audience
, "There is a coup underway, being led by the media with accomplices in the Democrat Party and a number of international players, to reject the outcome of the election, to undermine the presidency of Donald Trump, and, if the wish list were realized, to get rid of him."
Meanwhile, CNN has dispensed with pro-Trump commentator Jeffrey Lord because he offended a leftist on Twitter by making reference to fascism and Nazis, something that leftists do every single day.
TWITTER VIDEO
SUBSCRIBE on YouTube:
Follow on Twitter:
*********************
NO, CONGRESSWOMAN, YOU ARE THE DOMESTIC TERRORIST, GET OUT OF OUR AMERICA WHILE YOU STILL CAN
CONGRESSWOMAN CALLS NRA, DANA LOESCH 'DOMESTIC SECURITY THREATS'
"Hi Congresswoman, can you explain why you say I and millions of members are "domestic security threats?"
https://www.infowars.com/congresswoman-calls-nra-dana-loesch-domestic-security-threats/
GEE, SEE THIS ON THE ENEMY-MSM NEWS?
https://www.infowars.com/liberal-terrorist-shoots-and-kills-gop-committeeman/
Violent leftists continue attacking conservatives
THE KOUGAR HEARD SEVERAL ENLIGHTNING INTERVIEWS WITH JOHN DECAMP WHILE HE WAS ALIVE ... HE TRIED HIS HARDEST TO SHUTDOWN THE PEDO-SEX TRAFFICKING
GOLIATH PEDO GOVERNMENT LOSES A MAJOR NEMESIS
Former Nebraska Senator fought to expose child sex rings in the U.S.
Former Nebraska State Senator John DeCamp passed away recently. DeCamp left behind a heroic legacy of efforts intended on exposing the child sex slave networks operating throughout the United States, leading to the highest and most powerful offices in the country.
EARTHQUAKE NEWS
NEWS FROM THE HEALTH RANGER, MIKE ADAMS
Facebook declares war on children, blocks all independent science warning of medical harm

Just when you thought the world couldn't get any crazier, Facebook has declared war on children, blocking all independent science that attempts to protect infants and toddlers from medical harm.

Zuckerberg, a dangerous sociopath seeking to dominate the world, is now openly promoting the "medical violation" of children, including practices of medical cannibalism that infect children for foreign DNA from diseased animals and aborted human babies.
YEAH, THOSE VOITING MACHINES REALLY WORK WELL ... HUH? FOR THE BIG UGLY CHEATERS, THAT IS
https://www.infowars.com/california-vote-scandal-blows-up
CALIFORNIA VOTE SCANDAL BLOWS UP
There is no guarantee that the California voting system is safe or effective or honest
AUGUST 8, 2017
The watchdog group, Judicial Watch, is threatening to file a lawsuit if the state government of California doesn't clean up its vast voting mess. (twitter video version here, more video here
What mess?
Judicial Watch: "…public records obtained…show 11 California counties have more registered voters than voting-age citizens."
What??
There's more.
"Los Angeles County officials 'informed us that the total number of registered voters [in the County] now stands at a number that is a whopping 144% of the total number of resident citizens of voting age.'"
FAR MORE REGISTERED VOTERS THAN THE TOTAL NUMBER OF PEOPLE WHO ARE OF VOTING AGE.
That's doesn't work. That's fraud.
Now add this to the mix. Over a million illegal immigrants (some say far more) have received driver's licenses in California. All of them (unless they specifically opt out), are automatically registered to vote by the Dept. of Motor Vehicles.
Put all this insanity together, and what do you get? A gigantic number of people who can illegally cast votes. Because, in California, it's legal to be illegal.
Want to proceed further down the rabbit hole?
It's probable that many illegal immigrants don't vote. If someone wanted to vote FOR them, how would that work?
Not one at a time, unless some sinister organization had at least half a million foot soldiers on call, on Election Day.
But here is a possible clue: electronic voting systems.
Back in 2007, the secretary of state of California ordered a "Top-to-Bottom Review" of all electronic voting systems currently in use in California elections.
In other words, up to that time, these systems had been considered a very fine way to run the vote count. The systems obviously had been tested and re-tested and checked and approved. They were already being used in the state of California.
However, astoundingly, all the following electronic systems were found to contain fatal flaws: Premier Election Solutions (formerly Diebold); Hart InterCivic; Sequoia Voting Systems; Election Systems and Software.
The first three systems were disqualified from further use…and then conditionally re-approved. The fourth system was rejected altogether.
To suppose that, after this top-to-bottom review in 2007, everything was quickly fixed is a leap only the foolish and unwary would take—particularly when we are talking about extremely talented hackers who could be employed to change election-vote numbers.
I read the California Top-to-Bottom Review. The public comments section at the end was illuminating. It contained explosive remarks.
For example, there was a discussion of vendors pretending to sell certain voting machines to the state of California…but actually selling other machines…machines that were not certified for use.
Another comment indicated that California lacked a method to ensure the source code for voting-machine software actually belonged to software certified by the state.
All in all, there is no guarantee (far from it) that the California voting system is safe or effective or honest.
If someone manipulated the system, and somehow utilized the huge numbers of illegal immigrants who are registered to vote, as a cover for falsified numbers…
Who would use illegal immigrants in that way?
You can answer that question.
BRAIN HACKING THE SHEEPLE
CIVIL WAR PURGE?
ISLAMAPHOBIA, NOTHING BUT JIHADI PROPAGANDA
NEVER LET *HAL* GET THE UPPER CYBER HAND ... THIS BIG CAT IS WARNING YOU
TIME TO DEPORT THESE SLIME-A-ZOIDS TO NORTH KOREA ... BYE, BYE!
TIME TO CLEAN OUT THE PEDO-SWAMP FOR GOOD!!! THEN WE MIGHT ACTUALLY GET SOME GOOD LEGISLATION
SAD, BUT SO TRUE ... THE KOUGAR WISHES THE GOOD COPS WOULD GET RID OF THE BAD APPLES IMMEDIATELY
THE ENEMY-MSM OUTED ONCE AGAIN.
August 8, 2017
Sean Hannity Tweets Hint At Something HUGE On The Horizon: 'Tick Tock Tick Tock' - What Does He Know That We Don't Know?
- Independent Media Under All-Out Attack As Left Seeks To 'Silence All Opposing Voices'
By Stefan Stanford - All News Pipeline - Live Free Or Die
"In this amazing and still-free nation that we live in, independent media and their readers should send a very loud and clear message to David Brock, Media Matters and any and all of the tyrants and Hitler-wannabe's out there who seek to extinguish the 1st Amendment in America by shutting out 'alternative thought' and shutting down and silencing 'independent media':

'Watch what happens if you try'

."

Over the past two days, Fox News' Sean Hannity has put out a series of tweets on twitter that deserve examining considering everything else we're now witnessing in America. The first tweet put out Monday morning seen in the 1st screenshot below was quite simple but pounded home not only mystery but meaning: "Tick tock tick tock".

What does Sean Hannity know that we don't know?

The 2nd tweet Hannity put out several times, clearly emphasizing the importance of it, while tagging @georgesoros and calling thedocument he linked to a 'must read' - the full David Brock (once) confidential memo on fighting and impeaching President Trump and "silencing all conservatives". That tweet is seen as the 2nd screenshot below. And as we detail within this story on ANP, we're getting more and more evidence that we are approaching a 'do or die' moment in America as 'enemies of America within' seek to silence all 'dissent' to their 'way of thinking', highlighted by their rapid descent into madness.

You can read the full scribd document Hannity linked to and called a 'must read' here. We also take a look below videos at the 'somewhat' surprising and very interesting results of a recent ANP poll in which we asked whether or not our readers thought that Barack Obama and Hillary Clinton should be put on trial for treason against America.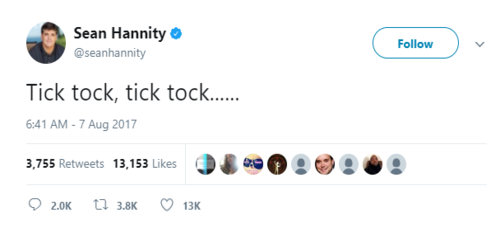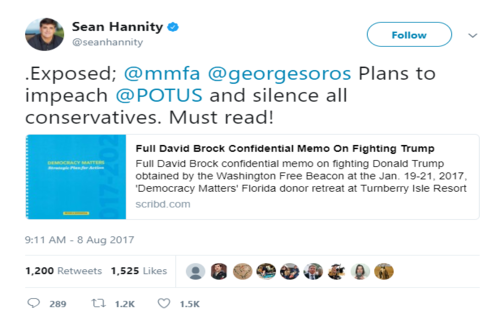 In this new story over at Media Equalizer called "Silencing ALL Opposition Voices: Inside The Media Matters Playbook" they report upon the Brock memo and claim that even to casual observers, it's been obvious for months that 'the left' has been orchestrating a tightly-coordinated campaign to undermine and delegitimize the current presidential administration." As part of the extension of a decades long campaign to control the political narrative, they are attempting to silence opposing thought by any means necessary.

Going on to reference the recent 'attacks' that have taken down several different conservative news anchors and writers, we're also now seeing a series of brutal and sustained DDOS attacks upon many different 'alternative news' and 'conservative views' websites and as our readers know, that includes ANP. Natural News also recently suffered a massive, well-funded and multi-nation ddos attack soon after they linked to a White House petition on the dangers of vaccines. We've also seen major ddos attacks upon several overseas independent news agencies including Le Monde, Figaro and Al Jazeera.

ANP began seeing these attacks at the beginning of the series of stories linked below and as it's long been warned, when a news story is 'directly over the target', they begin seeing the heavy flack. The fact that ANP is being attacked at the same time as the non-stop attacks against President Trump tells us we must be doing something right.



2017-07-30 -- Will Debbie Wasserman-Schultz Be The Next Seth Rich? Democratic Staffer Arrest Highlights Muslim Brotherhood Connection




2017-07-28 -- Media Blackout On Four Major Bombshells That Destroy The MSM Preferred Narrative




2017-07-27 -- It Is All About To Blow Wide Open - Investigator On Dem Staffer Arrest: 'Just The Beginning'




2017-07-26 -- Is The Clinton Crime Syndicate Finally Going Down? Something Is Terribly Wrong With The Media Narrative And Questions Need To Be Asked


2017-07-25 -- The War Has Begun - They Are Coming For You, If You See These People Coming At You, Run Like Hell!
2017-07-24 -- Something Very Strange About The Media Black Out On Major PedoGate Arrests - Worldwide Crackdowns Happening Now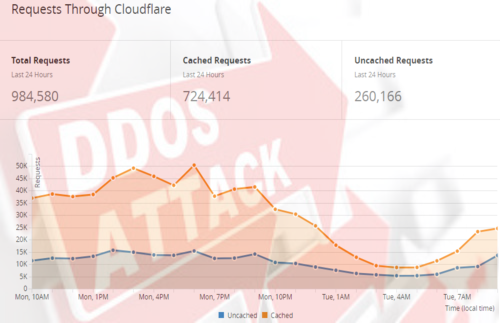 Why would David Brock, or anyone else for that matter, want to silence 'opposition thought' without absolutely proving to the entire world that they are either totally insecure about their own selves and their beliefs or proving they are 'closet tyrants'? Personally, as a human being, I love to have my own beliefs challenged, it's a huge way to learn and grow. We certainly know that we aren't always right here at ANP and we love to read alternative points of view from our commenters. Yet the mainstream media has overwhelmingly banned commenters from their stories and if you try to put in a comment at Media Matters that disagrees with their story's viewpoint, they'll usually delete the comment and ban you from their website.

With ANP now coming to you from 'the cloud' after we increased our own levels of protection by going with Cloudfare, we see above that during the 24 hour period between Monday at 10 a.m to Tuesday at 10 a.m., a total of 984,580 page requests were made for ANP stories. While we'd love to regularly get that kind of traffic, nearly a million page visits a day is the kind of traffic that Infowars or Zero Hedge might get and about half as much as the Drudge Report gets daily.

With the chart above absolutely proving to us that we've been under massive ddos attacks, we'd have to ask why anyone would want to shut down All News Pipeline? We LOVE America here, which is a whole lot more than we can say about the Barack Obama administration, which tore down America and ripped apart our nation's sovereignty every opportunity they got. Are those who've been attacking ANP really THAT insecure about themselves? How so incredibly sad...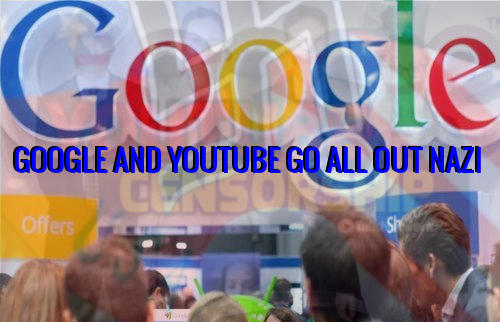 With google itself recently proving its bias by going 'all out Nazi' by firing the conservative engineer who spoke out about the company's culture of catering to snowflakes while giving us 100% proof google is simply an ideological echo chamber, the fact that googles moves came soon after its sister, youtube, took controversial steps to also censor conservative views helps to prove we are now watching a very well coordinated plan to not only silence conservatives but change history.

As Susan Duclos reported Monday on ANP, we now have indisputable proof of coordinated attacks by tech giants in an attempt to control the access to information in order to control not only the narrative but the masses.

We've long warned on ANP that if suddenly and without warning, internet users are no longer able to access websites such as the Drudge Report, Zero Hedge, Breitbart, WND, Infowars, SteveQuayle.com, Natural News, SHTFPlan, and the other websites that we have grown to depend upon for our REAL news daily, then very serious moves had been taken towards turning America into a dictatorial, tyrannical state. Only those with evil, totalitarian motives would go to such extreme measures as attempting to shut down opposing thought that they don't agree with. Hillary?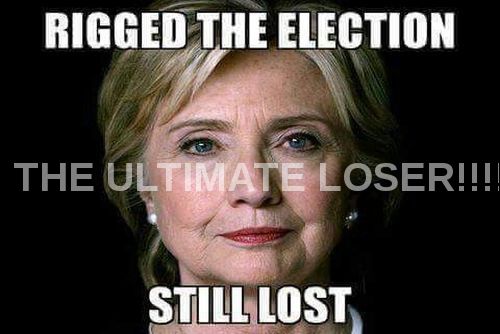 In a flashback to November 18th of 2015 and this story from Judicial Watch we remind you that "in what appeared to be a first for a serious presidential contender, Hillary Clinton's campaign was going after five comedians who made fun of the former Secretary of State in standup skits at a popular Hollywood comedy club". If Hillary was so infuriated and insecure about comedians quite deservingly 'ripping her into little bits and pieces' at a comedy club, with proof now out that her campaign manager David Brock is also intent upon silencing all opposing voices, what are these 'election losers' NOT capable of doing? Seth Rich and a 'never ending body count' prove they will stoop to the lowest of lows.

To say we would not be surprised if the 2016 election losers were behind recent ddos attacks upon ANP and other independent media outlets is an understatement, especially considering Brocks recent message of attempting to silence opposition voices. In this amazing and still-free nation that we live in, independent media and their readers should send a very loud and clear message to David Brock, Media Matters and any and all of the tyrants and Hitler-wannabe's out there who seek to extinguish the 1st Amendment in America by shutting out 'alternative thought' and shutting down and silencing 'independent media': 'Watch what happens if you try'.





In what we find to be a very interesting side note, on August 6th we published a story titled "Former US Marine And Navy SEAL Predicts 'Gruesome Massacre' Ahead If 'Enemies Of America Within' Try Coup vs President Trump" within which we took a poll that asked our readers if they believed Barack Obama and Hillary Clinton should be tried for treason. While we were not the least bit surprised that 99% of those who responded either voted 'yes' or 'guilty as charged!', we were very surprised when we found out Poll Maker had a map showing where the votes were largely coming from. We have republished screenshots of that map below which, quite surprisingly, show voting 'hot spots' to be the Washington DC area, the New York city area, Chicago, Illinois and parts of California.





While we doubt that there are ANP readers in the White House, it's absolutely fantastic to see that there are so many people in areas that largely voted for Hillary Clinton in the 2016 election and are traditionally considered 'liberal' states who are readers of ANP though we have to also consider that most of those areas are traditionally higher in population than rural and country areas.

We thank all of you who took the time to vote.

We also see that voting took place all across America, heavily represented by areas of Texas, Colorado, Alabama, Georgia, Virginia, Florida, Arizona, Washington, Montana and swaths throughout the midwestern states into Ohio, Pennsylvania and West Virginia. There is no way for us to tell where the current '14' who voted 'no' came from.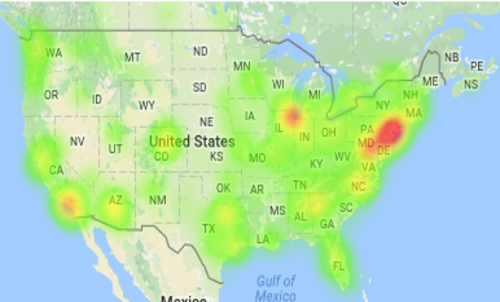 Interestingly, when we zoomed in on the areas, we see that highlighted specifically are New York city and Newark, New Jersey and interestingly enough, a bright green dot appears about two blocks away from the White House.