THEN! THE DESPICABLE ***SANDY HOOK*** HOAX ON WE AMERICANS IS ABOUT TO BURY YOUTUBE BIGTIME ...
Afternoon yowls, wonderful and wild Kittens ... so, the Kougar was upset once again because the YouTube stream of the Alex Jones show wasn't there this morning... why? because some brain-corrupt-idjits are using SANDY HOOK as an excuse to take Alex's channel down. Again. Since for some reason the Kougar doesn't tech-understand she can't get the vid stream of the show on the INFOWARS site itself... so she's been using the YouTube stream to watch daily.
BECAUSE! the Zero Hedge news site pointed out in an article that the LYING Sandy Hook father on the Megyn Kelly hit piece said he held his dead son in his arms ... well, that was in direct contradiction to what the coroner reported at the time ... that photos were taken of the children, but that the parents weren't allowed to see their *supposedly* dead children. Yeah, gee, you know what! That is a big fat ugly CONTRADICTION.
To make it clear for the umpteenth time, the Kougar DOES NOT KNOW if anyone actually died during the Sandy Hook drill... because it WAS A DRILL!!! What she does know: the facts as reported by FAKE NEWS CNN, and other ENEMY-MSM are total deception, and complete lies meant to push the public toward gun control, and for other sinister-globalist purposes.
Further, the Kougar is predicting YouTube is about to get buried as a popular platform IF they are stupid-arrogant enough to keep pushing this Sandy Hook crapola. BECAUSE THE TRUTH IS THE TRUTH AND CANNOT BE BURIED FOREVER.
http://rense.com/general96/nobodydied.html
James Fetzer's Stunning
'Nobody Died At Sandy Hook'
American Hero Seth Rich, FBI COVERUP: THE INCOMPARABLE INTREPID DR. JEROME CORSI DOES IT AGAIN!!!
https://www.infowars.com/fbi-changed-time-of-weapons-theft-to-deflect-suspicion-seth-rich-leaked-podesta-documents-to-wikileaks
FBI CHANGED TIME OF WEAPONS THEFT TO DEFLECT SUSPICION OVER SETH RICH
DC police report exposes FBI cover-up in Seth Rich murder case
The FBI altered the facts of the July 10 vehicle break-in and weapons theft evidently to deflect attention from Seth Rich as the individual who may have leaked to WikiLeaks DNC emails Rich may have stolen by suggesting his death was a random act of violence, not a political murder designed to silence him and/or to prevent him from leaking additional documents he may have stolen from DNC computers.
The police report for the burglarized FBI vehicle obtained by Infowars.com contains several discrepancies from the narrative currently in the public record that make clear when, and most likely why, the FBI changed the time of the burglary, connecting after the WikiLeaks publication of the Podesta emails Seth Rich's murder and the burglary of the FBI vehicle that had been reported as unrelated events, since the initial reports put the time of the FBI vehicle theft after the time of Seth Rich's murder.
Perhaps most importantly, the report establishes that in reporting the incident, FBI agent Matthew Laird stated had parked his car outside 823 7th Street NE, on July 10, 2016, for approximately one hour, starting at 6:45 a.m. ET, until 7:49 a.m. ET, at which time the window of the Ford Expedition was smashed, and two weapons were stolen – a Glock 22 handgun and a AR-15 Colt assault rifle. The report was filed at 7:50 a.m., indicating Agent Laird had claimed the break-in occurred one minute before he reported the incident.
This would place the time of the robbery of the two weapons from the FBI car as occurring after Seth Rich was murdered, at 4:19 a.m. ET on the morning of July 10, 2016.
The newspaper record makes clear the Seth Rich killing and the theft of the weapons from the FBI vehicle were initially reported as separate, unconnected events, even though both events occurred in close vicinity in Washington, D.C., during the early morning hours of July 10, 2016.
"D.C. police said the vehicle, a Ford Expedition, was broken into between 6:45 a.m. and 7:49 a.m.," the Washington Post story indicated.
"At some point, someone smashed the vehicle's rear passenger window and took the box, which held the Glock and Colt guns," the Washington Post commented.
On July 22, 2016, at 8:26a.m., WikiLeaks send out a tweet, "Are You Ready For Hillary"
Then at 10:50a.m., on July 22, 2016, WikiLeaks released the first of the Podesta emails from the DNC computer leak.
Finally, at 11:36a.m., on July 22, 2016, 3 hours after WikiLeaks posted the "Ready for Hillary" tweet, and about 45 minutes after WikiLeaks published the first of the Podesta emails, the FBI put out $10,000 reward for the stolen weapons incident, changing the time the FBI break-in occurred to between Midnight and 2:00 a.m. on July 10, 2016, with no explanation of why the time was changed from the initial FBI report.
The story published by the Washington Post on July 22, 2016, went with the new time: "The (FBI) agent reported the missing items to police at about 7:50 a.m.; the FBI think the break-in occurred between midnight and 2 a.m."
This changed story immediately led to speculation that the assailants who murdered Seth Rich may have obtained their weapons by breaking into the FBI vehicle parked in an area near the neighborhood where Seth Rich was shot and killed.
The second Washington Post story reporting that day on the $10,000 FBI reward also expanded the additional items taken in the theft of the FBI vehicle as follows:
"The missing items include a Rock River Arms LAR-15 rifle, similar to an AR-15; a Glock-22 handgun; a holster, a collapsible baton; pepper spray; two boxes of .40 caliber ammunition; protective head and eye gear; and a black Truck Vault gun box. Also in the car was a Motorola radio. The FBI says that after the theft, the channels were descrambled, rendering the radio useless."
The Washington Metropolitan D.C. Police Department has refused to make public the police report or the death certificate in the Seth Rich shooting, making it impossible to determine the official record regarding the exact number shots or the caliber of the bullets that caused Seth Rich's death.
The copy of the Washington Metropolitan D.C. Police Report obtained by Infowars.com makes no mention of anything being stolen from the FBI vehicle other than the Glock handgun and the AR-15 rifle, and says nothing about the vehicle having been parked at the location of the theft near midnight, nor of the theft occurring as early as 2:00 a.m.
Infowars.com was not able to obtain who changed the narrative to suggest the FBI vehicle theft occurred before the Seth Rich murder, or why, but the impact of the change was to make the Seth Rich murder appear more impulsive – as if thieves happened upon an FBI car and stole weapons that they used a few hours later when they encountered a lone, college-aged young man walking along the street a couple of hours before dawn.
The Washington Metropolitan D.C. Police Department report obtained by Infowars.com also indicates the FBI vehicle burglary case was closed on August 3, 2016 – less than 2 weeks after the FBI offered a $10,000 reward for information to help retrieve the handgun and assault-style weapon stolen on July 10 from an FBI agency vehicle.
Why was the FBI vehicle burglary case closed so soon, even though no suspects had been identified in the case?
The police report does not specify if Laird was seeing Melecha while his vehicle was parked, as the report says nothing about why Laird was there in the early morning hours of July 10, 2016.
It is not clear from the Washington Metropolitan D.C. Police Department report whether Laird and Melecha had any relationship, or that Dezenhall as a crisis-management firm was involved.
A review of this video and the many others the DC Police regularly post on their YouTube channel makes clear how effective DC police and private surveillance cameras are in capturing real-time crime-scene video on continuous 24-hour basis, seven days a week.
The point is the FBI admitted immediately after both events occurring on the night of July 10, 2016, that an investigation of surveillance camera video was underway.
Given the extensive security camera coverage in the area of Washington where the Seth Rich and the FBI vehicle theft occurred, why have the FBI and DC Police not come forward with video perhaps not of the Seth Rich murder or the FBI vehicle break-in themselves, but certainly of the assailants fleeing the crimes though the early morning hours of July 10, 2016, in a Northeast Washington area that is among the city's most extensively covered by CCTV surveillance cameras of one kind or another?
***When Will the Clintonista Body Count End?***
Haiti Official Who Exposed The Clinton Foundation Is Found Dead
SEISMIC UNREST IS SPREADING ... WHERE'S THE NEWS COVERAGE ON THAT REALITY VERSUS THE RUSSIA COLLUSION-DELUSION?
BE CAREFUL OUT THERE!
9 killed by flash flooding in Arizona, others missing...
KEEP YOUR DIRTY PEDO-COMMIE PAWS OFF OUR COUNTRY ... GO SLEEP WITH THE DEVIL, YOUR OBVIOUS MASTER
http://skywatchtv.com/2017/07/18/petrus-romanus-new-world-government-must-rule-united-states-good
Petrus Romanus: A New World Government Must Rule The United States 'For Their Own Good'
Pope Francis told the Italian newspaper La Repubblica that the United States of America has "a distorted vision of the world" and Americans must be ruled by a world government, as soon as possible, "for their own good." The Pope made the observation in an interview with La Repubblica reporter Eugenio Scalfari. "Last Thursday, I got a call from Pope Francis," Scalfari reported. "It was about noon, and I was at the newspaper when my phone rang." He said Pope Francis had been watching Putin and Trump at the G20 and had become agitated. The Pope demanded to see him at four that afternoon, according to a Google translation of the Italian report.
(READ MORE)
SOME GOOD NEWS ... MAY HE BE PROSECUTED TO THE FULLEST EXTENT OF THE LAW
THE UNTIMELY HORRIFIC DEATH OF DR. JUSTINE DAMOND...
MINNESOTA PROBING AUSTRALIAN WOMAN'S FATAL SHOOTING BY POLICE
'Basically, my mom's dead because a police officer shot her for reasons I don't know'
https://www.infowars.com/minnesota-probing-australian-womans-fatal-shooting-by-police
July 18, 2017
Has 'Big Pharma's Medical Mafia' Struck Again? Another Dead Holistic Doctor Brings Another Mystery
By Stefan Stanford - All News Pipeline - Live Free Or Die
During many years of writing stories covering so-called 'conspiracy theories', its difficult to say I've ever come across a 'conspiracy theory' quite as 'twisted' as this. While dating back all the way to 1994, Steve Quayle has kept a running list of scientists, chemists, astronomers, medical experts and biologists who've mysteriously met their untimely ends, the list of holistic doctors who've mysteriously died or have been killed being kept by Erin Elizabeth over at Health Nut News over the past 2 years keeps on growing.
Well over a year ago on March 12th of 2016, she published a story titled "Holistic Doctor Death Series: Over 60 Dead In Just Over A Year". Calling her story an 'unintended series of holistic doctor deaths', as we learn in her new story, another name has been added to the list in the recent death of Dr. Justine Damond.
The death of Dr. Damond has gone viral all across America and the world after she was gunned down in cold blood in an alley behind her own home after calling the police for assistance. As many are reporting now, her murderer is one Mohamed Noor, a Muslim from Somaliwho had been on the force for less than two years and who left his partner stunned when without warning, he opened fire upon Dr. Damond from inside of their police car.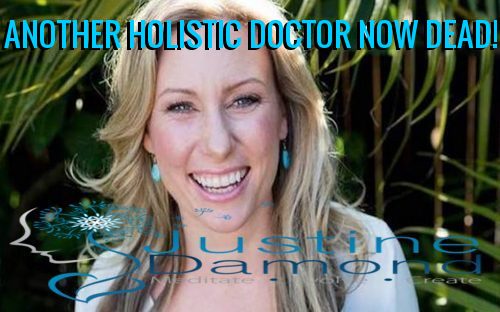 While an absolutely tragic incident, the mainstream media reports are neglecting to mention anything at all about the series of dead holistic doctors and with the death of Dr. Justine Damond, another human being's name has been added to the list. As HNN reports, Dr. Damond was dearly loved by many and well known
READ MORE AT: http://allnewspipeline.com/Another_Holistic_Doctor_Dead.php
THE KOUGAR ABSOLUTELY AGREES... IN THIS CURRENT SWAT-TEAM, KILL-FIRST CLIMATE ... THIS BIG CAT WOULD NEVER EVER CALL 911 [THE COPS] UNLESS IT WAS AN ABSOLUTE, ABSOLUTE EMERGENCY ... MANY INNOCENT PEOPLE AND THEIR DOGS ARE GUNNED DOWN BY COPS BECAUSE THE COPS WERE CALLED BY THESE PEOPLE, OR THEIR FAMILY
The Moral of This Story Is to Arm Yourself and NEVER Call the Cops
...
Conclusion
Clearly, the tide of increasing and deadly police brutality must be stemmed in America. The solutions that should be invoked are (1) invoke the 10th Amendment and forbid DHS to train local law enforcement; (2) repeal the legislation which permits the military and DHS to donate military hardware to local police departments, it is not needed and promotes a paramilitary attitude towards police work; (3) establish a citizen review board which will have authority over all complaints regarding police brutality. The police can longer be allowed to judge their own; and, (4) require all on-duty police to wear cameras when they are on duty.
What is the moral of the story? Arm yourself and don't all the cops. The perpetrator is a Somalian born man who said that police was his calling. Tell that to the woman's family. All I can say is beware of cops under 40.!
THE STORY AT:
http://www.thecommonsenseshow.com/2017/07/18/the-moral-of-this-story-is-to-arm-yourself-and-never-call-the-cop
JUST WHAT WE NEED DIVERSITY HIRES FOR THE SAKE OF STUPID-BRAIN DIVERSITY INSTEAD OF HIRING THE MOST COMPETENT AND GOOD TO BE COPS
Minneapolis makes special effort to recruit Somalis
THE MUSLIM CALIPHATE INVADING THE WORLD, THIS IS WHAT YOU'LL LIVE UNDER
MIGRANTS TURN GERMAN FESTIVAL INTO RAPE FEST
17-year-old festival goer held down by three Afghan migrants
One of the victims was a 17-year-old girl who was held down by three Afghan migrants, according to police.
The police also believe there's more rape victims who have not yet reported the crimes.
https://www.infowars.com/migrants-turn-german-festival-into-rape-fest
WORLDWIDE CHILD TRAFFICKING, TIME TO ELIMINATE THIS SATANIC PERVERSION
TRUER WORDS WERE NEVER SPOKEN ... WE THE PEOPLE CREATE WEALTH AND ECONOMIC ABUNDANCE
AND STILL THEY FLY ... THE KOUGAR JUST SHAKES HER HEAD IN DISBELIEF
THE GO-OGLE DEEPSTATE COMING FOR EVERYTHING YOU GOT
https://www.infowars.com/4-tools-to-protect-your-information-from-the-google-deep-state/
4 TOOLS TO PROTECT YOUR INFORMATION FROM THE GOOGLE DEEP STATE
How you can protect yourself NOW
Privacy activists have attacked phone companies in particular for giving away personal user information to the NSA with zero permission.
The worst offender by far, however, isn't Verizon or AT&T, but rather an internet search engine conglomerate known as Alphabet Inc.
Founded in 2015, the American multinational conglomerate Alphabet Inc. was created as a parent company of Google and several former Google subsidiaries. Alphabet Inc. made a whopping $90.27 billion in 2016, and has over $160 billion in total assets.
If you aren't scared yet, you should be. This multinational conglomerate owns 12 separate companies, each of which has an incredible stranglehold in their areas of expertise.
From Calico, a longevity research company, to Deep Mind, their AI research program, it's astonishing they haven't been broken up by the government for violating anti-trust laws.
Worst of all, however, is Google – which has a monopoly on the internet ad market, on the internet video market, and on the internet search engine market. The IT folk at Google are experts at integrating anything and everything, so it shouldn't come as a surprise that Google has been watching you since Day 1.
Every video you've watched on YouTube, every Google ad you've clicked, every search you've made, and every text you've sent from an Android phone, Google has recorded somewhere in the bowels of their underground multi-petabyte databases.
Despite Google's massive violations of your privacy, the government likely won't stop them anytime soon, as they're an integral component of the Deep State.
This means it's on us to protect our own information, and while it's certainly an extra burden to bear, it beats having your every move online tracked and recorded.
The first tool is DuckDuckGo, an internet search engine that emphasizes users' privacy and avoids collecting any and all information. They show every user the exact same information, unlike Google, which tailors its results based on the user.
DuckDuckGo is 100% funded by donations, and is known for its philanthropic efforts. In just the past seven months, they've raised $300,000 in donations for various internet freedom organizations, such as Freedom of the Press Foundation, World Privacy Forum, and Open Whisper Systems.
The company isn't just a search engine, however – it's a meta-search engine. This means that it generates search results from several search engines, such as Bing, Yahoo!, Yandex, and Yummly.
Using DuckDuckGo will ensure that your information isn't collected or your results custom-tailored, which turned out to be a big problem when Google was caught censoring anti-Hillary search results.
This Swiss-based email system is one of the most secure forms of online communication to date. Boasting a state of the art, end-to-end encryption system, not only will your emails be protected from any potential hackers, they'll also be inaccessible to the company itself.
In addition to this, since Proton Mail is incorporated in Switzerland, and it operates almost exclusively out of the country, all of your data is protected by Swiss privacy laws, which are known for being some of the best on planet earth.
On top of this, no personal information is required to create an account, unlike Gmail which requires your phone number, name, and date of birth – Proton Mail doesn't even track your IP address, making it lightyears ahead of other email services.
Best of all, it's funded entirely by 10,000 generous individuals who partook in the company's record-breaking crowdfunding campaign, meaning that it comes at no charge to you.
Available for Windows, Mac, and even the Android phones, this VPN service is a favorite among deep web dealers and red-pilled Germans alike. These are commonly used in countries such as France, China, and Sweden, where internet access to conservative news sites is severely limited.
With a VPN, or Virtual Private Network, your internet requests are bounced off of a secure server that cloaks your identity, and transmits information to you anonymously. This ensures that even the government will have a hard time tracking your information.
IP Vanish has over 40,000 IPs on 850+ servers in 60+ countries around the globe, making it the most advanced and secure VPN network available to the public, and while it does cost a monthly fee of $7, the peace of mind you receive knowing that the Deep State isn't tracking your information will be priceless.
Initially created in the 1990s as a project by the United States Naval Research Laboratory, this downloadable internet search engine has been available to the public for over a decade. It's used primarily by deep web drug traffickers, but has also been heavily used by journalists and whistleblowers due to its high level of security and anonymity.
Tor works by encrypting your search data and IP, and then bouncing it through a network of relays run by volunteers around the world. This is known as onion routing, which employs multi-layered encryption (hence the name), to ensure secrecy between not only relays, but also between users.
The software is freely available to anyone with internet access, but be warned – it's best if you use a VPN along with Tor for added security. And while Tor isn't a search engine, you can go to DuckDuckGo.com while using Tor and a VPN, for complete anonymity of location and searches.